Assistive Technology Resources
Assistive Technology and Mild Disabilities
Prepared by Richard Jackson, Kevin Koziol and Lisa Rudowitz from the Teaching Practices Group at the Lynch School of Education, Boston College with the editorial assistance of Nicole Strangman, CAST This article is available in Word and PDF formats.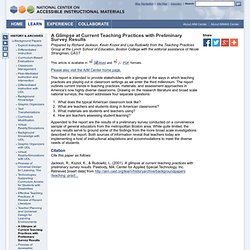 A Glimpse at Current Teaching Practices with Preliminary Survey Results
Prepared by Richard Jackson, Kelly Harper and Janna Jackson from the Teaching Practices Group at the Lynch School of Education, Boston College with the editorial assistance of Nicole Strangman, CAST. Additional edits and revisions by Tracey Hall, CAST. This article is available in
Effective Teaching Practices and the Barriers Limiting Their Use in Accessing the Curriculum: A Review of Recent Literature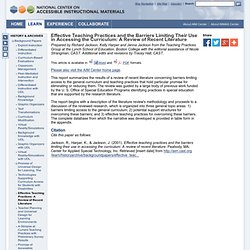 Assitive Technololgy: A Parent's Guide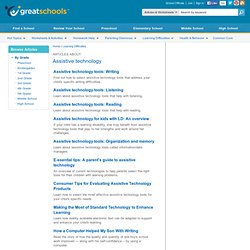 Assistive Technology Tools - GreatSchools.org
Assistive technology tools: Writing Find out how to select assistive technology tools that address your child's specific writing difficulties. Assistive technology tools: Listening Learn about assistive technology tools that help with listening. Assistive technology tools: Reading
AT Tools for Transition from HS to College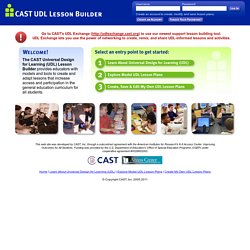 Important Notice: Go to CAST's UDL Exchange (http://udlexchange.cast.org) to use our newest support lesson building tool. UDL Exchange lets you use the power of networking to create, remix, and share UDL-informed lessons and activities. The CAST Universal Design for Learning (UDL) Lesson Builder provides educators with models and tools to create and adapt lessons that increase access and participation in the general education curriculum for all students. This web site was developed by CAST, Inc. through a subcontract agreement with the American Institutes for Research's K-8 Access Center: Improving Outcomes for All Students. Funding was provided by the U.S. Department of Education's Office of Special Education Programs (OSEP) under cooperative agreement #H326K02003.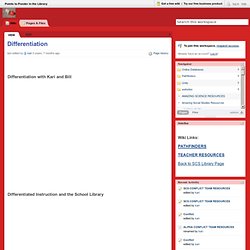 Differentiation and the School Library: Prezi and Video
Differentiation with Kari and Bill Differentiated Instruction and the School Library Resources: Marzano, Robert J. What works in schools : translating research into action.
In this video, students in a gifted classroom use the multi-user learning environment Quest Atlantis to explore issues related to the creation of a game reserve in Tanzania. Interviews with the teacher and students offer perspectives on the value of using virtual worlds in the classroom . About the videoDownload video (Right-click or option-click)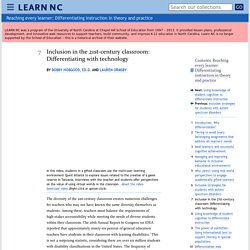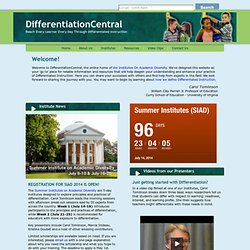 Differentiation Central
Institute News The Summer Institutes on Academic Diversity are 5-day institutes designed to explore principles and practices of differentiation. Carol Tomlinson leads the morning sessions with afternoon break-out sessions lead by DI experts from across the country. Week 1 (July 14-18) introduces participants to the principles and practices of differentiation, while Week 2 (July 21-25) is recommended for educators with more exposure to differentiation. Key presenters include Carol Tomlinson, Marcia Imbeau, Kristina Doubet and a host of other amazing contributors. Limited scholarships are available based on need.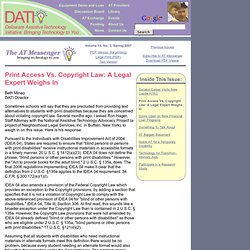 Beth Mineo DATI Director Sometimes schools will say that they are precluded from providing text alternatives to students with print disabilities because they are concerned about violating copyright law. Several months ago, I asked Ron Hager, Staff Attorney with the National Assistive Technology Advocacy Project (a project of Neighborhood Legal Services, Inc. in Buffalo, New York), to weigh in on this issue. Here is his response: Pursuant to the Individuals with Disabilities Improvement Act of 2004 (IDEA 04), States are required to ensure that "blind persons or persons with print disabilities" receive instructional materials in accessible formats in a timely manner. 20 U.S.C. § 1412(a)(23). IDEA 04 does not define the phrase, "blind persons or other persons with print disabilities."
Print Access and Copyright Law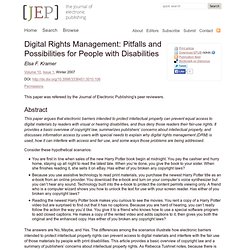 This paper was refereed by the Journal of Electronic Publishing's peer reviewers. Abstract This paper argues that electronic barriers intended to protect intellectual property can prevent equal access to digital materials by readers with visual or hearing disabilities, and thus deny those readers their fair-use rights. It provides a basic overview of copyright law, summarizes publishers' concerns about intellectual property, and discusses information access by users with special needs to explain why digital rights management (DRM) is used, how it can interfere with access and fair use, and some ways those problems are being addressed. Consider these hypothetical scenarios: You are first in line when sales of the new Harry Potter book begin at midnight.
Digital Rights Management: Pitfalls and Possibilities for People with Disabilities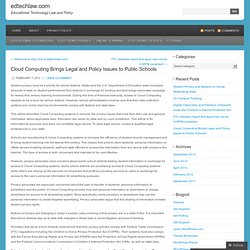 Cloud Computing Brings Legal and Policy Issues to Public Schools « edtechlaw.com
Student privacy must be a priority for school districts. States and the U.S. Department of Education seek increased amounts of data on student performance from districts in exchange for funding and technology advocates campaign for twenty-first century learning environments.