Social Media - Marketing Ideas
Social Media helps
Articles to use for MMC Content. Hot or Not: Sales and Marketing Trends in 2012. The techniques that are effective to keep and get new customers continues to radically change.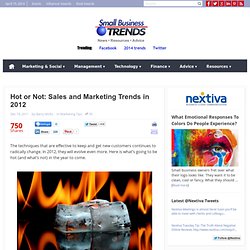 In 2012, they will evolve even more. Here is what's going to be hot (and what's not) in the year to come. 1. Direct Selling Not: It used to be that every sales effort started from picking up the phone to "cold call" an industry list. TabSite - Fan Page Platform | Easily Customize your Facebook Page. The Ultimate (Fresh) Collection Of High-Quality Free Social Media Icon Sets. Don't Forget to participate in a contest where you can win an amazing e-Commerce template from TemplateMonster.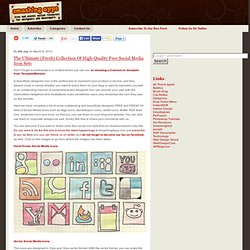 A beautifully designed icon is the perfect way to represent your product or service, and they always come in handy whether you want to place them on your blog or want to represent yourself in an outstanding manner. A comprehensively designed icon can provide your user with the memorable metaphors and illustrations, even sometimes users only remember the icon they saw on the website.
HOW TO: Measure the ROI of a Content Marketing Strategy. Shane Snow is co-founder of Contently.com, an "agile publishing" platform for brands-turned-publishers and freelance journalists.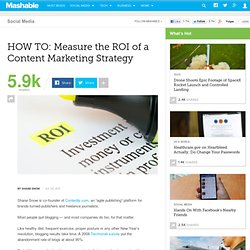 Most people quit blogging — and most companies do too, for that matter. Like healthy diet, frequent exercise, proper posture or any other New Year's resolution, blogging results take time. A 2008 Technorati survey put the abandonment rate of blogs at about 95%. Part of the reason for low blog success rate is that most of us have a hard time predicting what kind of return blogging will achieve. "If I blog every day for a month, will I get more leads? " Agent Wildfire - Social Media and The Food Industry. Small Business Social Media Statistics | Micro business Perspectives.
Bcb social media tut
Foodbizwiz.com - powered by FeedBurner. How to Create a Facebook Landing Page (HTML / iFrame Edition) How to Create a Facebook Page and Landing Page (UPDATED!) One of the most popular blog posts I've ever written was THE Blogger's Guide to Facebook.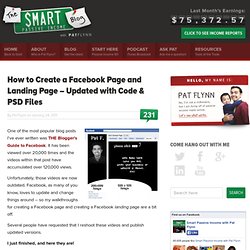 It has been viewed over 20,000 times and the videos within that post have accumulated over 120,000 views. Unfortunately, those videos are now outdated. Facebook, as many of you know, loves to update and change things around – so my walkthroughs for creating a Facebook page and creating a Facebook landing page are a bit off. Several people have requested that I reshoot these videos and publish updated versions.
I just finished, and here they are! THE Blogger's Guide to Facebook. If you landed on this post, please note that there is an updated post that has everything you need to know about the new TIMELINE Format for Facebook.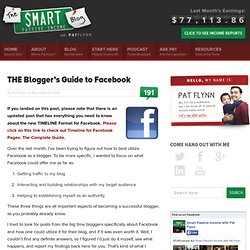 Please click on this link to check out Timeline for Facebook Pages: The Complete Guide. Over the last month, I've been trying to figure out how to best utilize Facebook as a blogger. To be more specific, I wanted to focus on what Facebook could offer me as far as: Facebook Fan Page Marketing Tips (Hubspot.com) Apr 202011 Marketing on Facebook – Effectively Building and Using your Facebook Page I recently attended a webinar put on by .
Have to say, they have some awesome webinars – very informative, particularly on social media marketing. This webinar was called "How Marketers Succeed in a Social World", speakers were Mike Volpe, VP of Marketing at Hubspot, and Victoria Ransom, Founder and CEO of Wildfire. Marketing FAIL – 7 Newbie Landing Page Mistakes. Avoid getting the FAIL stamp on your landing pages In our free marketing eBook "101 Landing Page Optimization Tips", I discussed building good habits by creating a best practices checklist for your landing pages.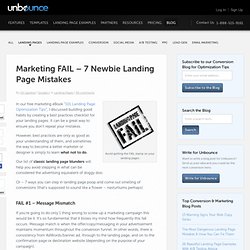 It can be a great way to ensure you don't repeat your mistakes. However, best practices are only as good as your understanding of them, and sometimes the way to become a better marketer or designer is simply to learn what not to do. Our list of classic landing page blunders will help you avoid stepping in what can be considered the advertising equivalent of doggy doo. Social-media-infographic.png (PNG Image, 1994x1000 pixels) How To Use Facebook To Enchant Your Customers. Guy Kawasaki, Enchantment author and Big Break judge, offers 10 tips for creating a captivating Facebook Page for your business.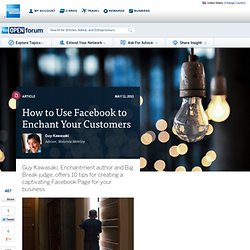 May 11, 2011 The process of creating a deep, delightful, mutually beneficial and voluntary relationship with customers is called enchanting them. SEO Web Designs - » MerchantCircle Facebook Applications. Due to all of the recent changes at Facebook the original instructions are a bit dated.
Here if a brief overview of the new registration process. First click the link below to register your MerchantCircle listing URL with your Facebook account. Once you have registered you MerchantCircle listing, Click the link below to add the MerchantCircle Review Tab to your Facebook page. Display Your MerchantCircle Reviews, Blogs and Coupons on your Facebook business page. This Facebook Application accesses your name, the Facebook ID of the Facebook business page bieng registered and the MerchantCircle URL you provide. Analytics | Official Website. Alltop, all the top stories.
Alltop, all the top stories. Elements of a Good LinkedIn Recommendation. I just updated my LinkedIn profile to reflect my role as president of New Marketing Labs, and to make sure all my information there was fresh and up to date.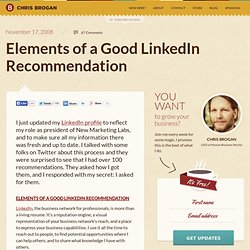 I talked with some folks on Twitter about this process and they were surprised to see that I had over 100 recommendations. They asked how I got them, and I responded with my secret: I asked for them. TweetDeck - Your social world. Seesmic - All of your social services in one place. Twitter Guide Book – How To, Tips and Instructions by Mashable. Twitter for Business. 10 Small Business Social Media Marketing Tips. Ross Kimbarovsky is the co-founder of crowdSPRING, a community of 43,000+ graphic designers that helps small businesses from around the world with graphic design needs.
You can follow Ross on Twitter @rosskimbarovsky and @crowdSPRING. Capacity - especially to plan and execute effective marketing strategies - is a big challenge for every small business. In this post, I'll offer 10 suggestions for how small businesses can supercharge their marketing efforts by leveraging social media. For each suggestion, I will discuss a basic strategy - for those who simply want to get their toes wet, as well as an advanced strategy - for those who want to spend a bit more time and go a bit deeper in their social media marketing efforts. 20 Ways Businesses Use Twitter: 20 Ways Business are Using Twitter.
---