Social Media - Marketing Ideas
Articles to use for MMC Content
The techniques that are effective to keep and get new customers continues to radically change. In 2012, they will evolve even more.
Hot or Not: Sales and Marketing Trends in 2012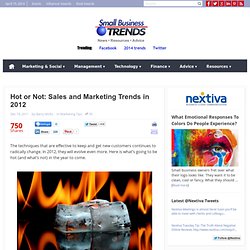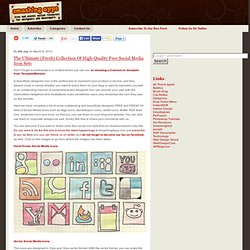 Smashing Apps has been featured at Wordpress Showcase. If you like Smashing Apps and would like to share your love with us so you can click here to rate us. Advertisement
The Ultimate (Fresh) Collection Of High-Quality Free Social Media Icon Sets
HOW TO: Measure the ROI of a Content Marketing Strategy
Agent Wildfire - Social Media and The Food Industry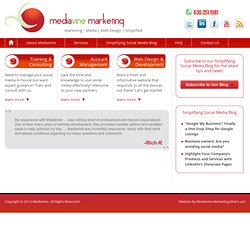 6 Reasons to Use WordPress for Your Next Business Website
Many people think of WordPress as an inexpensive and relatively easy way to start a blog site, and indeed they are correct. You can start a blog site on WordPress.com in mere minutes and it is free.
Small Business Social Media Statistics | Micro business Perspectives
foodbizwiz.com - powered by FeedBurner
Restaurant Marketing Online, #8- Setup a NEW Facebook page « foodbizwiz.com
How to Create a Facebook Landing Page (HTML / iFrame Edition)
How to Create a Facebook Page and Landing Page (UPDATED!)
One of the most popular blog posts I've ever written was THE Blogger's Guide to Facebook. It has been viewed over 20,000 times and the videos within that post have accumulated over 120,000 views. Unfortunately, those videos are now outdated. Facebook, as many of you know, loves to update and change things around – so my walkthroughs for creating a Facebook page and creating a Facebook landing page are a bit off. Several people have requested that I reshoot these videos and publish updated versions. I just finished, and here they are!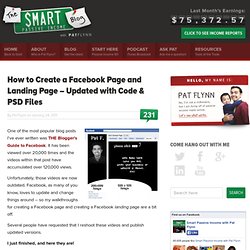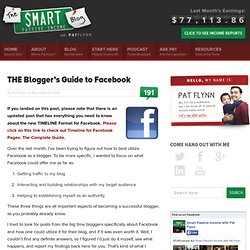 If you landed on this post, please note that there is an updated post that has everything you need to know about the new TIMELINE Format for Facebook. Please click on this link to check out Timeline for Facebook Pages: The Complete Guide. Over the last month, I've been trying to figure out how to best utilize Facebook as a blogger. To be more specific, I wanted to focus on what Facebook could offer me as far as:
THE Blogger's Guide to Facebook
Facebook Fan Page Marketing Tips (Hubspot.com)
Apr 202011
Avoid getting the FAIL stamp on your landing pages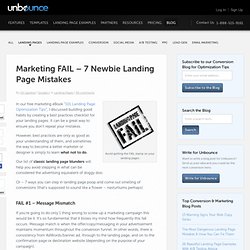 Marketing FAIL – 7 Newbie Landing Page Mistakes
social-media-infographic.png (PNG Image, 1994x1000 pixels)
Guy Kawasaki, Enchantment author and Big Break judge, offers 10 tips for creating a captivating Facebook Page for your business.
How To Use Facebook To Enchant Your Customers
Due to all of the recent changes at Facebook the original instructions are a bit dated. Here if a brief overview of the new registration process. First click the link below to register your MerchantCircle listing URL with your Facebook account. Once you have registered you MerchantCircle listing, Click the link below to add the MerchantCircle Review Tab to your Facebook page. Display Your MerchantCircle Reviews, Blogs and Coupons on your Facebook business page. This Facebook Application accesses your name, the Facebook ID of the Facebook business page bieng registered and the MerchantCircle URL you provide.
SEO Web Designs - » MerchantCircle Facebook Applications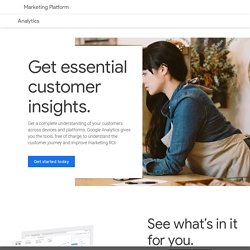 Surveillez l'activité de votre site au moment même où elle a lieu : identifiez immédiatement les éléments performants et ceux qui ne le sont pas. En savoir plus Vos investissements dans les médias sociaux méritent mieux que des tâtonnements. Procurez-vous des données et des informations directement exploitables. En savoir plus
Elements of a Good LinkedIn Recommendation
I just updated my LinkedIn profile to reflect my role as president of New Marketing Labs, and to make sure all my information there was fresh and up to date. I talked with some folks on Twitter about this process and they were surprised to see that I had over 100 recommendations. They asked how I got them, and I responded with my secret: I asked for them.
Ross Kimbarovsky is the co-founder of crowdSPRING, a community of 43,000+ graphic designers that helps small businesses from around the world with graphic design needs. You can follow Ross on Twitter @rosskimbarovsky and @crowdSPRING. Capacity - especially to plan and execute effective marketing strategies - is a big challenge for every small business. In this post, I'll offer 10 suggestions for how small businesses can supercharge their marketing efforts by leveraging social media. For each suggestion, I will discuss a basic strategy - for those who simply want to get their toes wet, as well as an advanced strategy - for those who want to spend a bit more time and go a bit deeper in their social media marketing efforts.
20 Ways Businesses Use Twitter: 20 Ways Business are Using Twitter