Second Life Art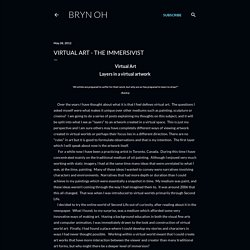 Virtual art - the immersivist
Virtual Art Layers in a virtual artwork "All artists are prepared to suffer for their work, but why are so few prepared to learn to draw?" -Banksy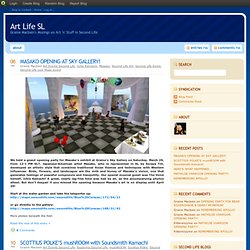 Art Life SL | Graine Macbain's Musings on Art 'n' Stuff in Second Life
Trivia Diva Clancy Huckleberry and E&S Avatar Makeover owner Skye Gravois-Rumble show their true colors at our Canada Day/July 4th Trivia event. Summer has finally arrived in Second Life, and just as in RL, not a minute too soon! At both Graine's Riverside Cafe and the Stage on the Bay at Avian Retreat, we are taking a summer break from live music events, and plan to return in September. We will continue to offer Trivia & Tunes for L$1000 every Thursday from 5.30-7 PM SLT at the Riverside, but will not be having it Thursday, July 4 in order for our staff to enjoy the holiday with their families. For that reason we held our special July 4th event, actually it was a joint Canada Day/Independence Day event on June 27.
I hate to think of the loss of an important SL site as a death in the family. Sometimes it feels like that. As with a beloved aunt or cousin who lives far away, perhaps we don't visit as often as we should or would like to. But those people and places that hold strong memories for us become a painful loss when they are gone. And I feel guilty about not keeping better in touch.
Death and Transfiguration | FreeWee's Laboratory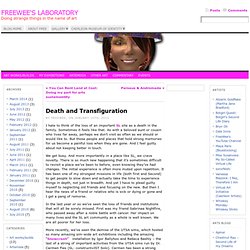 Linden Endowment for the Arts
LEA17 - THE PHILOSOPHER'S STONE:Created by Pixels Sideways and Georg Janick LOCATION: http://maps.secondlife.com/secondlife/LEA17/35/222/25 Featuring the work of the following 15 artists interpreting 15 philosophers in 2D & 3D original artworks. Aequitas - USAPhilsopher: Plato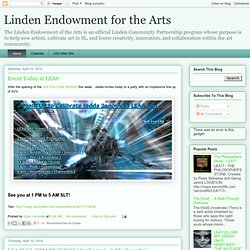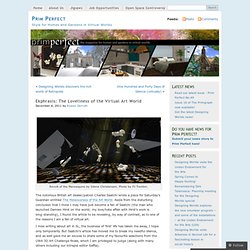 Revolt of the Mannequins by Silene Christensen. Photo by PJ Trenton. The notorious British art dealer/patron Charles Saatchi wrote a piece for Saturday's Guardian entitled The Hideousness of the Art World. Aside from the disturbing conclusion that I think I may have just become a fan of Saatchi (the man who launched Damien Hirst on the world; my love/hate affair with Hirst's work is long-standing), I found the article to be revealing, by way of contrast, as to one of the reasons I am a fan of virtual art. I miss writing about art in SL, the business of 'first' life has taken me away, I hope only temporarily. But Saatchi's article has moved me to break my needful silence, and as well gave me an excuse to share some of my favourite selections from the UWA 3D Art Challenge finale, which I am privileged to judge (along with many others including our intrepid editor Saffia).
Ekphrasis: The Loveliness of the Virtual Art World
Well today is the day!! The 1000 Avatars installation in Second Life will be coming down. To celebrate it's success and long run we are having a closing party from noon-3pm slt.
1000+ Avatars
selavy oh
site-specific installation for the UWA Centenary 3D Art Challenge. the work is completely invisible unless visitor communicate via Second Life chat. then, the typed text will appear as vertical column of letters, each 1m in height, above the speaker. since the main limitation for an entry to the show was the 110-prim limit, "silence, please" generates maximally 110 letters including blanks, which is pretty close to the twitter limit. as soon as the limit is reached, the letters fall down on the visitors and subsequently vanish. unfortunately, the original version of the work, which affected visitors all over the exhibition, was not accepted and a modification was requested that restricted the range to a radius of 20m. the argument of the organizers was that the work was 'intrusive' and 'unfair to the other artists'.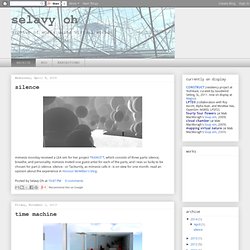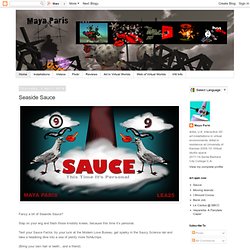 Bluestocking
The Quantic digital art festival opens today at 6pm (Paris time) 9am SLT. This event will take place simultaneously on the AIRE Mille Flux digital platform and in Vichy, France with a live concert by Léandre Vaucher and performance by Kikas Babenco and Marmaduke Arado. You are invited to become a co-creator in the performance. The Quantic festival is a collaborative creation led by Marc Blieux, with work from participants in creative digital workshops held in Vichy and contributing artists from around the world. For more information http://aire-mille-flux.org/quanticfestival/ To join the AIRE Mille Flux platform : http://aire-mille-flux.org/join/ (use Firestorm or Singularity viewer)
Honour's Post Menopausal View
There are a lot of misconceptions about the internet in general and virtual worlds in particular and no I'm not even talking about the proverbial fat guy in the basement (he's OK by the way, once you get past his grunting and unwillingness to take showers). Relevant to this post is the idea that the technology is "alienating" and that we can become more isolated by becoming immersed in the "fake" lives we create. This might be true for some but for others it provides a totally opposite experience. Fearless Nation welcome(s) all PTSD sufferers, their families, friends, and clinicians, war veterans, law enforcement personnel, emergency response workers, those traumatized by sexual abuse, child abuse, torture, human trafficking, hostage events and crime, man-made and natural disasters, and physical, psychological, and verbal trauma. They provide information, access to resources, classes, workshops, support groups and more.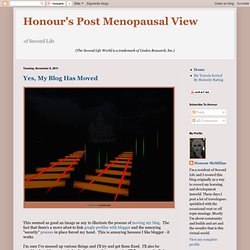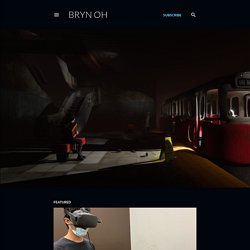 Bryn Oh
All my stories, from Condos in Heaven, The Rabbicorn, Anna's Many Murders and others to The Singularity of Kumiko all reside within the same narrative world. In order to help create a unifying mood or explanation of this worlds society, I decided to narrate through its advertising. For I believe you can really get a sense of a society by how it interprets its own people. Many despise some forms of advertising and its insulting, shallow attempts to manipulate us, but then, there are many more who unwittingly shape their lives around it.
Jenn is going to hate me again when she sees this image and this post here but I'm taking the risk since there is almost no images from her Second Life on the web anymore, plus she really is an amazing artist even if she hates hearing/reading this. Anyways, I'll try to not repeat what other people have said about her, Google is your friend. The first time I heard about Jenn Villota was during the infamous Pornosophy exhibition which happened on Second Life in April 6th through 20th, 2009.
★ ШHΛT'S THIS ΛЯT ★