Second Life Art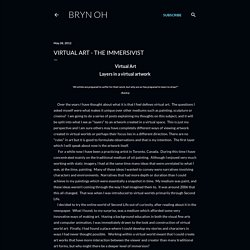 Virtual art - the immersivist
Virtual Art Layers in a virtual artwork "All artists are prepared to suffer for their work, but why are so few prepared to learn to draw?" -Banksy
Art Life SL | Graine Macbain's Musings on Art 'n' Stuff in Second Life
I hate to think of the loss of an important SL site as a death in the family. Sometimes it feels like that. As with a beloved aunt or cousin who lives far away, perhaps we don't visit as often as we should or would like to. But those people and places that hold strong memories for us become a painful loss when they are gone. And I feel guilty about not keeping better in touch.
Death and Transfiguration | FreeWee's Laboratory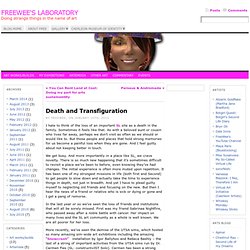 Linden Endowment for the Arts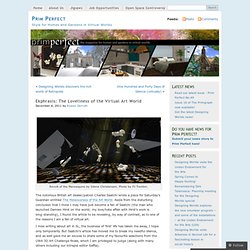 Revolt of the Mannequins by Silene Christensen. Photo by PJ Trenton. The notorious British art dealer/patron Charles Saatchi wrote a piece for Saturday's Guardian entitled The Hideousness of the Art World. Aside from the disturbing conclusion that I think I may have just become a fan of Saatchi (the man who launched Damien Hirst on the world; my love/hate affair with Hirst's work is long-standing), I found the article to be revealing, by way of contrast, as to one of the reasons I am a fan of virtual art. I miss writing about art in SL, the business of 'first' life has taken me away, I hope only temporarily. But Saatchi's article has moved me to break my needful silence, and as well gave me an excuse to share some of my favourite selections from the UWA 3D Art Challenge finale, which I am privileged to judge (along with many others including our intrepid editor Saffia).
Ekphrasis: The Loveliness of the Virtual Art World
1000+ Avatars
selavy oh
Bluestocking
Honour's Post Menopausal View
Bryn Oh
★ ШHΛT'S THIS ΛЯT ★