Uranium
U.S. Runs Out Of Nuclear Fuel From Russian Warheads
Recent Performance Review Of 5 Uranium Producers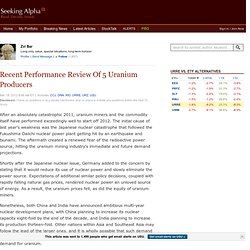 After an absolutely catastrophic 2011, uranium miners and the commodity itself have performed exceedingly well to start off 2012. The initial cause of last year's weakness was the Japanese nuclear catastrophe that followed the Fukushima Daiichi nuclear power plant getting hit by an earthquake and tsunami. The aftermath created a renewed fear of the radioactive power source, hitting the uranium mining industry's immediate and future demand projections. Shortly after the Japanese nuclear issue, Germany added to the concern by stating that it would reduce its use of nuclear power and slowly eliminate the power source. Expectations of additional similar policy decisions, coupled with rapidly falling natural gas prices, rendered nuclear power an unloved source of energy.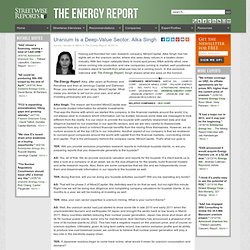 Source: George S. Mack of The Energy Report (5/24/12) Having just founded her own research company, Mine2Capital, Alka Singh has her sights set on the uranium sector, where she sees deep values in a beaten-down industry. With two major catalysts likely to boost spot prices, M&A activity afoot, new mines coming into production and new companies coming to market, well-positioned investors stand to benefit from what just may be a coming boom. In this exclusive interview with The Energy Report, Singh shares what she sees on the horizon. The Energy Report: Alka, after years at Rodman and Renshaw and then at Jennings Capital and Dahlman Rose, you started your own shop, Mine2Capital.
Uranium Is a Deep-Value Sector: Alka Singh
Uranium found in town's tap water, health officials say | Around Oklahoma - KOCO Home
COYLE, Okla. —Residents of a town in Oklahoma have been told that their drinking water contains a high level of uranium, according to the Department of Environmental Quality. Health officials said the water in the town of Coyle contains too much of the radioactive metal. "We just happen to be one micro milligram per liter above the maximum contaminant level," Water Superintendent Joe Courtwright said. Coyle officials sent out a notice to residents Friday from the DEQ stating that there was no immediate health risks from drinking the water. The notice said that drinking water with high uranium levels over time could create an increased risk of cancer or kidney problems.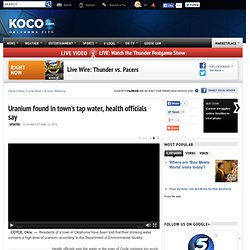 High level of uranium found in Mongolian capital's groundwater: report - Xinhua | English.news.cn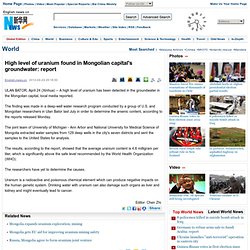 ULAN BATOR, April 24 (Xinhua) -- A high level of uranium has been detected in the groundwater in the Mongolian capital, local media reported. The finding was made in a deep-well water research program conducted by a group of U.S. and Mongolian researchers in Ulan Bator last July in order to determine the arsenic content, according to the reports released Monday. The joint team of University of Michigan - Ann Arbor and National University for Medical Science of Mongolia extracted water samples from 129 deep wells in the city's seven districts and sent the samples to the United States for analysis. The results, according to the report, showed that the average uranium content is 4.6 milligram per liter, which is significantly above the safe level recommended by the World Health Organization (WHO). The researchers have yet to determine the causes.
Source: Radio Zamaneh Iranian authorities report that while they are suspicious of recent overtures by the Obama administration about supporting low-grade uranium enrichment in Iran, they believe it would be an excellent step toward positive negotiations on the nuclear issue. The Los Angeles Times recently reported that U.S. officials have said that if Iran agrees to close and widespread inspection of its nuclear facilities by international inspectors, the U.S. might agree to let Iran continue enriching uranium to the five-percent level. Iran maintains that its uranium enrichment activities are aimed at making fuel for its nuclear reactors for power generation and medical purposes.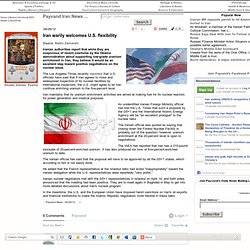 Iran warily welcomes U.S. flexibility
(Judy Fahys | Tribune file photo) Atlas tailings project manager Don Metzler, with the Department of Energy, stands in front of the site near Moab where millions of tons of uranium waste have been removed. A new contract went to an Idaho company to take over from EnergySolutions Inc. and Rep. Jim Matheson said he is concerned that a scale-back in funding will slow down the project. Moab » Jim Matheson wants to hurry project, but he won't represent the area after election. Cleanup crews have hauled a big chunk of the massive Atlas tailings pile away from Moab during the past three years. But the project's supporters now worry about the heavy lifting ahead: the political effort needed to keep the project moving.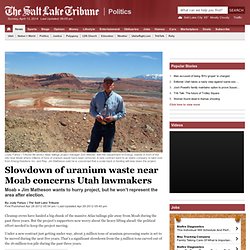 Cleanup of uranium waste near Moab will slow, which concerns Utah lawmakers
The operator of the wrecked Fukushima Daiichi nuclear power plant says about 12 tons of radioactive water has leaked from the crippled Japanese facility, and some may have flowed into the Pacific Ocean. Tokyo Electric Power Co. (TEPCO) said on Thursday that the leak was found earlier in the day from a pipe attached to a temporary decontamination system, and the water contaminated with radioactive element strontium had already gone through some of the cleansing process. "Our officials confirmed that cooling water leaked at a joint in the pipes," a TEPCO spokesman said on condition of anonymity. He added that "it is possible that part of the water may have flowed outside the facility and poured into the ocean."
Radioactive water 'flows' into ocean from Fukushima plant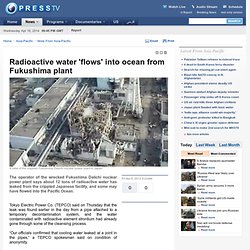 HONG KONG (Reuters) - Chinese firms are on the prowl for mining investments in Africa, South America and central Asia as they look to feed ever expanding domestic demand for key commodities, but are switching away from Australia and Canada, which are getting too expensive. Iron ore and copper have been the hot targets over the past few years, but more recently, China Guangdong Nuclear Power Corp has gone after uranium in Africa, and firms are now seeking gold, nickel, tin and coking coal, too. They used to prefer Australia and Canada for their political stability, but state-owned and private Chinese investors say assets in those countries are becoming too expensive. "Those traditional markets that are developed, while being more stable - the likes of Australia and Canada - the competition to gain good resources is actually very, very intense," said Leong Eng Kiat, Managing Director of CCB International Capital. "Because of that, the prices tend to be bid up.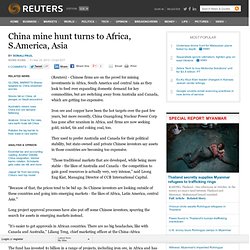 China mine hunt turns to Africa, S.America, Asia
Play on! Lt. Dunbar would love the ends of modern college or pro basketball games. Dunbar, no first name given, is a U.S. Army airman in Joseph Heller's 1961 novel "Catch 22" who believes that the key to prolonging life is to be as bored as possible at all...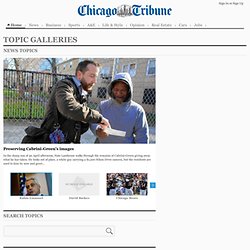 Iran starts uranium enrichment, condemns American to death
Australia hostage to the world
Mines not damaged by flooding
Vista Gold spokesman Raymond Iacono said media reports that the water was released from an old tailings dam were incorrect and that the water had instead come from a retaining pond. Mr Iacono said the water is acidic with a PH of about 3 to 3.5. The mine site has acid-rock drainage problems. When rain falls on the exposed rock it converts to sulphuric acid, causing heavy metals to leach into the nearby Edith River, causing fish kills.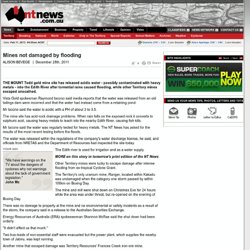 Energy Metals signs first uranium export contract
CHINESE-controlled uranium explorer Energy Metals has signed its first local uranium trading contract, agreeing to export third-party uranium from Adelaide to its parent company in Shanghai. The Australian-listed Energy Metals is 60 per cent owned by China Guangdong Nuclear Power Co, which is one of two Chinese companies authorised to import and export uranium in China and which is also a potential suitor for Namibian-focused Extract Resources.
Despite everything you might have heard about its feuding commissioners, the NRC's embattled chairman says his agency is still a great place to work. The allegedly hot-tempered Gregory Jaczko is set to tell lawmakers Wednesday about the Nuclear Regulatory Commission's successes in this "exceptionally challenging and productive year" — including the fact that the NRC was ranked the second-best place to work in the federal government, according to a copy of his prepared testimony obtained by POLITICO. Continue Reading
Gregory Jaczko: NRC among 'Best Places to Work' - Dan Berman
IAEA Project To Monitor Radioactive Substances In Pacific Ocean Region
At least four people were killed and several others injured in Afghan capital Kabul, when a suicide bomber blew himself up close to a bus carrying Ministry of Defense personnel, according to officials of the Interior Ministry. The Taliban has claimed responsibility for the attack on Sunday. The suicide... Chaos continue to reign Thailand's capital Bangkok, after anti-government protestors blocked officials of the election commission from entering poll stations to conduct advance voting ahead of the general elections next week.
Dec. 14 (Bloomberg) -- China, the world's biggest energy user, may resume approving new nuclear projects after the cabinet endorses draft safety rules prepared by the Ministry of Environmental Protection, an industry association official said. "Technically, all conditions would be met after the State Council approves this new safety regulation," Zhao Chengkun, vice president of the China Nuclear Energy Association, said yesterday by telephone from Beijing. "I think it's good news for China's nuclear industry." China suspended new nuclear projects after the March 11 earthquake and tsunami in Japan crippled the Fukushima Dai-Ichi plant and prompted a global review of atomic energy plants. The State Council said approvals would be withheld until existing projects and those under construction are inspected and a stricter safety regime is in place.
China May Approve Nuclear Projects After Revising Safety Rules
Japanese nuclear power plant affects uranium stocks
NRC Chief Denies Verbal Abuse of Employees Cited by Colleagues
Dec. 14 (Bloomberg) -- U.S. Nuclear Regulatory Commission Chairman Gregory Jaczko denied accusations by all four of his agency colleagues that he verbally abused employees, telling lawmakers he was hearing many complaints for the first time. Jaczko bullied employees, humiliated female workers and blocked information from being shared, the other commissioners told the House Oversight and Government Reform Committee today.
Congressman Kucinich expresses concerns on Davis-Besse cracks, urges public hearing before NRC allows reactor re-start
Apocalypse Newt - 2012 Elections
As Mining Profits Soar, Legislation to Reform Nation's 139-Year-Old Mining Law
Attackers of Siberian anti-uranium activists given jail terms | Crime
Stock Market Research - Zacks Investment Research
French nuclear reactors need safety upgrade - FRANCE
American depleted uranium ammunition
Beyond Nuclear - Radiation & Health What's New - Cancer panel to issue final report. Please give comments!
Japanese Official Drinks Water From Fukushima Reactor Buildings
Europe Bans Airport Body Scanners over "Health and Safety" Concerns
Belgium Will Eliminate All Nuclear Power Plants By 2025
Sierra Club's Nukespeak Revives the Nuclear Debate
Low levels of radioactive particles 'found in Europe'
Fukushima Crisis: Gobs of Radioactive Contamination
Chicago event unites activists for environmental justice
Gov't should thoroughly explain health risks from internal radiation exposure through food
Clean-up exposes 17 people to plutonium at Idaho lab
Sixteen workers exposed to radiation at US DOE lab in Idaho - Bellona
Forum explores pros, cons of uranium mining in Va.
Uranium mining debate revs up
URANIUM DEVELOPMENT: Cigar Lake ore to be milled at McClean Lake | Canadian Mining Journal
Will the Government Guarantee Your Uranium Stock? (USU)
Colorado: Court ruling puts uranium mining on hold
Kazakhstan Ends Rise In Uranium Production To Stabilize Prices
Effective Approaches for U.S. Participation in a More Secure Global Nuclear Market
Colorado demands Cotter Corp. clean up mine that's leaking uranium
Is Depleted Uranium As Safe As The Military Claims? DU Video | Heliobiology Predicts Effects Of Sunspot Cycles On Humans, History and Weather
GE warns nuclear reactors could struggle in earthquake
N-plants to grow despite Japan disaster: IAEA
Intelligent absorbent removes radioactive material from water
Rio Tinto Places Offer for Uranium Junior Hathor Exploration
DOE to assist Ohio uranium plant project
Uranium Takeovers Offer Investors Big Payoffs
Cotter plans to reopen uranium mill near Cañon City
Congress takes on Arizona Strip mining issues - Kingman Daily Miner - Kingman, Arizona
Kazakhstan steps up activity in rare-metals market - Central Asia Online
Time to scrap Koodankulam and start focusing on renewable energy | Causes |
Judge halts uranium-mining plans in Colorado over environmental issues
A Call for a Moratorium on Open-Pit Mining
EPA wraps up uranium mine cleanup on Navajo Nation - KTAR.com
Bernard challenges Watkins for state Senate seat
The Grand Canyon, Uranium MIning, and John McCain
Uranium debate goes on
China Uranium Mining Market Overview and Forecast to 2020: Trends, Fiscal Regime, Major Projects, and Competitive Landscape - PR Newswire
Steel Guru : Rio makes Hathor bid official and PEA modified - 233084 - 2011-10-30
As Palestinians Push to Restart Negotiations, US Quietly Supplies Israel With Bunker-Busting Bombs | Truthout
Blast at French Nuclear Site Is Said to Kill One Person | Truthout
South Australian population closing on eastern neighbours
Uranium Energy Corp Completes First Sale of Uranium
Key European Nuclear Firms Attacked By Variation On Stuxnet Virus
New Analysis: Indian Point Nuclear Plant Can be Replaced with Cleaner, Safer Energy
Radiation Network
Southside resident reports on trip to Canadian uranium mine | Virginia Energy Independence Alliance
Olympic Dam project to inject $8.6bn into South Australia
IAEA team in Japan
Anti-nuclear rallies staged across US
Japan Discovers Plutonium Far From Crippled Nuclear Reactor | Fresh Coffee News…
Radiation-Loving Fungi Can Remove Toxic Waste | Science
Plan targets highly contaminated mine on Navajo
Key Settlement Achieved on Water Rights for Energy Fuels' Pinon Ridge Mill | Resource Investing News
U.S. learns nuclear plant lessons