TETHYS
Copycats. Dolphins can copy each other's whistles, just as humans can say someone else's name.
Dolphins Can Call Each Other, Not by Name, But by Whistle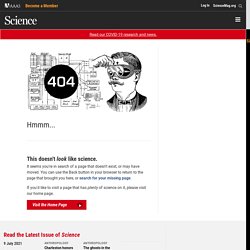 Walking with Beasts : Whale Killer - Episode 2
Early humans were able to move from Africa after a single genetic mutation allowed them to become vegetarians, scientists claim. The switch, which allowed humans to process vegetables, meant that humans were able to move away from water sources and spread across the continent.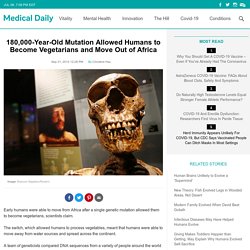 180,000-Year-Old Mutation Allowed Humans to Become Vegetarians and Move Out of Africa : Science/Tech
Himalayan Meltdown' Wins Prize at Film Festival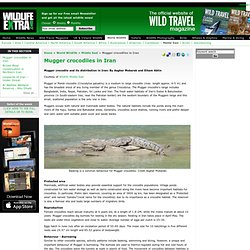 Mugger crocodile and its distribution in Iran: By Asghar Mobarak and Elham Abtin
Mugger crocodiles in Iran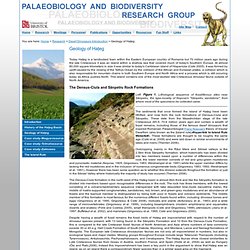 Today Haţeg is a landlocked town within the Eastern European country of Romania but 70 million years ago during the late Cretaceous it was an island within a shallow sea that covered much of today's Southern Europe.
Palaeobiology and Biodiversity Research Group, Department of Earth Sciences, University of Bristol
This article has been reviewed by the following Topic Editor: Mark McGinley
Wadi Al-Hitan (Whale Valley), Egypt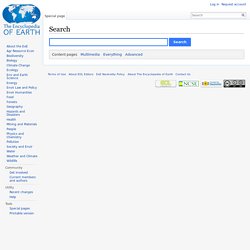 New Prehistoric Crocodile Found in "Kitchen Counters"
Fossils of a new species of ancient crocodile cousin have been found in limestone once destined for Italian kitchen countertops, a new study says.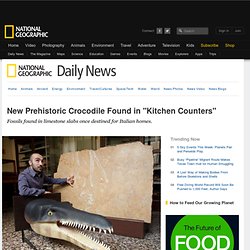 The Early Earth and Plate Tectonics
Untitled Document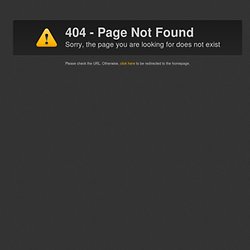 The Devonian Period The Earth's geologic history is broken into many time periods. One of the most important of these is the Devonian period.
GEOL 104 In the Shadow of the Dinosaurs: Pterosaurs, Marine Reptiles, Mesozoic Mammals, Mesozoic Plants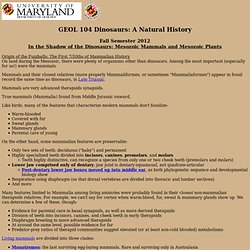 Fall Semester 2012 In the Shadow of the Dinosaurs: Pterosaurs, Marine Reptiles, Mesozoic Mammals, Mesozoic Plants Dragons of the Sea and Air
by Dr.
Bob Gardner's "Dinosaurs" Planetarium Show, The Triassic Period
At one time—estimated to be 200 to 300 million years ago—continents were united in one supercontinent or protocontinent named Pangaea (or Pangea, from the Greek pan, meaning all, and gaea, meaning world) that first split into two halves.
Continental Drift - History Of Wegener's Theory - Continents, Earth, America, and Africa
Artist's Rendering of Shieldcroc (Aegisuchus witmeri); Credit: Orginal artwork by Henry P. Tsai, University of Missouri
Most ancient crocodile discovered, Aegisuchus witmeri | Nature
Feb. 3, 2012 — A painstakingly detailed investigation shows that mass extinctions need not be sudden events.
Global extinction: Gradual doom is just as bad as abrupt
Tethys Petroleum unveils official opening of new rail loading facility in Kazakhstan
30th Jan 2012, 9:43 am by Deborah Sterescu Tethys Petroleum ( TSE:TPL )(LON:TPL) announced Monday the official inauguration of a new oil storage and rail loading facility for oil shipments from the company's Doris oilfield into the Kazakh rail system in Kazakhstan. The Aral Oil Terminal (AOT) is located roughly 230 kilometres from the Doris oilfield, significantly reducing the distance that oil is currently trucked by road from the field, Tethys said.
Tethys announces completion of US$13 million private placement
Tethys Petroleum Limited today announced that it has completed a previously announced private placement of 26,062,975 Ordinary Shares for gross proceeds of US$13,069,187 million (the "Offering").
Animals Have Emotions, May Help People Understand Theirs
( EmaxHealth ) - Have you ever felt like your dog or cat knows what you are feeling and empathizes with you? Do you think other animals have emotions, and if they do, is it important? According to Jaak Panksepp, professor of veterinary and comparative anatomy, pharmacy and physiology at Washington State University, "I think the more we know about the emotions of other animals, the more we will understand our own emotions."
Tethys Oil announces strong Oman oil output
Tethys Oil makes discovery onshore Oman - World Oil
Hunting for Fossil Rock in the Arabian Desert
Heavy snow halts Tethys oil transport in western Kazakhstan
Tethys Oil AB (TETY.ST) Key Developments
Tethys « ferrebeekeeper
Global Extinction Need Not be Sudden Events.
Major events in Caspian countries' oil and gas industry for last week (Jan. 30- Feb. 4)