CISPA STOP
cispa stop Nov 26
DOJ Claims It Can Read Your E-mail without a Warrant
During the debate in the House of Representatives over cyber-security, the White House issued veto threat over CISPA due to Internet privacy concerns. Despite that strong stance on a controversial piece of legislation, there have been a number of news stories recently showing various government agencies willingness to ignore constitutional protections to gain access to e-mail and other forms of electronic communication and files. In fact, it's the official policy of President Barack Obama's Department of Justice (DOJ) and Federal Bureau of Investigation (FBI) that agents do not need a warrant when they want to gain access to e-mail and Facebook accounts :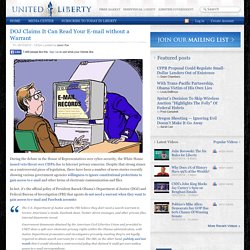 CISPA | proparanoid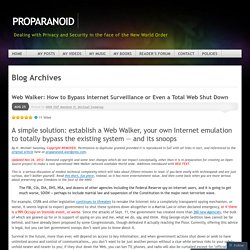 i 11 Votes A simple solution: establish a Web Walker, your own Internet emulation to totally bypass the existing system — and its snoops The FBI, CIA, DIA, DHS, NSA, and dozens of other agencies including the Federal Reserve spy on internet users, and it is going to get much worse, SOON — perhaps to include martial law and suspension of the Constitution in the major next terrorism wave. For example, CISPA and other legislation continues to threaten to remake the Internet into a completely transparent spying mechanism, or worse, it seems logical to expect government to shut these systems down altogether in a Martial Law or other declared emergency, or if there is a 99% Occupy on Steroids event, or worse . Since the attacks of Sept. 11, the government has created more than 260 new Agencies , the bulk of which are geared up for or in support of spying on you and me, what we do, say, and think .
CISPA Sponsor Mike Rogers May Go On To Lead The FBI
Liberal-flavored site Burnt Orange Report sheds some light on a Texas bill sponsored by both Democrats and Republicans in the House that gives law enforcement in the state broad powers to look at private Internet data without much justification. The bill was sponsored by Texas Republican Reps. John Frullo, Allen Fletcher, and John Carona; and Democratic Rep. Senfronia Thompson.
Texas Politicians Fast Track CISPA-Like Law Through House, Senate Vote Expected Soon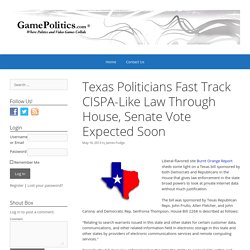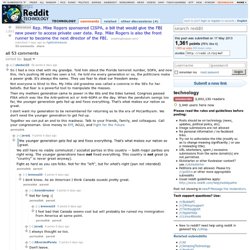 Rep. Mike Rogers sponsored CISPA, a bill that would give the FBI new power to access private user data. Rep. Mike Rogers is also the front runner to become the next director of the FBI. : technology
There is nothing 'left wing' about freedom, nor is there anything 'right wing' about Authoritarianism. To lump everything Authoritarian with one wing is absolute idiocy. It is this pre-school level of thinking that has gotten us to where we are in the first place; a 74,000 page tax code, Cap and Trade, a Drug War, The Patriot Act, The NDAA, Government involvement in marriage in the FIRST place where it has no business being, Child Support and Alimony laws that fuck men over, Affirmative Action which has lead companies to hiring minorities SOLELY based on their skin color and not because they have the best skillset possible, an ungodly number of regulations that your house or business must adhere to, oil and corn and pharma subsidies, a bloated prison system, drone strikes on children in the middle-east, the recent IRS scandal (which further shreds your 'right wing is the only Authoritarian wing' bit to pieces, because RIGHT WINGERS WERE TARGETED BY THE GOVERNMENT).
Let's not sacrifice privacy on altar of cybersecurity | The Chillicothe Gazette | chillicothegazette.com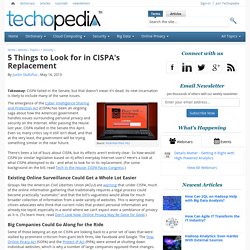 5 Things to Look for in CISPA's Replacement
Takeaway: CISPA failed in the Senate, but that doesn't mean it's dead; its next incarnation is likely to include many of the same issues. The emergence of the Cyber Intelligence Sharing and Protection Act (CISPA) has been an ongoing saga about how the American government handles issues surrounding personal privacy and security on the Internet. After passing the House last year, CISPA stalled in the Senate this April.
LETTER — Vote for CISPA is a vote against liberty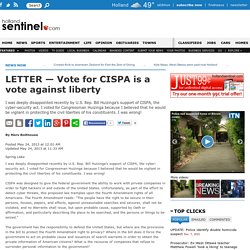 I was deeply disappointed recently by U.S. Rep. Bill Huizinga's support of CISPA, the cyber-security act. I voted for Congressman Huizinga because I believed that he would be vigilant in protecting the civil liberties of his constituents. I was wrong! CISPA was designed to give the federal government the ability to work with private companies in order to fight hackers in and outside of the United States.
Cispatriot Act US Reps approve CISPA cybersecurity bill
This video is currently unavailable. Sorry, this video is not available on this device. Video player is too small. Watch Later as __user_name__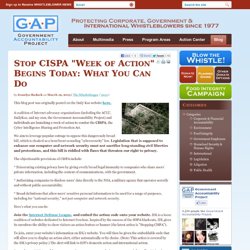 This blog post was originally posted on the Daily Kos website here. A coalition of Internet advocacy organizations (including the ACLU, DailyKos, and my own, the Government Accountability Project) and individuals are launching a week of action to combat the CISPA, the Cyber Intelligence Sharing and Protection Act. We aim to leverage popular outrage to oppose this dangerously broad bill, which is cloaked as a beneficent-sounding "cybersecurity" law.
Stop CISPA "Week of Action" Begins Today: What You Can Do
Firm firewall: Reddit, Craigslist head anti-CISPA online protest — RT USA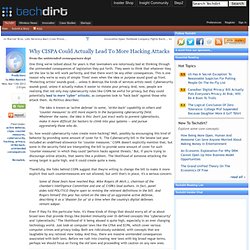 Why CISPA Could Actually Lead To More Hacking Attacks
One thing we've talked about for years is that lawmakers are notoriously bad at thinking through the unintended consequences of legislation they put forth. They seem to think that whatever they set the law to be will work perfectly, and that there won't be any other consequences. This is one reason why we're so wary of simple "fixes" even when the idea or purpose sound good up front. "Protecting artists" sounds good... unless it destroys the kinds of services artists need.
Cyber threats are real and have affected major corporations. China-based hackers have even tapped into personal information from journalists at the New York Times, Washington Post and Wall Street Journal. Action needs to be taken to prevent future cyber attacks. That's what the Cyber Intelligence Sharing and Protection Act set out to achieve.
CISPA Continues To Draw Opposition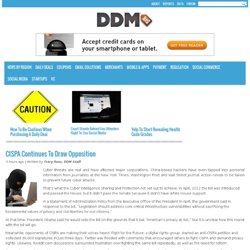 CISPA
CISPA - The End of the Internet and Free Speech.mp4 (FreeAsSlaves)
Panetta Warns of Dire Threat of Cyberattack on U.S.
In a speech at the Intrepid Sea, Air and Space Museum in New York, Mr. Panetta painted a dire picture of how such an attack on the United States might unfold. He said he was reacting to increasing aggressiveness and technological advances by the nation's adversaries, which officials identified as China, Russia, Iran and militant groups.
After defeat of Senate cybersecurity bill, Obama weighs executive-order option - The Hill's Hillicon Valley
Senate Republicans recently blocked cybersecurity legislation, but the issue might not be dead after all. The White House hasn't ruled out issuing an executive order to strengthen the nation's defenses against cyberattacks if Congress refuses to act. "In the wake of Congressional inaction and Republican stall tactics, unfortunately, we will continue to be hamstrung by outdated and inadequate statutory authorities that the legislation would have fixed," White House press secretary Jay Carney told The Hill when asked about the possibility of an executive order. "Moving forward, the President is determined to do absolutely everything we can to better protect our nation against today's cyber threats and we will do that," Carney said. The White House has emphasized that better protecting vital computer systems is a top priority.
Final Vote Results for Roll Call 192
Business fuels death of cyber bill
Over the last three years savvy business interests managed to water down a bill to beef up America's cybersecurity - and then Thursday it drowned. Key industries played one chamber against the other and one party against the other, knowing precisely where to toss their monkey wrenches. What they did not do: race to self-regulate to appease Congress the way industries in the crosshairs usually do -- a sign that they believed they'd win in the end.
"Sen. [Harry] Reid [(D-Nev.)] has said, and he's been very steadfast about this, if both sides can come up with a finite list of germane and relevant amendments to the topic of cybersecurity, he will bring it up," Lieberman said. The bill has been Lieberman's top priority before he retires from the Senate at the end of the year. The bill's sponsors already watered down its regulatory provisions, but that wasn't enough to win the support of Senate Republicans or the powerful business lobby, the U.S. Chamber of Commerce.
OVERNIGHT TECH: Senators head home with cybersecurity on the ropes - The Hill's Hillicon Valley
Obama Gives Thumbs-Up to New Cybersecurity Bill
Privacy advocates satisfied with Lieberman's cybersecurity rewrite - The Hill's Hillicon Valley
Cybersecurity Act on the Senate floor - Denver Grassroots Politics
Code Red - By James Andrew Lewis
CISPA Senate Version Set To Vote Next Week. You Ready? «
The President talks cyber security, or is it just for political gain?
CISPA Is Ridiculously Hideous (And It Just Passed The House)
What is an Unauthorized Disclosure? | Secrecy News
Bill Text - 112th Congress (2011-2012
Redrafted US cyber security act could still threaten internet freedom - 23 Jul 2012
Networking Nuggets and Security Snippets: Cybersecurity Legislation and APTs: Listen to the security pros
Do you have a secret?
Call your Senator today and stop the Cyber Security Act of 2012: it legalizes spying on your email, chats, photos, social behavior, and location for any purpose
John Locke
No Digital Big Brother: Keep the Military Out of Your Email
Major CISPA opponent steps down, jeopardizing White House's veto promise
Red Alert! The 'Cyber Intelligence Sharing & Protection Act' CISPA
Cybersecurity Act of 2012 Re-Introduced in Senate With Changes to Address Information-Sharing Privacy Concerns
Obama Makes Cybersecurity a Priority
at DEFCON 20!
» Barack Obama's Pro Cyber-Security (CISPA) Freedom-Ending Op-Ed In The Wall Street Journal
How to Hack a Website - Network - Application - Free & Easy Tutorial for Beginners: The Danger of CISPA
Vote this Wednesday on Internet Privacy violating Censorship bill CISPA or S.3414
Search results for cispa on imgfave
PELNET.EU - CISPA - A New Threat
STOPPING CISPA AND RIDICULOUS STUFF
Cybersecurity Bill on Fast Track in Senate, With Amendments Upcoming
Liberty Candidate Anti-Patriot Act/NDAA/CISPA Byron Donalds (R CAND-FL 19) for Congress!
President Obama Cispa
CISPA: Steamrolling Civil Liberties | Alternet
CISPA Cancer Spreading; Truthiness and the New York Times; Tough Times for Chinese Graduates
CISPA | Myjive
CISPA Compromise
The Cybersecurity Act of 2012
Democrats slip gun control into cybersecurity bill - National Conservative
Throw SOPA, PIPA and CISPA on the Grill!
High capacity gun magazines banned added to CISPA
Cybersecurity Act Needs One Big Change To Please Privacy Advocates
Cybersecurity bill: 4 initiatives to stronger legislation
Enough with the Distractions … It's Time for Consensus-Oriented Cybersecurity Legislation - MFRTech
EFF: The NSA Cannot Be Trusted to Oversee Cybersecurity Operations
GalaxyVisions Supports Internet Freedom
Civil Libertarians Launch Campaign Against CISPA - Hit & Run : Reason.com
BE AWARE: New #CISPA in the Senate ready for a vote #KillCISPA : 57UN
New CISPA in the Senate ready for a vote
Cybersecurity Act Of 2012 Might Actually End Up Being Pro-Privacy
House Passes CISPA in Surprise Vote; Opponents Will Continue to Fight in Senate
Condemns CISPA, Vows to Take Fight to the Senate
ACTA Failure Inspires The Most Clueless Column Ever
New Cybersecurity Bill May Actually Take Privacy Concerns Seriously
Microsoft denies softening of CISPA support - The Hill's Hillicon Valley
Mozilla Slams CISPA, Breaking Silicon Valley's Silence On Cybersecurity Bill
Civil-liberties groups urge rejection of White House-supported cyber bill - The Hill's Hillicon Valley
2096, The Cybersecurity Enhancement Act of 2011 - Washington Watch
3834, The Advancing America's Networking and Information Technology Research and Development Act of 2012 - Washington Watch
4257, The Federal Information Security Amendments Act of 2012 - Washington Watch
3523, The Cyber Intelligence Sharing and Protection Act of 2011 - Washington Watch