Art
Get flash to fully experience Pearltrees
Home » featured , Inspiring Artists , Inspiring Projects 26 October 2010 615 Comments Sometimes an artist creates something so beautifully simple that it takes your breath away…. literally. (hack line – couldn't help it) Artist Jason de Caires Taylor creates life-size cement sculptures of people and submerges them into the waters of South America.
digg On March 10, 1869, railroad officials, political leaders and work gangs converged at Promontory Point, Utah, to drive in the last spike of the Pacific Railroad, the first of five transcontinental railroads built in the 19th century. The driving of the spike linked the Union Pacific line built from East to West with the Central Pacific, which had commenced construction in California. On January 28, 1986, after about 73 seconds into its launch, space shuttle Challenger exploded, leading to the deaths of its seven crew members, which included the first teacher in space.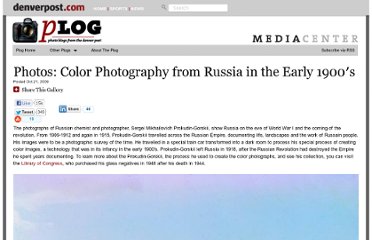 Posted Oct 21, 2009 The photographs of Russian chemist and photographer, Sergei Mikhailovich Prokudin-Gorskii, show Russia on the eve of World War I and the coming of the revolution. From 1909-1912 and again in 1915, Prokudin-Gorskii travelled across the Russian Empire, documenting life, landscapes and the work of Russain people. His images were to be a photographic survey of the time.
<img class="alignnone size-full wp-image-2115" title="street_art_0" src="http://www.streetartutopia.com/wp-content/uploads/2011/03/street_art_0.jpeg" alt="" width="640" height="612"/> More info . <img class="alignnone size-full wp-image-2116" title="street_art_1_banksy" src="http://www.streetartutopia.com/wp-content/uploads/2011/03/street_art_1_banksy.jpeg" alt="" width="1024" height="681"/>