Pies
Would a pie by any other name taste as sweet? Yes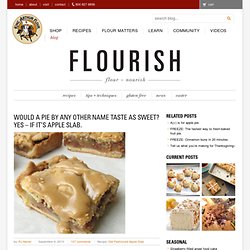 Apple Slab. Fairly rolls off the tongue, doesn't it? I doubt anything I've ever baked has a less compelling name. But truth be told, it wasn't the name that attracted me. It was an email from a reader wanting to re-create something his grandmother had made decades ago. And since I'm a complete sucker for old-time recipes, I took the bait.
Purple Plum Pie Recipe | Taste of Home
Homemade Pie Crust Recipe - Food.com - 13619
Food52 co-founder Amanda Hesser shares her essential, easy-as-can-be peach tart that requires nothing more than a knife, a bowl, and a pan. - Amanda Every cook needs a good dessert recipe that can be whipped up anywhere -- especially when you're away from your kitchen and its mixer and rolling pin and comforting gadgets.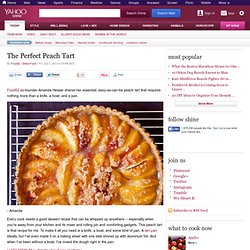 The Perfect Peach Tart | Shine Food
This story should tell you how good this is: I tried to freeze half of this tart to prevent myself from eating it too quickly. But I found myself repeatedly pulling it out of the freezer to pry out a frozen hunk of the stuff. Two voices could be heard in my head, one going, "You doofus, it is COMPLETELY frozen to the bowl" as I tried to pry it out of the Pyrex with a fork. And another, saying, "BAHHHHHH GIVE ME CHOCOLATE CARAMEL TART!!!"
Salted Caramel Chocolate Ganache Tarts with Cookie Crust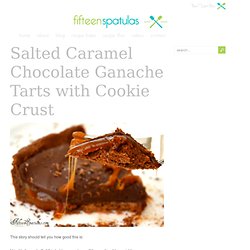 For the crust: 1 large egg yolk 1 tbsp. heavy cream ½ tsp. vanilla extract 1 ¼ cups all-purpose flour, plus more for dusting the work surface 2/3 cup confectioners' sugar ¼ tsp. salt 8 tbsp. cold unsalted butter, cut into ½-inch cubes For the ganache: 2 oz. bittersweet chocolate, finely chopped ¼ cup heavy cream 1 tbsp. unsalted butter, at room temperature For the filling: 8 oz. cream cheese, softened ½ cup confectioners' sugar, sifted ½ tsp. vanilla extract 2 tbsp. milk or cream For topping: Fresh strawberries, sliced (approximately 12 oz.)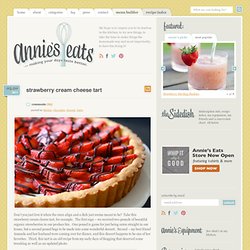 Strawberry Cream Cheese Tart » Annie's Eats
I was on a flight from Minneapolis back to my hometown after a week long escape to the ocean. I've flown dozens of times over the last few years, heading from here to there over land and sea for various reasons. I love the ease of freedom of flight—the rush of the take-off and the release of landing. This particular flight, however, was different.
Blackberry Goat Cheese Tart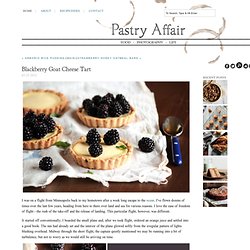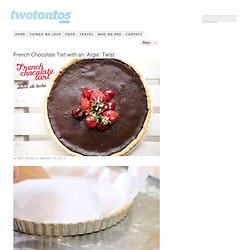 French Chocolate Tart with and 'Argie' Twist
I have been making this recipe for years now, it has minimal ingredients and is fairly easy to make, yet it seems so sophisticated when you serve it for dessert, maybe its the name? Anyway, being in Argentina at the moment, I have started adding a little extra twist to it by placing a layer of 'Dulce de Leche' at the bottom of the chocolate mixture before cooking. This tart can afford the extra sweetness as it uses dark chocolate and there is no added sugar to the chocolate mixture.
Brown Butter Pecan Pie
NOTE: The baking temperature required seems to vary widely from oven to oven. Mine bakes perfectly in 50 minutes, but some are reporting that the pie is still soupy. If the pie is very jiggly when you remove it from the oven, cover with foil and bake for another 20 minutes or until mostly set. …Is this recently perfected Pecan Pie, which, one bite in, changed my life for the better. First: Pecan Pie.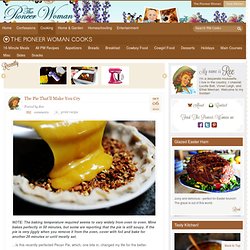 The Pie That'll Make You Cry
Good Ol' Pumpkin Pie Recipe - Food.com - 2393
Dare I say it? I don't like pumpkin pie. So un-American, right? People who know me are always shocked. I love all things pumpkin!
The Ultimate Pumpkin Pie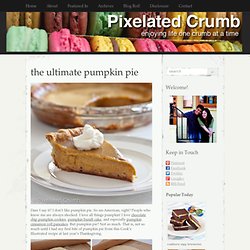 Apple Cheddar Cheesy Pie Recipe - Food.com - 323544
If you consider yourself "pie crust challenged", this recipe is your new best friend. I first saw this pie over at Lisa's blog and I knew I had to give it a try, it looked delicious. While I have no problem making pie crust, so manypeople have had bad experiences making pie crust from scratch andhave just given up.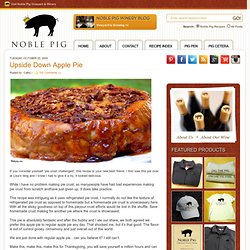 Mock Apple Pie Recipe
Strawberry Rhubarb Pie Recipe - Food.com - 125515
photo by Gentl & Hyers yield Makes 12 servings A crème fraîche custard is folded into the mixed-fruit filling of this elegant crisp. Topping: 1 cup all purpose flour 6 tablespoons (packed) golden brown sugar 1 teaspoon finely grated lemon peel 1/2 teaspoon salt 1/2 cup (1 stick) unsalted butter, melted 1 teaspoon vanilla extract Filling: 2 large eggs 1 cup crème fraîche or sour cream 1 teaspoon vanilla extract 1 tablespoon plus 1/2 cup all purpose flour 3 cups blackberries (two 5.6- to 6-ounce packages) 4 medium nectarines (about 18 ounces total), pitted, cut into 11/2-inch cubes 1/4 cup sugar Vanilla ice cream
Nectarine-Blackberry Crisp Recipe at Epicurious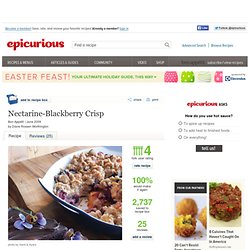 So, apples right? I love apples and I especially like baking with them. Not that I don't appreciate a nice naked, low fat apple.
Apple Cheese Crisp | dlyn
Chocolate Fool
I have finally settled back into my kitchen after being away from it for over two months. Since I've landed back onto Canadian soil, I have made the following: marble cake, key lime pie, lemon cheesecake tart, mini pecan pie, mini carrot cakes, hazelnut shortbread, buttercrunch toffee brittle and coconut bars. Sadly, I wasn't able to take photos of any of these delightful goodies until I made the buttercrunch toffee because the charger of my beloved SLR is currently on its way in a FedEx package from Vietnam.
Peach Cobbler
Preheat oven to 350 degrees. Combine the peaches, 1 cup sugar, and water in a saucepan and mix well. Bring to a boil and simmer for 10 minutes. Remove from the heat. Put the butter in a 3-quart baking dish and place in oven to melt. Mix remaining 1 cup sugar, flour, and milk slowly to prevent clumping.
Peach Cobbler — Pauladeen.com
Berry Cobbler | Stronger Together
The classic cobbler is a perfect vehicle for your beautiful berries. If you don't have time to fuss with a pie crust, this is a good alternative, since the topping is simply stirred together and dolloped on. Just bake until bubbly! Ingredients 5 cups berries, washed and dried 1/2 cup sugar, divided 1/2 cup whole wheat pastry flour 1/2 cup unbleached flour 1/4 cup sugar 1/2 teaspoon baking powder 1/4 teaspoon baking soda 1/4 teaspoon salt 1 large egg 3/4 cup plain Greek yogurt, fat free 1/4 cup butter, melted
Black and White Cream Pie | Evil Shenanigans - Baking & Cooking Blog
Ready for some new shenanigans? How about we start with pie? When I first started cooking I used to make something called "Oreo Pie".