Design
Home \ Files \ Print Templates \ Stationery \ Resumes\ Interactive clickable Premium Resume CV Set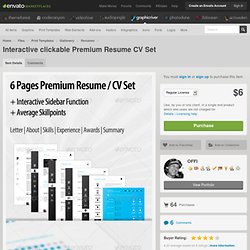 Interactive clickable Premium Resume CV Set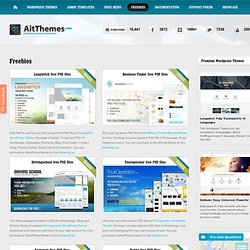 Freebies Download | Free PSD Graphics | AIT Themes
This free set includes 24 icons in size 84×84 px of the most popular social media networks on the internet.
Bemio
GraphicRiver Tablet 30 Pages Minimal Magazine » Scriptgates | Download Full Nulled Scripts
Creative Software Guide
InDesign tutorial: Create an interactive magazine for the iPad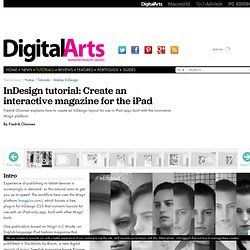 Experience of publishing to tablet devices is increasingly in demand, so this tutorial aims to get you up to speed. The workflow here uses the Mag+ platform ( magplus.com ), which boasts a free plug-in for InDesign CS5 that converts layouts for use with an iPad-only app, built with other Mag+ tools. One publication based on Mag+ is C Mode, an English-language iPad fashion magazine that grew out of the blog carolinesmode.com.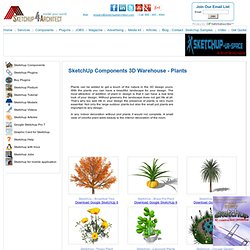 SketchUp Components 3D Warehouse - Plants
That's why we add the section of plants in the SketchUp components 3D Warehouse.
SketchUp Components 3D Warehouse - Plants
V-Ray Tutorials - Learn V-Ray - vray.us
Sansation Font
Sansation is freeware - anyhow a PayPal donation is very much appreciated! So if you want to use it commercial, please consider the work behind this font ;) Sansation 1.3 features: • more than 500 glyphs • advanced language support (including Cyrillic and Greek) • ligatures • oldstyle figures • alternates (such as a usual lowercase k) • real italics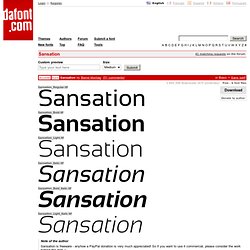 WordPress Archives - WordpressPlus.Org
Graphics - Summer Party Flyer 2581165 | GraphicRiver - Downloads - Tanjung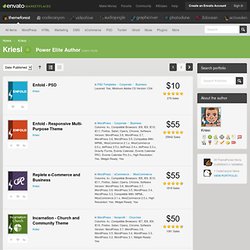 Home \ Kriesi \ Portfolio Power Elite Author Learn more
Kriesi's Portfolio
1979 WordPress Themes and Site Templates - BigBang
SCRN - Responsive single page portfolio Preview
MBMedia Theme Preview
Reset your password in Pearltrees - sibekin - Gmail
qian | Projets
arun jolly on the Behance Network
offtrip .com on the Behance Network
Portfolio | creartix design studio
www.jakubsodomka.com
Petr Ondrusz – I am Interface and UX Designer
Kasper Laigaard on the Behance Network
Steve Fraschini
Color-Theme.com
crislabno.com
1910 Design & Communication
Paulo Granozio Chanquet on the Behance Network
Dezup - Agence interactive | Création de site internet Bourgoin-Jallieu, Lyon, l'isle d'abeau
dsdesign | dustin streeck | Kommunikationsdesign
Портфолио | barabei.net - для тех кто понимает
Jelio Dimitrov - Arsek online portoflio
NJ Quality Studios
Portfolio - Hitmo - hittin' the web
AIPO - Paweł Opozda
Ortografika - studio graficzne - Łódź. Strony internetowe, identyfikacja wizualna, prezentacje multimedialne.
Michał Leonczuk | Graphic Designer
Norbert Mierzwa: Tworzenie stron www, projektowanie stron internetowych Szczecin
Redkroft - branding, corporate identity, logo, webdesign, packaging
deform.in
CREOSOUL - Martin Suster Portfolio
Portfolio | London Website Designers. Web design for charities, non profit organisations, foundations and business
404 ERROR. File Not Found
Arts & Design
Explore
Premium PSD Graphics ⎢ PremiumPsd.com
Copy of Random RSS thru Flickr++
Denis Olenik : Corporate and Brand Identity Services
DigitalParkº / Serkan Bayburtlu. Interactive Art Director.
Marius Roosendaal's Portfolio
Vladimir Kudinov Design Portfolio
Websites
Loading... Greensworld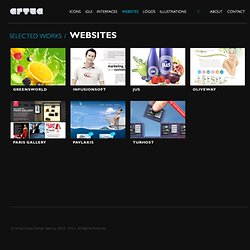 JasperJanssen.com
Francisco Andriani on the Behance Network
Rene Bieder on the Behance Network
Portfolio of Maciej Mach
oberhaeuser.info | Martin Oberhäuser | award-winning information- and interfacedesigner