Social
Depuis quelques mois, la plupart des médias et des agences ont découvert que l'internet du web était en train de se transformer en internet des objets. Hélas, la plupart de ces médias (et agences) n'ayant pas d'argent pour se payer des spécialistes ont abordé ce sujet en lisant des blogs optimisés pour le référencement – des blogs connus pour leur qualité variant du assez médiocre au très très nul. Le résultat : des articles, des "études" ou des recommandations "stratégiques" qui mélangent le M2M (Machine-to-Machine), l'internet des objets et les objets connectés dans une grande mélasse où surnagent au même niveau des contre-vérités absolues et d'antiques évidences.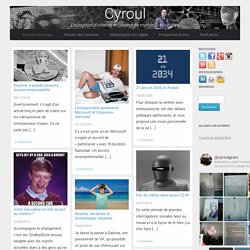 Ce site est consacré à la philosophie de Jean-Marie GUYAU (1854-1888). Vous y trouverez notamment des extraits de son oeuvre, trop peu connue et difficilement accessible de surcroît. De temps à autre, je proposerai de courtes analyses, et des analyses comparées avec des textes de Nietzsche, afin de pouvoir mieux apprécier l'originalité et la spécificité de la philosophie de GUYAU. Nous proposons une édition numérique des Préfaces aux oeuvres de Guyau. Numérisée par nos soins, vous pouvez la télécharger au format PDF directement et gratuitement ici (clic droit ; "enregistrez-sous") :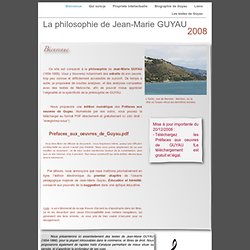 La philosophie de Jean-Marie GUYAU
Facebook @ GDC: Driving discovery and engagement for cross-platform games. This week at Game Developers Conference, we're announcing that across mobile and web, an average of 375 million people play Facebook-connected games each month and that Facebook's website and mobile apps send an average of 735 million referrals to games every day. We're also announcing results from a new study on cross-platform player engagement and monetization and improvements to requests..
Steven Rosenbaum is a curator, author, filmmaker and entrepreneur. He is the CEO of Magnify.net, a real-time video curation engine for publishers, brands, and websites. His book Curation Nation is slated to be published this spring by McGrawHill Business. As the volume of content swirling around the web continues to grow, we're finding ourselves drowning in a deluge of data.