Social
Socialnetworking. #15mani. Cyroul.com, stratégies digitales et exploration d'Internet. La philosophie de Jean-Marie GUYAU. Ce site est consacré à la philosophie de Jean-Marie GUYAU (1854-1888).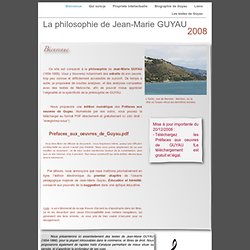 Vous y trouverez notamment des extraits de son oeuvre, trop peu connue et difficilement accessible de surcroît. De temps à autre, je proposerai de courtes analyses, et des analyses comparées avec des textes de Nietzsche, afin de pouvoir mieux apprécier l'originalité et la spécificité de la philosophie de GUYAU. Nous proposons une édition numérique des Préfaces aux oeuvres de Guyau. Numérisée par nos soins, vous pouvez la télécharger au format PDF directement et gratuitement ici (clic droit ; "enregistrez-sous") : Home - Développeurs Facebook. Listorious: Twitter people search and lists directory. Mode(s) d'emploi, tendances, conseils et actus sur le monde du travail. 4 Promising Curation Tools That Help Make Sense of the Web. Steven Rosenbaum is a curator, author, filmmaker and entrepreneur.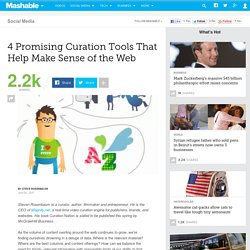 He is the CEO of Magnify.net, a real-time video curation engine for publishers, brands, and websites. His book Curation Nation is slated to be published this spring by McGrawHill Business. As the volume of content swirling around the web continues to grow, we're finding ourselves drowning in a deluge of data. Definition of Twitter hashtags, the easy hashtag directory. Breaking News - Wikio.
---