Sensor63
sensor63
love life, love learning, edupunk language teacher and aikidoka.
American Series and Listening Comprehension
Language learning research centres
Warwick Clermont Exchange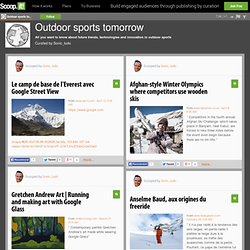 It's the day after the Matterhorn Ultraks and just four days after Kilian Jornet's successful attempt on the Matterhorn Summit record attempt from Cervinia. It has been quite a few days for this iconic mountain and although Kilian has excelled on both occasions, we all know, the mountain is still the boss. Kilian arrives with Emelie Forsberg looking relaxed and fresh after a late breakfast. I congratulate him (and Emelie) once again on topping the podium at the Skyrunning Matterhorn Ultraks race and ask him how he feels, 'I am a little tired but feel good. I was certainly tired in the race but I didn't push too hard.
Outdoor sports tomorrow