Privacy
Get flash to fully experience Pearltrees
Listen The Internet can be a wonderful resource for kids. They can use it to research school reports, communicate with teachers and other kids, and play interactive games. Kids who are old enough to punch in a few letters on the keyboard can literally access the world.
So you've decided you want to drop off the map and leave Big Brother behind. It's harder than ever in our always-connected world, but if you're ready to plan your big vanishing act, here are a few tips to get you started. If this looks familiar, you're not crazy. Our guide to dropping off the map is a perennial Evil Week favorite. Who hasn't thought about how nice it would be to start fresh somewhere new, preferably with nicer weather and cheaper drinks? Whatever your reasons for wanting to disappear—maybe you just want to get The Man off your back—with enough diligence and planning you can vanish and start anew somewhere else.
Dear Parent: Our children are our nation's most valuable asset. They represent the bright future of our country and hold our hopes for a better nation.
Hi, im sorry i only speak english fluently, i picked up on the FBI and porographie, juvenile. So i deduce FBI crack down on juveniles being taking advantage of and even used in pornographic materials etc....SHAMEFULL they should lock the pedos up and let them get abused by thosemore advanced in such things .. nuff said by seektruthnow Apr 19
Four things you can do to help protect kids online Follow these steps to help protect your children's privacy and safety when they're using the computer. Step 1. Decide where your child can and can't go on the Internet It's a good idea to visit some sites for kids.
To ensure that your child's experience on the Internet is a safe one, parents need to check their child's website activity and email. Even for teens, who might think of this as an invasion of privacy, parents need to talk openly to them about their Internet use. Older teens are actually more likely to get into trouble than younger children, because they are more apt to explore the out-of-the-way nooks and crannies of cyberspace and reach out to people outside of their immediate peer group.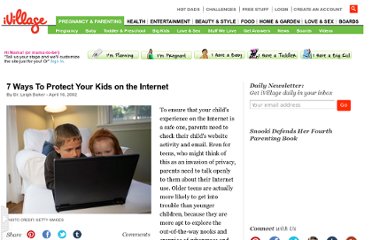 Oops, you've landed on a page that is not available. To visit our website, click here ' or to find out more about our products and services for home users' just keep reading. Anonymizer Universal® V1.3 Complete' 24/7 Online Privacy and Anonymity for Mac®' iOS®' and PC Users Anonymizer Universal takes Anonymous Surfing to the next level giving you the ultimate in online protection from home or when using Wi-Fi' anytime and anywhere you connect to the Internet. Ease-of-use' faster surfing' a powerful VPN tunnel' and Anonymizer's proprietary technologies combine to keep your online activities–email' surfing' chat' all the things you do online–private and secure on your computer and iPhone®.
Startpage offers you Web search results from Google in complete privacy! When you search with Startpage, we remove all identifying information from your query and submit it anonymously to Google ourselves. We get the results and return them to you in total privacy. Your IP address is never recorded, your visit is not logged, and no tracking cookies are placed on your browser.