Graphiste
Graphic travelling, online showacse of François Leroy, Illustration/Graphic Design/ Art Direction
Online portfolio of Mr.Xerty aka Brice Chaplet - Graphiste/illustrateur Freelance - Paris
Adrien DONOT's Portfolio
Nicolas André , neopen - Toulouse, France / London, UK
Trust in Elements™ / the online portfolio of Xavier Bourdil
Stillontherun
Michael Wong – Sydney UI Web Designer & Front-end Developer | Creating awesome things with pixels since 06'
BENHANTOOT.COM | Motion, Design, Development, Music
Sallee Design
// so what gallery //
Motion Design/Direction by Steffen Knoesgaard
the:own
We Are Pitch Black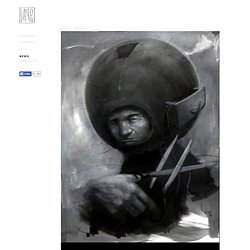 In his first solo exhibition, Bayo depicts the inner debate between the ego and the altruistic self, ultimately questioning if the quest for individuality becomes a delusional existence. Bayo's collection of drawings and acrylics portray a series of characters immersed in this battle, often pitting what seems positive against the destructive. From the birdman who is alienated from the world pretending to be a bird, the bureaucratic tiger who has no sense of fear, to the conflicted schizophrenic whose ego has been multiplied -- these disheartened figures give us a glimpse into minds deviated from the statutes of reason.
News
Marie Laurent - Interactive and Graphic Designer
merz
Logo Design for the campaign "D3" Creative Direction & Design for the Jordan Holiday Collection Art Direction & quite a bit of Typography work– Check Site Logo for Christian Francis Roth new Line– More Info on Francis Art Direction & Concepting.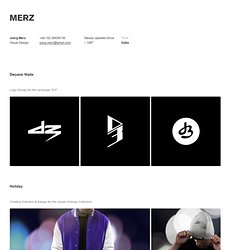 chris labrooy / design / 3d graphics
Auto Aerobics 3d graphics Land of the free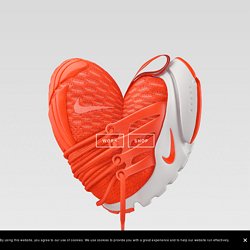 Design Studios
Allan Peters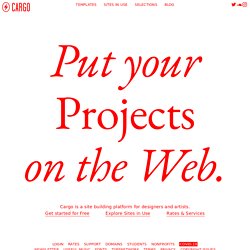 Cargo is a personal publishing platform aimed at creating accessible tools and a networked context to enhance the exposure of talented individuals on the Interne...t.more To achieve this, we offer our members free-standing websites; a wide variety of customizable design templates; simple but sophisticated tools to control the way content is displayed, and a unique user interface built entirely around the work itsel...f.more Thanks to the consistent quality of our members' work, we like to think of Cargo as a creative community participating in a constantly evolving visual culture, as demonstrated by this daily updated exhibition of featured images and websites.
Motion Design/Direction by Steffen Knoesgaard
robertmontgomery
Basil Roland