Google
Using Google Public DNS
Configuring your network settings to use Google Public DNS When you use Google Public DNS, you are changing your DNS "switchboard" operator from your ISP to Google Public DNS. In most cases, the IP addresses used by your ISP's domain name servers are automatically set by your ISP via the Dynamic Host Configuration Protocol (DHCP). To use Google Public DNS, you need to explicitly change the DNS settings in your operating system or device to use the Google Public DNS IP addresses. The procedure for changing your DNS settings varies according to operating system and version (Windows, Mac or Linux) or the device (computer, phone, or router).
Google Maps
Trends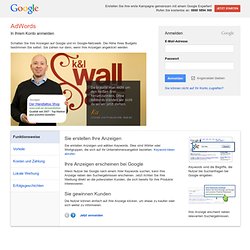 Willkommen bei AdWords
Keywords sind die Begriffe, die Nutzer bei Suchanfragen bei Google eingeben. Ihre Anzeige erscheint neben relevanten Suchergebnissen. Sie erstellen Ihre Anzeigen
Bei Google AdSense handelt es sich um ein kostenloses Programm, mit dem Online-Publisher Geld verdienen können, indem sie relevante Anzeigen zu einer großen Vielfalt an Online-Content schalten. Dazu gehört: Ergebnisse der Website-Suche Fügen Sie Ihrer Website schnell und einfach eine benutzerdefinierte Suchmaschine hinzu und verdienen Sie mit Anzeigen auf den Suchergebnisseiten. Websites Schalten Sie Anzeigen auf Ihrer Website, die den Interessen Ihres Publikums angepasst sind, und verdienen Sie an Klicks und Impressionen.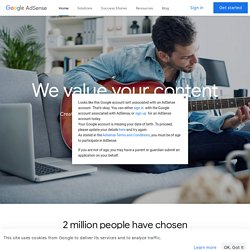 Willkommen bei AdSense