Tools
Systems Requirements Lab, creator of Instant Expert Analysis
Instant Expert Analysis is a patent-pending technology that allows websites to have a one-click method for rapidly analyzing a computer's hardware and software. The results are then instantaneouslycompared to a comprehensive database of requirements. In seconds, a detailed report is provided that includes results and recommendations that benefit the user. It is complete, precise, and can be done in less time than it takes to dial a phone number.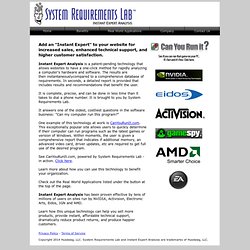 Comparação de Placas de Vídeo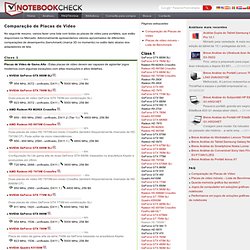 Placas de Vídeo de Gama Alta - Estas placas de vídeo devem ser capazes de agüentar jogos modernos (com algumas exceções) com altas resoluções e altos detalhes. » NVIDIA GeForce GTX 680M SLI Configuração SLI de gama alta de duas GeForce GTX 680M, baseadas na arquitetura Kepler e produzidas em 28nm.
Assistir Tv Online - Ver Tv Online - Assistir canais online, tv online, ver tv online, globo, sbt, band, futebol ao vivo, tv gratis, canais online
Live Sport Streams, Football, Soccer, Ice Hockey, Tennis, Basketball / LiveTV
Live Sport Streams, Football, Soccer, Ice Hockey, Tennis, Basketball