Educació 2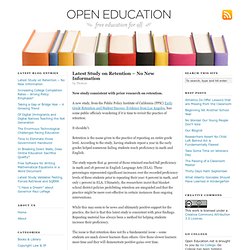 Latest Study on Retention – No New Information by Thomas New study consistent with prior research on retention.
elearningpapers
Wiki sobre la competencia digital
A European congress on media literacy Bellaria, Italy, 21-24 October 2009 The first European Congress on Media Literacy brought together people in Media Literacy in Belfast in 2004. Euromeduc organised a second congress for further exchange and reflection, addressed to professionals, researchers and other practitioners involved in media education; policy-makers in education and politics; and representatives from the media industry and the European institutions.
Euro Meduc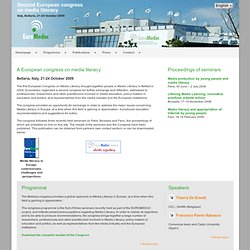 Blog Archive » Pivote. Un entorno abierto para el aprendizaje en
Inicio » e-learning Loading ... "PIVOTE is an open-source authoring system for learning in virtual worlds. Created by Daden originally for the JISC funded PREVIEW project, PIVOTE is now an open-source project and available for free download and use by anyone.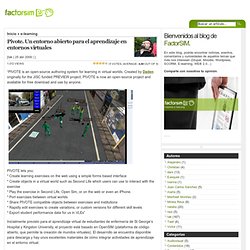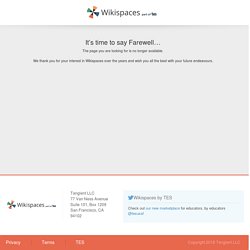 A Collection of PLE diagramsNOTE: You can log in with the guest account (edtechpost_guest, same password) to add your own PLE image to the wiki or email them to me at edtechpost@gmail.com. Index Tool-Oriented Use/Action Oriented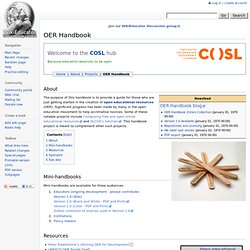 From WikiEducator About The purpose of this handbook is to provide a guide for those who are just getting started in the creation of open educational resources (OER).
OER Handbook
Seb's Open Research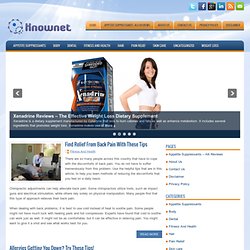 Find Relief From Back Pain With These Tips There are so many people across this country that have to cope with the discomforts of back pain. You do not have to suffer tremendously from this problem. Use the helpful tips that are in this article, to help you learn methods of reducing the discomforts that you feel on a daily basis. Chiropractic adjustments can help alleviate back pain. Some chiropractors utilize tools, such as impact guns and electrical stimulation, while others rely solely on physical manipulation.
la formation en ligne et à distance.
Observatorio Universidad Externado de Colombia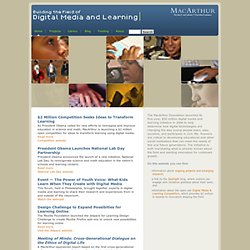 Home - Digital Learning
$2 Million Competition Seeks Ideas to Transform Learning As President Obama called for new efforts to reimagine and improve education in science and math, MacArthur is launching a $2 million open competition for ideas to transform learning using digital media.Read more.Competition website. President Obama Launches National Lab Day Partnership President Obama announced the launch of a new initiative, National Lab Day, to reinvigorate science and math education in the nation's schools and learning centers.Read more.National Lab Day website. Event — The Power of Youth Voice: What Kids Learn When They Create with Digital Media This forum, held in Philadelphia, brought together experts in digital media and learning to share their research and experiences from in and outside of the classroom.Watch the webcast.
Guia de recursos a Internet
Razoo is the platform for social good.
From WikiEducator UNESCO Open ODL / OER Toolkit Back to the handbook outline: [[1]] A guide for participating in the international open education commons November 2007 Prepared by J.
UNESCO OER Toolkit Draft
Rafi.ki - new online learning community
Face Value
Try Wikispaces Classroom now. Brand new from Wikispaces. guest|Join|Help|Sign In Actions
Web 2.0 for TPD » home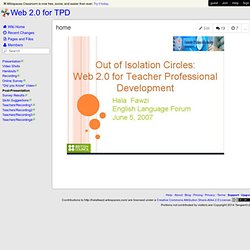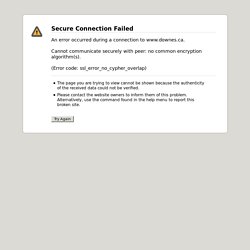 Subscribe to OLDaily E-Learning News, Opinion, Technology. New Today Links and Resources (presentations include slides and audio recordings) Videos: http://www.downes.ca/me/videos.htm RSS Feed: http://www.downes.ca/news/OLDaily.xml Podcast: http://www.downes.ca/news/audio.xml
ilias
eLearn: Feature Article
iLab Project at MIT The iLabs project website has moved to http://ilab.mit.edu/wiki Please register for an iLab Account at http://openilab.mit.edu and run the iLab microelectronics experiments. Faculty interested in using iLabs in their courses should contact the iLabs Project Team (ilab@mit.edu) and request a group account.
iCampus: iLabs
E-Aprendizaje - knowledge, collaboration, information, partnersh
Designing for flexible learning practice
From WikiEducator Flexibility, when incorporated into curriculum design enables people more choice in their learning. : The next facilitated course starts on 11 February 2010) This course has now moved to a new look Guidebook. You can still access the previous 2009 version. Workshop times - face-to-face and online are on the weekly schedule in the Course Outline.
Web 2.0 in Education
ある晩、オフィスにはダニエルしかいなかった。 ほかにだれもいない。 電話もかかってこない。
Evaluate Europe - Welcome to the Evaluate-Europe Site
Learn Online
Stephan recording the talk in Sydney Geoff and I gave another talk about EduPOV today, this time at Western Institute of TAFE in Orange. I think today's talk went better than the one at Sydney Institute. Geoff spent more time explaining and demonstrating EduPOV gear before I launched into my usual rant about the importance of social media to education.
Cursos de formación a través de Internet, noticias y recursos so
Aula 2002
E-Aprendizaje - knowledge, collaboration, information, partnersh
Portal de Tecnologías de la Información e Internet - vnunet.es -
Agenda
TEMPS D'EDUCACIÓ
Agenda
OER Handbook/proposed handbook outline
RELOAD Project