DIY
Hoopla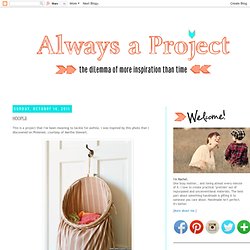 This is a project that I've been meaning to tackle for awhile. I was inspired by this photo that I discovered on Pinterest, courtesy of Martha Stewart. While I was not interested in creating laundry storage, itcertainly got my creative wheels a turnin'! I don't know about you, but I don't think it ispossible to have too many storage options. I'm always looking for new ways tostash my stuff!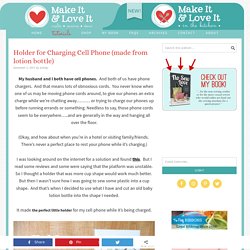 My husband and I both have cell phones. And both of us have phone chargers. And that means lots of obnoxious cords. You never know when one of us may be moving phone cords around, to give our phones an extra charge while we're chatting away……… or trying to charge our phones up before running errands or something. Needless to say, those phone cords seem to be everywhere…..and are generally in the way and hanging all over the floor. (Okay, and how about when you're in a hotel or visiting family/friends.
Top Bloggers Favorite DIY Projects
How-To: Make an RGB combination door lock (Part 1)
Before and After: Salvaged Shelves Get an Upgrade
While some people might take a look at these drawers and decide they were destined for the dump, Monica of Craftynest had a different vision. The drawers, which were salvaged from a 1940s kitchen, were found on the website Freecycle. Monica knew she wanted to transform them into something stellar, and originally thought they'd make great storage drawers by simply adding some wheels to the bottom.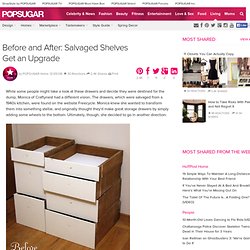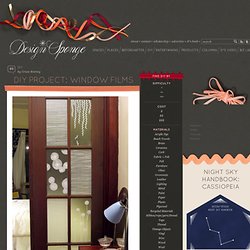 this month's material is a simple one…paint! obviously paint comes in many forms, and one of my favorite craft tools is the paint pen. they have come a long way over the years, and the newest paint pens provide a really clean, fluid line of paint and are great for drawing with. in our home we needed some window films to provide privacy, but we also wanted them to let light through. using contact paper and a white paint pen, i've created some decorative window films that are easy to change, replace, move, etc. if you don't feel super comfortable with your drawing skills, you can easily print out images or text and trace them onto the contact paper. happy crafting! -kate CLICK HERE for the full project after the jump! What You'll Need: 1. contact paper, clear (this is for lining drawers, you can find it at hardware or drug stores) 2. ruler 3. scissors or exacto 4. paint pen 5. tape Instructions: