Ressources art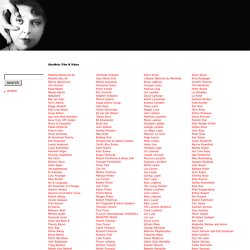 The following films are presented for educational and non-commercial use only. All copyrights belong to the artists. About UbuWeb Film & Video UbuWeb is pleased to present hundreds of avant-garde films & videos for your viewing pleasure.
Le portail 24-25.fr Les fonds patrimoniaux concernant la création filmique et vidéographique contemporaine ont comme particularités d'être en évolution permanente, de ne pas bénéficier d'une diffusion aussi large que le patrimoine cinématographique plus classique et de nécessiter une contextualisation spécifique, autant pour leur appropriation par un large public que pour leur étude, leur programmation et leur utilisation par des professionnels de l'image en mouvement. Le Ministère de la culture et de la communication a soutenu ce domaine de création ce qui a permis à différentes structures associatives œuvrant dans ce secteur - au travers du projet de portail 24-25.fr piloté par Light Cone - d'entreprendre un travail de numérisation et de mise en ligne d'une partie de leurs collections audiovisuelles.
LightCone.org - cinéma expérimental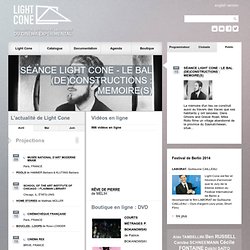 UbuWeb | Winter 2014 Robert Ashley, 1930-2014 UbuWeb mourns the passing of the great American composer Robert Ashley. You can listen to his music and invterviews here, watch his films here, read about him here. If you're unfamiliar with his work, the best place to start is Peter Greenaway's documentary Four American Composers: Robert Ashley (1983).