Centres d'info et de recherche
Signs of the Times Alternative News for Tue, 22 May 2012
êtreinformé
Truth Info - Le 1er Portail Francophone De l'Actualité Alternative Temps Réel
« Il n'y a plus ni Juif ni Grec, il n'y a plus ni esclave ni libre, il n'y a plus ni homme ni femme; car tous vous êtes un en Jésus-Christ. Et si vous êtes à Christ, vous êtes donc la postérité d'Abraham, héritiers selon la promesse. » (Galates 3.28-29). Voici un nouveau montage vidéo inédit venant apporter fraicheur et encouragement à la multitude grâce à la révélation divine qu'il y a en Jésus-Christ le juste, ce glorieux Seigneur et Sauveur, ce prince de vie venue, il y a plus de 2000 ans, fouler de son pied divin cette terre agonisante, répandant la vie chez tous ceux qui croiraient en son nom ! Le Dieu véritable et éternel ne peut être contenu dans aucun système religieux.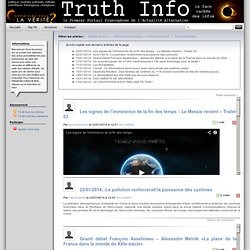 info-libre | Un regard différent et indépendant sur l'information
Mecanopolis
L'Epicentre.info • Portail de Réinformation
Médiatala - Information - Désinformation
Le Nouvel Ordre Mondial
Centre for Research on Globalization
Le Centre de Recherches sur l'Ordre Mondial
News Center
***Welcome to the Freedom Informant Network Your Stories. Your voice. The content on this site is contributed by this online community.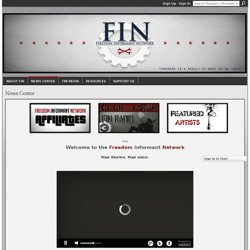 SytiNet - Home Page