Centres d'info et de recherche
Signs of the Times Alternative News for Tue, 22 May 2012. Êtreinformé. Truth Info - Le 1er Portail Francophone De l'Actualité Alternative Temps Réel. Ce débat, d'une durée de 2h20, a été enregistré le 9 janvier 2014 à Asnières.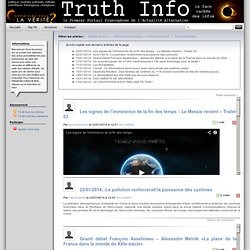 La modération du débat était exercée par Matthieu Huck. Pour plus de précisions, notamment sur la personnalité de M. Melnik, nous vous invitons à consulter : L'intervention du professeur Alexandre Melnik, lors de son débat avec François Asselineau le 9 janvier dernier, paraît avoir dérouté plus d'un sympathisant de l'UPR. La teneur de son discours ne laisse aucun doute, à mon sens, quant à l'identité de ses "sponsors". Info-libre | Un regard différent et indépendant sur l'information. Mecanopolis. L'Epicentre.info • Portail de Réinformation. Médiatala - Information - Désinformation. Le Nouvel Ordre Mondial. Centre for Research on Globalization. Le Centre de Recherches sur l'Ordre Mondial. SytiNet - Home Page.
---