Centres d'info et de recherche
Signs of the Times Alternative News for Tue, 22 May 2012
Signs of the Times in March 2014 The third installment in our new monthly series, the following video compiles footage of 'signs of the times' from around the world during March 2014, connecting the dots between planetary upheaval, social upheaval, and 'cosmic weather' in the form of meteor fireball activity. The month opened with wild waves hitting the West coast of both the U.S. and Europe, while a string of strong earthquakes 'ripped' the whole length of the Ring of Fire along the Americas. The so-called 'Polar Vortex' returned as much of North America was again plunged into a deep freeze in what seemed like the winter that would never end.
êtreinformé
Truth Info - Le 1er Portail Francophone De l'Actualité Alternative Temps Réel
Ce débat, d'une durée de 2h20, a été enregistré le 9 janvier 2014 à Asnières. La modération du débat était exercée par Matthieu Huck. Pour plus de précisions, notamment sur la personnalité de M. Melnik, nous vous invitons à consulter : http://www.upr.fr/evenement/grand-debat-francois-asselineau-alexandre-melnik-la-place-de-la-france-dans-le-monde-du-xxie-siecle L'intervention du professeur Alexandre Melnik, lors de son débat avec François Asselineau le 9 janvier dernier, paraît avoir dérouté plus d'un sympathisant de l'UPR. La teneur de son discours ne laisse aucun doute, à mon sens, quant à l'identité de ses "sponsors".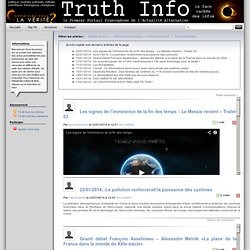 info-libre | Un regard différent et indépendant sur l'information
Mecanopolis
L'Epicentre.info • Portail de Réinformation
Paul Kagame Rwanda, 20 ans après : l'histoire truquée "Rwanda, 20 ans après : l'histoire truquée" -- Un film de Julien Teil et Paul-Éric Blanrue. Une production Topdoc et Apocalypse France. Vingt ans après le drame, le président du Rwanda Paul Kagame, les médias, les associations & […] Art : Une dinde pond des œufs ensanglantés avec son vagin. Note : Madame la Dinde !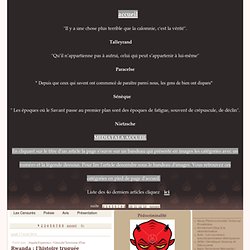 Médiatala - Information - Désinformation
Le Nouvel Ordre Mondial
Un Alien Hybride ? Un Enfant Percuté par une Voiture s'en sort Indemne ! (Vidéo) Un Alien Hybride ? Un Enfant Percuté par une Voiture s'en sort Indemne !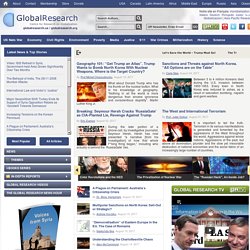 The civil war in Rwanda and the ethnic massacres were an integral part of US foreign policy, carefully staged in accordance with precise strategic and economic objectives. The ultimate objective was to displace France from Central Africa. Revisions to the Canadian Criminal Code proposed by the Harper government contain wording designed to enable the prosecution of human rights activists in a manner desired by Mr. Netanyahu & his associates. "As mystery deepened over the fate of the Boeing 777 and its 239 passengers and crew, most of them Chinese, it became clear that highly classified military technology might hold the key." Different technologies and modes of communication are used to enforce certain themes.
Centre for Research on Globalization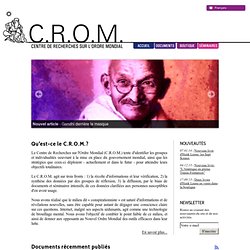 Qu'est-ce le C.R.O.M.? Le Centre de Recherches sur l'Ordre Mondial (C.R.O.M.) tente d'identifier les groupes et individualités oeuvrant à la mise en place du gouvernement mondial, ainsi que les stratégies que ceux-ci déploient - actuellement et dans le futur - pour atteindre leurs objectifs totalitaires. Le C.R.O.M. agit sur trois fronts : 1) la récolte d'informations et leur vérification, 2) la synthèse des données par des groupes de réflexion, 3) la diffusion, par le biais de documents et séminaires intensifs, de ces données clarifiées aux personnes susceptibles d'en avoir usage.
Le Centre de Recherches sur l'Ordre Mondial
SytiNet - Home Page