Centres d'info et de recherche
Signs of the Times Alternative News for Tue, 22 May 2012
Amiri Baraka, a poet and playwright of pulsating rage, whose long illumination of the black experience in America was called incandescent in some quarters and incendiary in others, died on Thursday in Newark. He was 79. His death, at Beth Israel Medical Center, was confirmed by his son Ras Baraka, a member of the Newark Municipal Council. He did not specify a cause but said that Mr.
êtreinformé
Truth Info - Le 1er Portail Francophone De l'Actualité Alternative Temps Réel
Ce débat, d'une durée de 2h20, a été enregistré le 9 janvier 2014 à Asnières. La modération du débat était exercée par Matthieu Huck. Pour plus de précisions, notamment sur la personnalité de M. Melnik, nous vous invitons à consulter : http://www.upr.fr/evenement/grand-debat-francois-asselineau-alexandre-melnik-la-place-de-la-france-dans-le-monde-du-xxie-siecle L'intervention du professeur Alexandre Melnik, lors de son débat avec François Asselineau le 9 janvier dernier, paraît avoir dérouté plus d'un sympathisant de l'UPR. La teneur de son discours ne laisse aucun doute, à mon sens, quant à l'identité de ses "sponsors".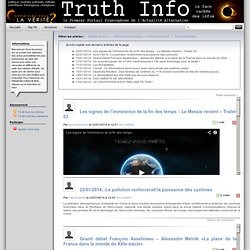 info-libre | Un regard différent et indépendant sur l'information
Mecanopolis
L'Epicentre.info • Portail de Réinformation
Source : Yahoo Le fils de Woody Allen et Mia Farrow a posté le message suivant sur son compte Woody Allen critiqué par son fils lors des Golden Globes Alors que l'on venait d'attribuer à son père (officiel, en tous cas*) le prix Cecil B. DeMille pendant la cérémonie des Golden Globes, Ronan […] Lundi 13 janvier 2014 1 13 /01 /Jan /2014 13:09 Publié dans : Dieudo/Quenelle Le CRIF veut imposer la « Shoah pour tous » dès la maternelle Masturbation infantile ici, le Gender ou transgenre ici, l'Homophobie encourageant à accepter naturellement la sodomie bien avant la prépuberté et le mariage gay sont déjà au programme de la maternelle qui en devient de ce fait un […]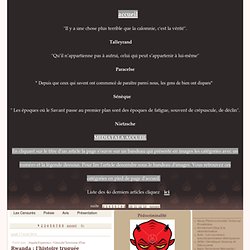 Médiatala - Information - Désinformation
Le Nouvel Ordre Mondial
Un Alien Hybride ? Un Enfant Percuté par une Voiture s'en sort Indemne ! (Vidéo) Un Alien Hybride ? Un Enfant Percuté par une Voiture s'en sort Indemne !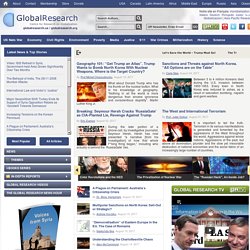 Chavez headed the lists of the CIA and the Pentagon as the main target of their attacks, and the US significantly expanded its military presence open and clandestine-around Venezuela during his administration. Western corporate media, its Oil and Gas counterparts (GCC) are once again attempting to bolster and rebrand the public image of the fundamentalist rebels in Syria. If there is anything the House of Saud knows well, it is rounding up Al Qaeda terrorists at the service of Washington. The House of Saud has also played a role in destabilizing the Russian Federation and organizing terrorist attacks inside Russia. The police hope to have drones able to fire "non-lethal weapons" at people they deem to be involved in criminal activity. Non-lethal weapons will soon become lethal weapons and the US will be trying and executing citizens at home as it has done elsewhere without even a hint of due process.
Centre for Research on Globalization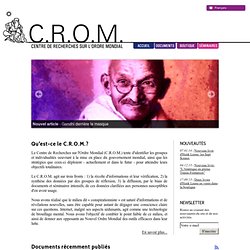 Qu'est-ce le C.R.O.M.? Le Centre de Recherches sur l'Ordre Mondial (C.R.O.M.) tente d'identifier les groupes et individualités oeuvrant à la mise en place du gouvernement mondial, ainsi que les stratégies que ceux-ci déploient - actuellement et dans le futur - pour atteindre leurs objectifs totalitaires. Le C.R.O.M. agit sur trois fronts : 1) la récolte d'informations et leur vérification, 2) la synthèse des données par des groupes de réflexion, 3) la diffusion, par le biais de documents et séminaires intensifs, de ces données clarifiées aux personnes susceptibles d'en avoir usage.
Le Centre de Recherches sur l'Ordre Mondial
SytiNet - Home Page