Beer Brewing
How to Make a Home Brewery a Commercial Nanobrewery: 11 steps. Favorite This Article Edit Article Edited by Byron Delaney, Travis Derouin, Flickety, Eric and 8 others Many home breweries are mere steps away from being commercial nanobreweries.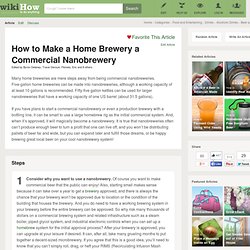 Five-gallon home breweries can be made into nanobreweries, although a working capacity of at least 10 gallons is recommended. How to Oak Beer in a Used Bourbon Barrel (with pictures) Edit Article Edited by Byron Delaney, Teresa, Flickety, Eric and 3 others Many microbreweries and some homebrewers age beer in used oak bourbon barrels.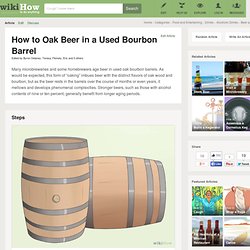 As would be expected, this form of "oaking" imbues beer with the distinct flavors of oak wood and bourbon, but as the beer rests in the barrels over the course of months or even years, it mellows and develops phenomenal complexities. Stronger beers, such as those with alcohol contents of nine or ten percent, generally benefit from longer aging periods. Ad. How to Brew Your Own Beer. Edit Article PreparationBrewingBottling Edited by Tom Viren, Andrew Winship, Jack Herrick, Ben Rubenstein and 40 others Brewing your own beer at home is easy, inexpensive, fun, and will most likely produce a brew far superior to that watery canned stuff.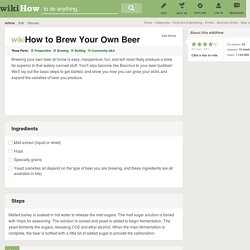 You'll also become like Bacchus to your beer buddies! How to Brew Beer Using All Grain Method. Edit Article Edited by Nate, Nicole Willson, Ben Rubenstein, Flickety and 12 others This is a method of brewing beer using malted grains instead of extract, with an emphasis on getting it done inexpensively but without sacrificing quality.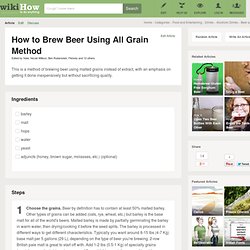 Ad. How to brew an India Pale Ale (IPA) Beer Braised Chicken Tacos with IPA Avocado Cream and Beer Corn Tortillas Let's be honest.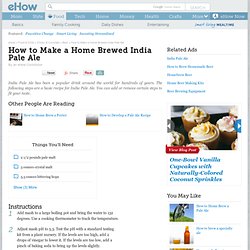 In America we tend to celebrate Cinco de Mayo the same way we celebrate St. Patricks day: with friends, beer and an incomplete understanding of another nation's holiday. I might not be able to help you with …
---