Social-bookmarking
Social bookmarking service Delicious announced five years ago last Thursday that it had been acquired by Yahoo The first comment posted on the blog entry announcing the deal was from TechCrunch founder Michael Arrington, saying "Congratulations! Yahoo sure does get tagging I see." When I heard the news, I felt very differently.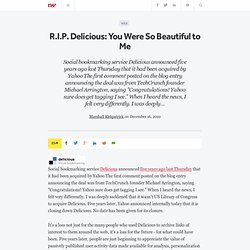 Google has just rolled out a convenient new tool for importing your Delicious bookmarks to Google Bookmarks. The simple importer takes your Delicious login credentials (or lets you use a one-click OAuth button) and imports all your bookmarks, preserving labels or tags. Considering Google's rather broad reach as a company, the importer is likely more than just a friendly bid for more Google Bookmarks users.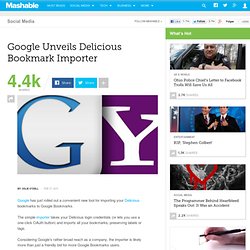 Google Unveils Delicious Bookmark Importer
It looks like your (and my) personal search engine of interesting web pages is about to go away. Yahoo hasn't formally confirmed, but all signs point to the impending demise of delicious.com. What are we going to do with all of our bookmarks? There are several alternatives available and, if you're like me, you're going to have to test some of them out until you find the one that best fits how you like to save bookmarks and later search for them.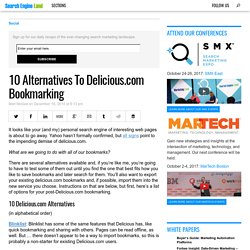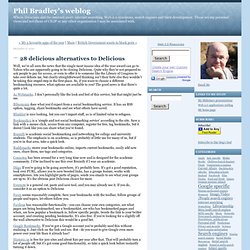 28 delicious alternatives to Delicious
Well, we've all seen the news that the single most insane idea of the year award can go to Yahoo who are apparently going to be closing Delicious. Quite why they're not prepared to ask people to pay for access, or even to offer it to someone like the Library of Congress to take over defeats me, but clearly straightforward thinking isn't their forte else they wouldn't be taking this stupid step in the first place. So, if you want to choose a different bookmarking resource, what options are available to you? The good news is that there's quite a lot.
DublinCityPublicLibraries' Bookmarks on Delicious
westervillelibrary
linkaGoGo - free Online Favorites manager and Social Bookmarking Application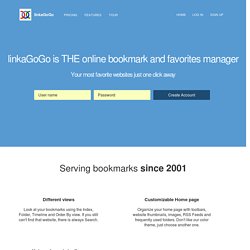 Need instant access to your favorite bookmarks? from any browser? With our unique dynamic bookmark toolbars you will have your favorite sites always at hand.
BuddyMarks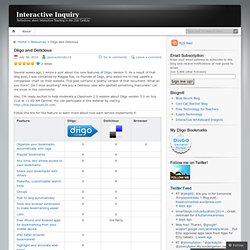 Diigo and Delicious « Interactive Inquiry
Several weeks ago, I wrote a post about the new features of Diigo, Version 5. As a result of that blog post, I was contacted by Maggie Tsai, co-founder of Diigo, who asked me to help update a comparison chart on their website. This post contains a 'pretty' version of that document. What do you think? Did I miss anything?
Licorize in detail Index of contents 1. The idea. 10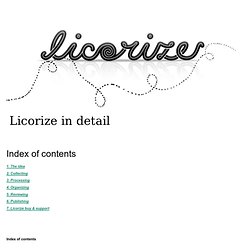 Licorize in Detail
DBpedia is a crowd-sourced community effort to extract structured information from Wikipedia and make this information available on the Web. DBpedia allows you to ask sophisticated queries against Wikipedia, and to link the different data sets on the Web to Wikipedia data. We hope that this work will make it easier for the huge amount of information in Wikipedia to be used in some new interesting ways. Furthermore, it might inspire new mechanisms for navigating, linking, and improving the encyclopedia itself. Upcoming Events