New-Zealand-archives
Heritage Images - Homepage - Auckland Libraries. Latest additions - last 60 days >> Popular subjects >> Search Heritage Images to find over 100,000 images from the photograph and map collections of Sir George Grey Special Collections, Auckland Libraries.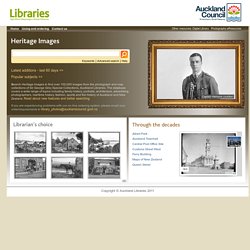 The database covers a wide range of topics including family history, portraits, architecture, advertising, photographers, maritime history, fashion, sports and the history of Auckland and New Zealand. Read about new features and better searching. OAIster [OCLC - Digital Collection Services] Access to OAIster A freely-accessible site for searching only OAIster records is available at Additionally, OAIster records are fully accessible through WorldCat.org, and will be included in WorldCat.org search results along with records from thousands of libraries worldwide.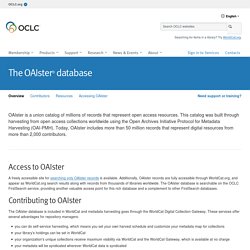 They will also continue to be available on the OCLC FirstSearch service to Base Package subscribers, providing another valuable access point for this rich database and a complement to other FirstSearch databases. National Library NZ on The Commons' Photostream. The Community Archive. Sound Archives/Nga Taonga Korero Gallery.
To use this page, click on any image.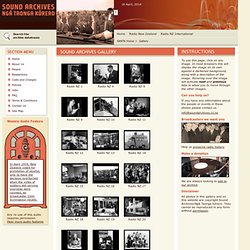 In most browsers this will display the image on its own against a darkened background, along with a description of the image. Hovering over the image will activate next and previous tabs to allow you to move through the other images. Can you help us? Papers Past. Masthead of The New Zealand Herald The National Library of New Zealand would like to acknowledge all of the valuable effort delivered though our partnership with Auckland Libraries, and APN Ltd, in bringing issues of the New Zealand Herald up to 1945 to the world's newspaper researchers.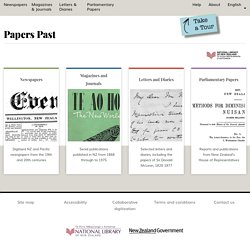 We look forward to the discoveries this content will bring to people with interests in the news of New Zealand. Latest additions to Papers Past (April 2014): Powerhouse Museum Collection's Photostream on flickr.url. National Library of New Zealand's Photostream on flickr. Aotearoa People's Network Picasa Web Albums.
PictureAnnArbor Ann Arbor District Library. Archives New Zealand. Te Rua Mahara o te Kāwanatanga. Archivists' Toolkit For archivists by archivists. Cenotaph database - Auckland Museum New Zealand. Search for biographical and service details for over 115,000 New Zealand service men and women from the 19th century till today and especially from World War One and World War Two.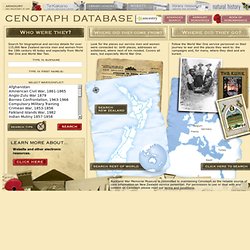 Website and other electronicresources. Look for the places our service men and women were connected to: birth places, addresses on enlistment, where next of kin resided. Covers all wars, but especially World War One. Follow the World War One service personnel on their journey to war and the places they went to: the campaigns and, for many, where they died and are buried. Retrospective, A look back at the last 21 Special Collections exhibitions, University of Otago Library, Dunedin, New Zealand. Special Collections is a rich source of information, supporting the research needs of staff and students of the University of Otago.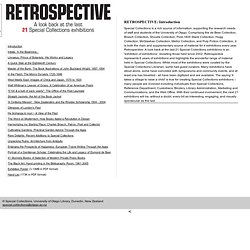 Comprising the de Beer Collection, Brasch Collection, Shoults Collection, Post-1800 Stack Collection, Hogg Collection, McGlashan Collection, Mellor Collection, and Pulp Fiction Collection, it is both the main and supplementary source of material for 4 exhibitions every year. Retrospective: A look back at the last 21 Special Collections exhibitions is an 'exhibition of exhibitions', revisiting those held since 2002. Retrospective represents 6 years of exhibitions and highlights the wonderful range of material held in Special Collections. While most of the exhibitions were curated by the Special Collections Librarian, some had guest curators. Many exhibitions have stood alone, some have coincided with symposiums and community events, and at least one has travelled - all have been digitized and are available. Niupepa Maori Newspapers. The New Zealand Digital Library Project Greenstone is a semi-precious stone that (like this software) is sourced in New Zealand.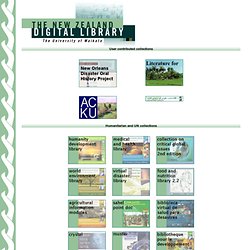 In traditional Maori society it was the most highly prized and sought after of all substances. Archives New Zealand Treaty of Waitangi Exhibitions. Download a high-resolution TIFF version of this treaty sheet ()Download a medium-resolution JPEG version of this treaty sheet () High quality copies of these Treaty sheets can also be ordered — contact us. <div id="imageLinkBar"><a href="? Sheet=1">Sheet 1</a> | <a href="? Sheet=2">Sheet 2</a> | <a href="? Ranfurly Collection. Internet Archive.
---