Read Write Web Mobile Summit 2010
CellFire - Platinum Sponsor
My City Way
IPEVO
Alcatel-Lucent Developer Platform & Program
WorldMate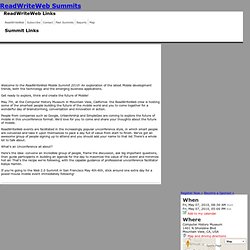 Attendees
Welcome to the ReadWriteWeb Mobile Summit 2010! An exploration of the latest Mobile development trends, both the technology and the emerging business applications. Get ready to explore, think and create the future of Mobile! May 7th, at the Computer History Museum in Mountain View, California: the ReadWriteWeb crew is hosting some of the smartest people building the future of the mobile world and you to come together for a wonderful day of brainstorming, conversation and innovation in action.
Billion dollar ideas for the next decade « Searching for the Moo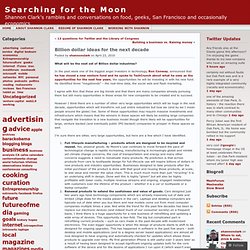 Posted by shannonclark on April 23, 2010 What will be the next set of Billion dollar industries? In the past week one of the biggest angel investors in technology, Ron Conway, announced that he has closed a new venture fund and he spoke to TechCrunch about what he sees as the opportunities for the next few years, the opportunities he will be investing in with his new fund. He identified three "megatrends" – the real-time data, the social web and flash marketing. I agree with Ron that these are big trends and that there are many companies already pursuing them but still many opportunities in these areas for new companies to be created and to succeed.
iPhone app Enterprise deployment
modu - make new connections
iPhone Application Programming Guide: Device Support
Twitter / Search - rwwsummit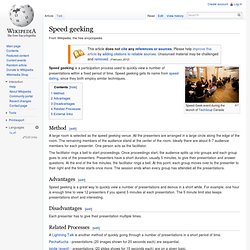 Speed geeking
Speed Geek event during the launch of TechSoup Canada Speed geeking is a participation process used to quickly view a number of presentations within a fixed period of time. Speed geeking gets its name from speed dating, since they both employ similar techniques. Method[edit] A large room is selected as the speed geeking venue.
WorldMate
CellFire - Platinum Sponsor
IPEVO
Looking for a new company to get excited about? Look no further than mobile mapping startup, Micello. Their new mapping solution is basically "Google Maps for the indoors." The idea behind Micello is simple: Google Maps is great for helping route cars places, but when it comes to navigating a large area with many points of interest by foot, it can fall short. So Micello offers a much more detailed perspective, outlining the stores that are in your vicinity. It works as you'd expect, with a look that's similar to the maps you find inside of shopping malls.
Micello - Maps for People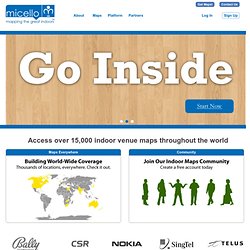 burbn
MixMobi :: Home
Stalqer: the mobile social network for iPhone and facebook
MogoTix - Mobile Ticketing - Simple and affordable mobile ticket
What is Justin.tv? Justin.tv is the easiest way to freely create and share live video. Users can browse thousands of premium broadcasters on Justin.tv streaming their News, Radio, Entertainment, Animals, Sports, and personal Social channels with millions of viewers simultaneously. As one of the original and largest live streaming platforms, Justin.tv viewers watch more than 300 million live streams available in over 250 countries each month.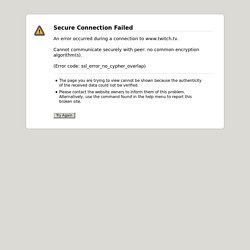 build apps mobilize your content by making your own iPhone, Android or Blackberry or instant HTML5 mobile app in minutes, without writing any code & with an affordable monthly fee get distribution
YAPPER - Your APP makER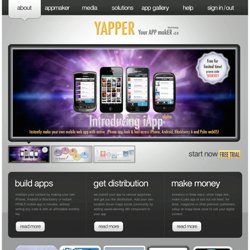 Geodelic
Apps 2.3 — Geodelic for iPhone (Macworld 2010) | TiPb