Modern development
Play is based on a lightweight, stateless, web-friendly architecture. Built on Akka, Play provides predictable and minimal resource consumption (CPU, memory, threads) for highly-scalable applications. Developer friendly. Make your changes and simply hit refresh!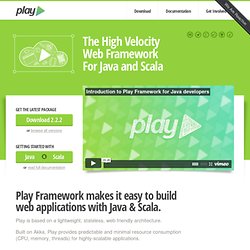 Facebook @ GDC: Driving discovery and engagement for cross-platform games. This week at Game Developers Conference, we're announcing that across mobile and web, an average of 375 million people play Facebook-connected games each month and that Facebook's website and mobile apps send an average of 735 million referrals to games every day. We're also announcing results from a new study on cross-platform player engagement and monetization and improvements to requests..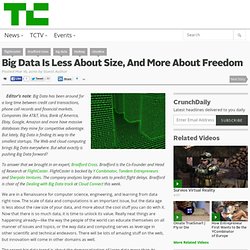 Editor's note: Big Data has been around for a long time between credit card transactions, phone call records and financial markets. Companies like AT&T, Visa, Bank of America, Ebay, Google, Amazon and more have massive databases they mine for competitive advantage. But lately, Big Data is finding its way to the smallest startups. The Web and cloud computing brings Big Data everywhere. But what exactly is pushing Big Data forward? To answer that we brought in an expert, Bradford Cross.
Big Data Is Less About Size, And More About Freedom
Apps for Healthy Kids
Winners announced (view all dates) The Apps for Healthy Kids competition is a part of First Lady Michelle Obama's Let's Move! campaign to end childhood obesity within a generation. Apps for Healthy Kids challenges software developers, game designers, students, and other innovators to develop fun and engaging software tools and games that drive children, especially "tweens" (ages 9-12) – directly or through their parents – to eat better and be more physically active. Childhood obesity or excess weight threatens the healthy future of one third of American children.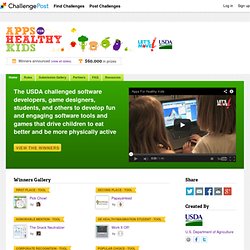 John Doerr: The Next Big Thing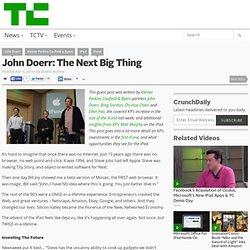 This guest post was written by Kleiner Perkins Caufield & Byers partners John Doerr, Bing Gordon, Chi-Hua Chien and Ellen Pao. We covered KP's increase in the size of the iFund last week, and additional insights from KP's Matt Murphy on the iPad. This post goes into a lot more detail on KP's investments in the first iFund, and what opportunities they see for the iPad. It's hard to imagine that once there was no Internet.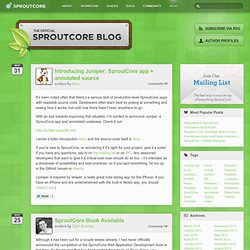 Although it has been out for a couple weeks already, I had never officially announced the completion of the SproutCore Web Application Development book in this blog. So for anyone that has been waiting for a book on SproutCore, you should know that it has finally been completed and you can purchase a copy here. This book covers almost every aspect of SproutCore with detailed explorations of the runtime environment, the MVC layers that SproutCore brings, using statecharts, interacting with multiple remote data stores and many many other topics all the way through to unit testing and deploying real SproutCore applications. So if you're looking to take the next big leap in web software development and have ever been curious about SproutCore, now is your chance to learn everything you need to know in one easy read. Thank you! SproutCore 1.10.2 is now available.
SproutCore Blog