UX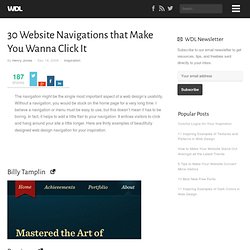 30 Website Navigations that Make You Wanna Click It
The navigation might be the single most important aspect of a web design's usability. Without a navigation, you would be stuck on the home page for a very long time. I believe a navigation or menu must be easy to use, but this doesn't mean it has to be boring. In fact, it helps to add a little flair to your navigation.
Ideation + Design | Writings on Digital Product Strategy & Design
Customers don't just buy a product — they switch from something else. And customers don't just leave a product — they switch to something else. On the 12th of April, a group of 24 people will attend a unique, hands-on, full-day workshop to learn about " The Switch ". Most businesses don't know the real reasons why people switch to — or from — their products. We'll teach you how to find out.