Learn Something New Every Day
Connect with me. Academic Earth | Online Courses | Academic Video Lectures. MIT OpenCourseWare. Smithsonian Institution. Education - YouTube EDU. MIT Understanding Lasers and Fiberoptics full course by MIT Lasers are essential to an incredibly large number of applications.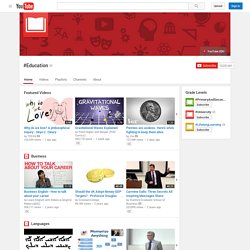 Today, they are used in bar code readers, compact discs, medicine, communications, sensors, materials processing, computer printers, data processing, 3D-imaging, spectroscopy, navigation, non-destructive testing, chemical processing, color copiers, laser "shows", and in the military. There is hardly a field untouched by the laser.
---