School Kitchen Gardens
‪TEDxBoston - Lisa Gross - Civic Fruit‬‏
KinderGARDEN
An introduction to the many ways children can interact with plants and the outdoors.Research at Texas A&M University Gardens can be therapeutic for people. At Texas A&M University, in College Station, TX, there is research in progress in the Department of Horticultural Sciences studying these human issues in horticulture. Most of this research is being conducted under the guidance of Dr. Jayne Zajicek and Dr.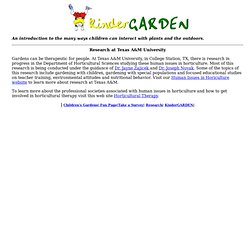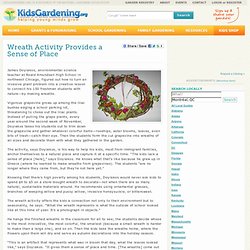 Wreath Activity Provides a Sense of Place
James Doyiakos, environmental science teacher at Roald Amundsen High School in northwest Chicago, figured out how to turn an invasive plant problem into a creative lesson to connect his 150 freshman students with nature—by making wreaths. Vigorous grapevine grows up among the lilac bushes edging a school parking lot, threatening to choke out the lilac plants. Instead of pulling the grape plants, every year around the second week of November, Doyiakos takes his students out to trim down the grapevine and gather whatever colorful items—rosehips, aster blooms, leaves, even bits of trash—catch their eye. Then the students form the cut grapevine into wreaths of all sizes and decorate them with what they gathered in the garden. The activity, says Doyiakos, is his way to help his kids, most from immigrant families, anchor themselves to a natural place and capture it at a specific time.
FoodPlay Productions - Turning Kids on to Healthy Habits!
Homepage
Children and Youth — ASI
School Garden Project-Home
Non-Profits & Organizations
Gardening and sustainability
World Kitchen Garden Day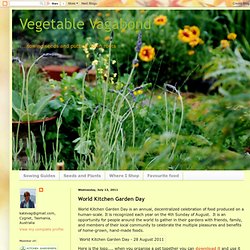 World Kitchen Garden Day is an annual, decentralized celebration of food produced on a human-scale. It is recognized each year on the 4th Sunday of August. It is an opportunity for people around the world to gather in their gardens with friends, family, and members of their local community to celebrate the multiple pleasures and benefits of home-grown, hand-made foods.
Shareable: How to Start a Farmers' Market | School Kitchen Gardens
When three continents witnessed food riots in 2007 and 2008, we saw the international food system is not as stable as it looks. There's unprecedented competition for food due to population growth and changing diets. Experts predict that by 2050, if things don't change, we will see mass starvation across the world.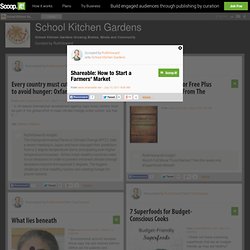 Youth Initiative High School                                                         &nbs - Home
What you're saying about GardenABCs... "I would just like to say thank you for having such a wonderful resource available. This summer my daughter is going to start helping me with the garden and is very excited and wants to start as soon as we can, so together we've been researching all we can about gardening. While researching online we came across your garden abcs web site's Books, Blogs, Magazines, Websites page, which has great gardening resources and will be a great resource for her to learn from." Fawne Davis "I just stumbled across your website for the first time today, and was thrilled to discover it.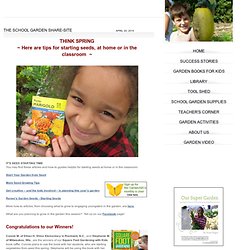 GardenABCs: The School Garden Share Site
Cultivating Community
Childrens Garden Network
Center for Civic Partnerships
The Dinner Garden, providing seeds for food for families and communities.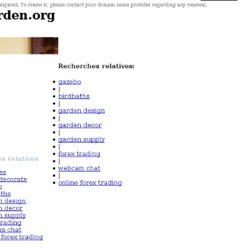 Buy a handmade apron, support The Dinner Garden! We are featuring beautiful kitchen aprons, handcrafted by our volunteers in a variety of styles and colors. Now when your cooking the veggies from your Dinner Garden, you can look sassy and stylish in your own Dinner Garden apron. 100% of proceeds go to The Dinner Garden! Click here to see them. The aprons will be handmade to order by a Dinner Garden volunteer and may vary slightly from the one pictured! One size fits most.
School Gardens | Kitchen Gardeners International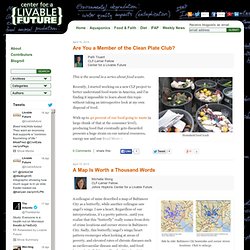 Center for a Livable Future
April 16, 2014 Are You a Member of the Clean Plate Club? Patti Truant CLF-Lerner Fellow
Upcoming Workshops At The Life Lab Garden Classroom January 27th, 2014 In the amazing Garden Classroom and beyond, Life Lab has trained tens of thousands of educators. Join us as we bring learning to life in the garden! Upcoming Educator Workshops in the Life Lab Garden Classroom: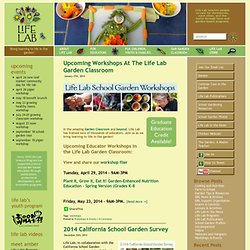 Life Lab | Land-based learning that promotes a sustainable future
ResourceSmart AuSSI Vic is a Victorian Government initiative that helps schools benefit from embedding sustainability in everything they do. Through ResourceSmart AuSSI Vic schools can take action to minimise waste, save energy and water, promote biodiversity and reduce greenhouse gas emissions. ResourceSmart AuSSI Vic helps schools reduce costs while giving students the opportunity to learn about sustainability in a tangible and realistic environment. In 2011, the Victorian Government committed $8.3 million over four years to build on the existing ResourceSmart AuSSI Vic framework.
ResourceSmart Australian Sustainable Schools Initiative Victoria (AuSSI Vic)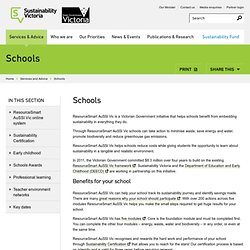 The Food Project
Grow Your Program: Benefits of Garden-Based Learning | Cornell Garden-Based Learning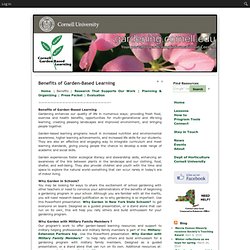 Home | Benefits | Research That Supports Our Work | Planning & Organizing | Press Packet | Evaluation Benefits of Garden-Based Learning Gardening enhances our quality of life in numerous ways: providing fresh food, exercise and health benefits, opportunities for multi-generational and life-long learning, creating pleasing landscapes and improved environment, and bringing people together. Garden-based learning programs result in increased nutrition and environmental awareness, higher learning achievements, and increased life skills for our students. They are also an effective and engaging way to integrate curriculum and meet learning standards, giving young people the chance to develop a wide range of academic and social skills. Garden experiences foster ecological literacy and stewardship skills, enhancing an awareness of the link between plants in the landscape and our clothing, food, shelter, and well-being.
Kitchen gardens
Kitchen Garden Programs Kitchen and food gardens are an increasingly popular way for schools to promote environmental and sustainability learning and to connect students with healthy food and lifestyles. Individual schools are linking student learning outcomes with the various activities and seasonal cycles involved in managing a food garden and the preparation of fresh produce. A new Kitchen Gardens website! This new website (www.kitchengardens.det.nsw.edu.au/) provides teachers and schools with all the information and learning resources to support Kitchen Garden programs.
Chef Ann Cooper : The Renegade Lunch Lady - Changing the Way We Feed Our Children
Cultivating Community Edible Classrooms Program — givenow.com.au
Cultivating Community works to connect people with the earth, food and each other. Our Edible Classrooms Program gives children food growing skills and uses the garden as a source of learning to increase resilience. We are seeking financial support to help us to implement our business plan to expand our activities in schools and also to be better able to support disadvantaged schools to participate in our Program. How will the funds be used?
Far far away from the Gift of Seed (or food) of the Vedic culture aka Anadanna or the highly sacred seed of the Andeans ancient cultures, we have chosen to show you seeds dressed up as a commodity for the global market, a mere product worth 25-28 $ Billions a year trade. That is the subject of this research. With just a few thousand US $ for the research paper you can find out the position of seed on the investment market in 2018. I quote from the research paper: "The seed market is primarily driven by the consumption of seeds with traits which is gaining awareness among the farmers. Oilseed and grain seeds are key segments of the global seed market." Traits refer to genes are been selected to be included in the new proprietary hi-tech seeds.
What role for schools in preparing for peak oil? | Post Carbon Cities
Summary: Students of all ages are heading back to school this month. Post Carbon Cities Program Manager Daniel Lerch looks at what energy and climate uncertainty means for schools -- and what schools can do for the communities they serve. Our Post Carbon Cities program encourages cities to think about the vulnerabilities they face in peak oil and climate change.
SSE - School for Social Entrepreneurs - People - Ben Neil
The Farm Behind The Food
Council for Learning Outside the Classroom
Obama Foodorama
FarmToSchool.org Home Page -- FarmtoSchool.org