School Kitchen Gardens
‪TEDxBoston - Lisa Gross - Civic Fruit‬‏
KinderGARDEN
An introduction to the many ways children can interact with plants and the outdoors. Research at Texas A&M University Gardens can be therapeutic for people. At Texas A&M University, in College Station, TX, there is research in progress in the Department of Horticultural Sciences studying these human issues in horticulture. Most of this research is being conducted under the guidance of Dr.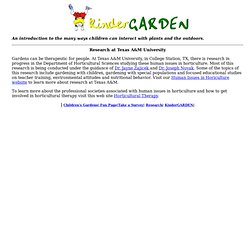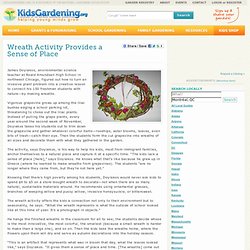 Wreath Activity Provides a Sense of Place
James Doyiakos, environmental science teacher at Roald Amundsen High School in northwest Chicago, figured out how to turn an invasive plant problem into a creative lesson to connect his 150 freshman students with nature—by making wreaths. Vigorous grapevine grows up among the lilac bushes edging a school parking lot, threatening to choke out the lilac plants. Instead of pulling the grape plants, every year around the second week of November, Doyiakos takes his students out to trim down the grapevine and gather whatever colorful items—rosehips, aster blooms, leaves, even bits of trash—catch their eye. Then the students form the cut grapevine into wreaths of all sizes and decorate them with what they gathered in the garden. The activity, says Doyiakos, is his way to help his kids, most from immigrant families, anchor themselves to a natural place and capture it at a specific time.
FoodPlay Productions - Turning Kids on to Healthy Habits!
Homepage
Children and Youth — ASI
School Garden Project-Home
Non-Profits & Organizations
Gardening and sustainability
World Kitchen Garden Day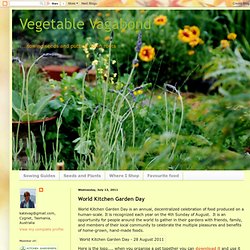 World Kitchen Garden Day is an annual, decentralized celebration of food produced on a human-scale. It is recognized each year on the 4th Sunday of August. It is an opportunity for people around the world to gather in their gardens with friends, family, and members of their local community to celebrate the multiple pleasures and benefits of home-grown, hand-made foods.
Shareable: How to Start a Farmers' Market | School Kitchen Gardens
Youth Initiative High School                                                         &nbs - Home
GardenABCs: The School Garden Share Site
Agricultural and Ecological Literacy
Victorian Association for Environmental Education
Cultivating Community
Childrens Garden Network
Current efforts to address hunger and food security use a comprehensive approach that draws the connections between poverty, environmentalism and community development. "Community food security is a condition in which all community residents obtain a safe, culturally acceptable, nutritionally adequate diet through a sustainable food system that maximizes community self-reliance and social justice." (Pothukuchi, Kami, et al. (2002). What's Cooking in Your Food System? A Guide to Community Food Assessment.
Center for Civic Partnerships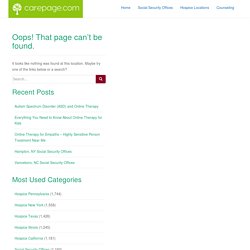 The Dinner Garden, providing seeds for food for families and communities.
Eat The Suburbs! » Energy Descent Action Plan (EDAP) Primer
The School Kitchen Garden Project
School Gardens | Kitchen Gardeners International
Center for a Livable Future
Seed School with Bill McDorman and Guests "Regional, Sustainable, Diverse. Inspiring Gardeners to Think Seeds First" "I learned more about what is real in a week at Seed School than four years in college!" Jesse DeMoss, LocalMotive, LLC New Meadows, ID Seed School grad.
Seed School | Seeds Trust
Life Lab | Land-based learning that promotes a sustainable future
ResourceSmart AuSSI Vic aims to provide practical support to schools and their communities to learn to live and work more sustainably.
ResourceSmart Australian Sustainable Schools Initiative Victoria (AuSSI Vic)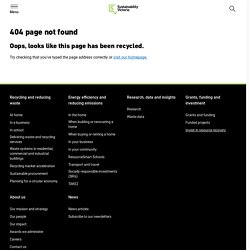 The Food Project
Grow Your Program: Benefits of Garden-Based Learning | Cornell Garden-Based Learning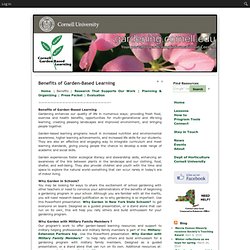 Home | Benefits | Research That Supports Our Work | Planning & Organizing | Press Packet | Evaluation Benefits of Garden-Based Learning Gardening enhances our quality of life in numerous ways: providing fresh food, exercise and health benefits, opportunities for multi-generational and life-long learning, creating pleasing landscapes and improved environment, and bringing people together. Garden-based learning programs result in increased nutrition and environmental awareness, higher learning achievements, and increased life skills for our students. They are also an effective and engaging way to integrate curriculum and meet learning standards, giving young people the chance to develop a wide range of academic and social skills. Garden experiences foster ecological literacy and stewardship skills, enhancing an awareness of the link between plants in the landscape and our clothing, food, shelter, and well-being.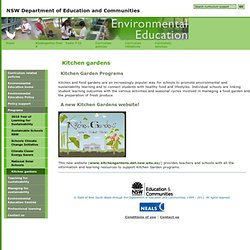 Kitchen gardens
Kitchen Garden Programs Kitchen and food gardens are an increasingly popular way for schools to promote environmental and sustainability learning and to connect students with healthy food and lifestyles. Individual schools are linking student learning outcomes with the various activities and seasonal cycles involved in managing a food garden and the preparation of fresh produce. A new Kitchen Gardens website! This new website ( www.kitchengardens.det.nsw.edu.au/ ) provides teachers and schools with all the information and learning resources to support Kitchen Garden programs.
Chef Ann Cooper : The Renegade Lunch Lady - Changing the Way We Feed Our Children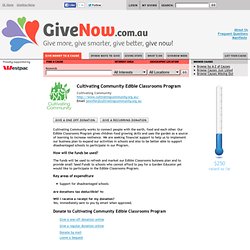 Cultivating Community Edible Classrooms Program — givenow.com.au
Cultivating Community works to connect people with the earth, food and each other. Our Edible Classrooms Program gives children food growing skills and uses the garden as a source of learning to increase resilience. We are seeking financial support to help us to implement our business plan to expand our activities in schools and also to be better able to support disadvantaged schools to participate in our Program. How will the funds be used?
What role for schools in preparing for peak oil? | Post Carbon Cities
Summary: Students of all ages are heading back to school this month. Post Carbon Cities Program Manager Daniel Lerch looks at what energy and climate uncertainty means for schools -- and what schools can do for the communities they serve. Our Post Carbon Cities program encourages cities to think about the vulnerabilities they face in peak oil and climate change.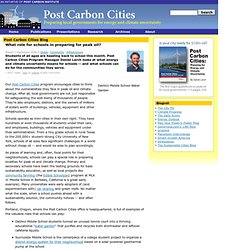 Skip Content The School for Social Entrepreneurs Got a question? Contact us Page not found
SSE - School for Social Entrepreneurs - People - Ben Neil
The Occidental Arts and Ecology Center (OAEC) | Occidental Arts and Ecology Center
The Farm Behind The Food
Council for Learning Outside the Classroom
Let your child experience the magic of gardening, naturally! Australian Organic Schools is a free resource which provides a comprehensive range of lessons on organic gardening designed to be utilised by teachers at a primary school level; or anyone with an interest. The program is structured for students aged 8 -12 years and provides written materials for lessons taking place both inside and outside the classroom. The program is written by Lyn Bagnall, author of highly acclaimed and twice-published gardening guide "Easy Organic Gardening and Moon Planting". The lessons have been designed for a classroom; however you can also find tips and information which can be applied to engage children in the garden at home.
organic, school, student, food,DotNetNuke,DNN
Growing School Community Gardens - Royal Botanic Gardens Melbourne
Obama Foodorama
FarmToSchool.org Home Page -- FarmtoSchool.org