Film/TV
Search Netflix, Hulu, Google Play, iTunes, and more, for movies to stream instantly, rent, and buy.
We love the convenience of streaming movies on Netflix Instant, but we don't always love the navigating through the countless films in the service's ever-expanding catalog to find something to watch. So we've compiled our list of recommended titles for you—whether you love classics, comedies, documentaries or just good ol' fashioned kung-fu. The genres vary greatly here—and range in age from brand new to 87-years-old—but all 50 of these films come with the Paste stamp of approval. The list is up to date as of February 2013, but we'll continue to update the list from time to time as Netflix Instant changes its offerings.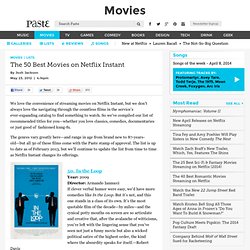 2013 1. UNDER THE SKIN (Jonathan Glazer) 2. BLUE JASMINE (Woody Allen) 3.