Film/TV
Search Netflix, Hulu, Google Play, iTunes, and more, for movies to stream instantly, rent, and buy.
Page 1 of 3 We love the convenience of streaming movies on Netflix Instant, but we don't always love the navigating through the countless films in the service's ever-expanding catalog to find something to watch. So we've compiled our list of recommended titles for you—whether you love classics, comedies, documentaries or just good ol' fashioned kung-fu. The genres vary greatly here—and range in age from brand new to 87-years-old—but all 50 of these films come with the Paste stamp of approval.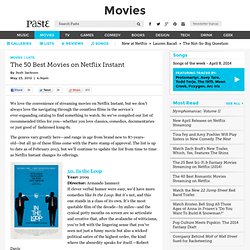 2013 1. BLUE JASMINE (Woody Allen) 2. BEFORE MIDNIGHT (Richard Linklater) 3.