DIY
Get flash to fully experience Pearltrees
The best stuff in life is free. Like sunshine, blue skies and THE OCEAN…if you have access to it, that is. Which I don't. And I know it's only January but I'm already Jonesing for spring. So, to scratch the itch, I decided to go with beach hair. <img title="beachbottle2 (746x1024)" src="http://www.maskcara.com/wp-content/uploads/2012/01/beachbottle2-746x1024.jpg" alt="" width="448" height="614"/>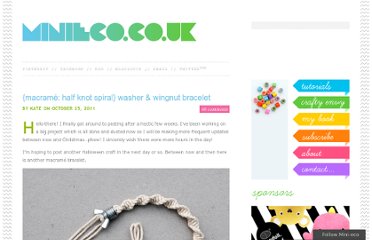 By Kate on October 25, 2011 H ello there! I finally got around to posting after a hectic few weeks. I've been working on a big project which is all done and dusted now so I will be making more frequent updates between now and Christmas…phew!
Photo Credit It's that taxing in-between time of the semester again – spring break is over, papers and projects are coming due, and finals are looming ahead. It's clear that college students are stressed right now, and with that stress comes the need for relaxation.
Hello U-Create readers! I am so excited to be guest posting here today. It just so happens to be my first guest post and I'm still a little shocked that it's here at Ucreate, one of my favorite blogs! A little bit about me..
These simple handmade gift tutorials will make any crafty person's heart sing with joy! You don't need special skills or a bunch of time because these can all be done super fast! Simple and cute…that works for me!
Yes, I am a nerd. I came up with a brilliant idea for a Harry Potter t-shirt and I couldn't resist. "Expecto Patronum!" However, you can make whatever kind of design you want with a freezer paper stencil.