Art
Caitlin Hackett Contemporary Mythology. A thousand faces by ~dotSingnature on deviantART. 563128659.jpg (JPEG Image, 513x761 pixels) Minjae Lee su DeviantArt ? Designaside.com. Drawing Projects | FindHow.com. Though Computer Generated Imagery (CGI) now dominates the vast majority of animated movies being made, there is still something very appealing about a hand drawn image.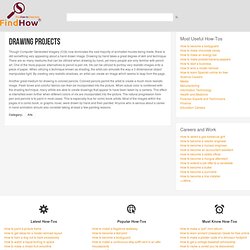 Drawing by hand takes a great degree of skill and technique. There are so many mediums that can be utilized when drawing by hand, yet many people are only familiar with pencil art. The Art of Negative Space. on the Behance Network. Artist Silvia Pelissero - watercolor paintings. Inkling | Wacom Americas. Free_spirit_by_sepraven-d3hmex1.jpg (JPEG Image, 1280x876 pixels) - Scaled (69.
Disney Princesses In Accurate Period Costume. These are very beautiful drawings!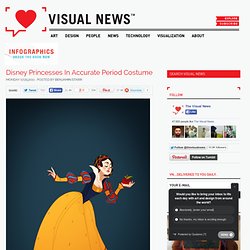 Although I am sad to see Belle looking so unlike herself. On a different note: I'd love to know what the reference was for the period costuming for each Princess. Given what I know about the stories, a lot of these seem a little inaccurate time period wise (I have no idea about the costumes other than that they look gorgeous): - As far as I know, the German "Snow White" was published in 1812 with the rest of the Grimm's collected works; even her supposed 'real' influence lived in the 18th century. Earlier versions do exist, but with very significant differences, since this the Disney (and thus, Grimm) version we're talking about, it seems odd to use the style of a much earlier period.
8217_ed0c.jpeg (JPEG Image, 420x534 pixels) 20 awesome examples of street art. Atheism. "Divine Fury" by Sabina Nore.Traditionally speaking, most religions were especially hostile towards women.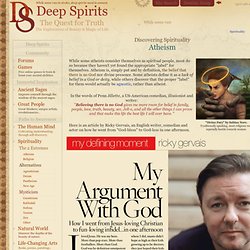 While some atheists consider themselves as spiritual people, most do so because they haven't yet found the appropriate "label" for themselves. Atheism is, simply put and by definition, the belief that there is no God nor divine presence. Some atheists define it as a lack of belief in a God or deity, while others discover that the proper "label" for them would actually be agnostic, rather than atheist. In the words of Penn Jillette, a US-American comedian, illusionist and writer: "Believing there is no God gives me more room for belief in family, people, love, truth, beauty, sex, Jell-o, and all the other things I can prove and that make this life the best life I will ever have. 6a00d8341bf8f353ef0153906165ee970b-800wi (JPEG Image, 800x617 pixels) - Scaled (98. The Artworks Of Michael J Smollin 1925–2010. Michael retired after working his first career in the advertising industry and his second as a freelance illustrator.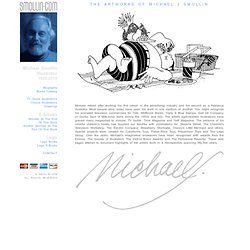 Most people alive today have seen his work in one medium or another. You might recognize his animated television commercials for Tide, MillBrook Bread, Triple S Blue Stamps, Gulf Oil Company, or Doctor Spot of Milk-bone fame during the 1950s and 60s. The artist's light-hearted illustrations have graced many magazines to include; TV Guide, Time Magazine and Golf Magazine. The persona of his colorful children's books has touched our families with publications for; Sesame Street, The Children's Television Workshop, The Electric Company, Strawberry Shortcake, Disney's Little Mermaid and others. Special projects were created for Colorforms Toys, Fisher-Price Toys, Playschool Toys and The Lego Group.
Allison lehman : show + tell / 30 Day Drawing Challenge. Last week I saw this pin on Pinterest and I instantly loved the idea.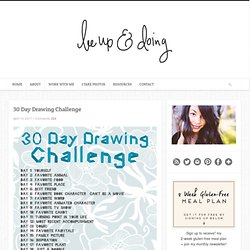 Starting May 1st, I'll be taking the challenge and posting a drawing per day here on my blog each afternoon. If you'd like to do it on your own, please please do! If you'd like to share your drawing on my blog, just email it to me by 12pm EST the day of. It doesn't matter if you start now and submit them later or sketch them throughout May. It's just a great way to encourage myself to sketch daily and maybe you need that encouragement too!
Author Albert Einstein Quote Fish Need To Swim. Albert-einstein-intuition.jpg (JPEG Image, 789x500 pixels) Nemo Graffiti by ~cocktail-hour on deviantART. Cris brodahl. Kecleon Color Theory.
---