Philosophy
Japanese Zen Buddhist Philosophy (Stanford Encyclopedia of Philosophy)
First published Wed Jun 28, 2006; substantive revision Fri Oct 8, 2010 Zen aims at a perfection of personhood. To this end, sitting meditation called "za-zen" is employed as a foundational method of prāxis across the different schools of this Buddha-Way, through which the Zen practitioner attempts to embody non-discriminatory wisdom vis-à-vis the meditational experience known as "satori" (enlightenment). A process of discovering wisdom culminates in the experiential dimension in which the equality of thing-events is apprehended in discerning them. The most distinguishing feature of this school of the Buddha-Way is seen in its contention that wisdom, accompanied by compassion, is expressed in the everyday "life-world" when associating with one's self, people, and nature.
Paraprosdokians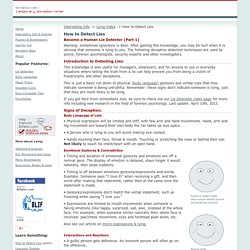 Interesting Info -> Lying Index -> How to Detect Lies Become a Human Lie Detector (Part 1) Warning: sometimes ignorance is bliss.
How to Detect Lies - body language, reactions, speech patterns
The workings of the mind are examined with great precision in these teachings of the Buddha that originated in India over 2000 years back. However the way to freedom lies not in a scholarly study of these teachings, but instead in practicing meditation and mindfulness. The reality of suffering draws many to Buddha's teachings; the teachings are not about suffering though.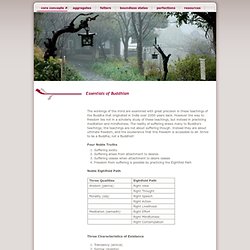 Essentialsof Buddhism - core concepts
The 48 Laws of Power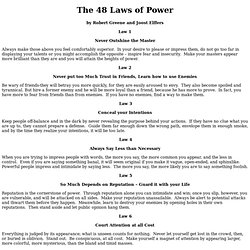 by Robert Greene and Joost Elffers Law 1 Never Outshine the Master Always make those above you feel comfortably superior. In your desire to please or impress them, do not go too far in displaying your talents or you might accomplish the opposite – inspire fear and insecurity.
Wise quote for mindfulness | Meditation Secrets Revealed
Berra · Borges · Bronson · Camus · Cather · Churchill · Deutsch · Deutsch · The Diamond Sutra · The Dhammapada · Duras · Einstein · Emerson · Emerson · Emerson · Epictetus · Fischer · Giorelli · Goethe · Haldane · Hesse · Hesse · James · Kennan · Keynes · Knuth · Lincoln · Maugham · May · Melville · Mill · Milton · a monk · Moravec · Pascal · Paz · Rand · Roosevelt · Russell · Saroyan · Spinoza · Suzuki · The Talmud · Thoreau · Thundercleese · The Upanishads · Watts · Watts · Wells · Wells · Whitman · Whitman · Whitman · Wilder · Yeats · · No one behind, no one ahead. The path the ancients cleared has closed. And the other path, everyone's path, Easy and wide, goes nowhere. I am alone and find my way.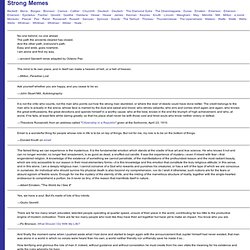 Strong Memes - StumbleUpon
Fascism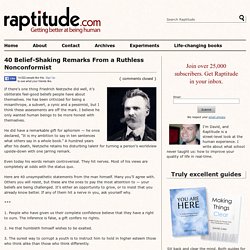 If there's one thing Friedrich Nietzsche did well, it's obliterate feel-good beliefs people have about themselves. He has been criticized for being a misanthrope, a subvert, a cynic and a pessimist, but I think these assessments are off the mark. I believe he only wanted human beings to be more honest with themselves. He did have a remarkable gift for aphorism — he once declared, "It is my ambition to say in ten sentences what others say in a whole book."
40 Belief-Shaking Remarks From a Ruthless Nonconformist | Raptitude.com
Western Philosophy - MindMeister Mind Map