Arcologías
Sci-fi illustrations by Shigeru Komatsuzaki ::: Pink Tentacle. Here is a collection of sci-fi illustrations by the prolific Shigeru Komatsuzaki (1915-2001), whose fantastic work appeared on plastic model kit boxes and in magazines and picture books in the 1960s to 1970s.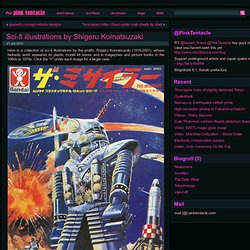 Click the "+" under each image for a larger view. The Missiler, 1970 [+] Sci-Fi Illustrations by Peter Elson. Eco-pods by Howeler + Yoon Architectureand Squared Design Lab. Boston architects Howeler + Yoon and Los Angeles digital designers Squared Design Lab have designed a conceptual structure for Boston, where an unfinished building would be covered in modular pods growing algae for biofuel.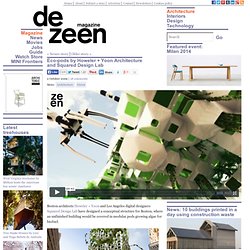 The pods would be continuously rearranged by robotic arms (powered by the micro-algae produced) to ensure the optimum growing conditions for alage in each pod. The designers intend to use the structure, called Eco-pods, to inform the public about the potential of micro-algae, a bio-fuel that can be grown vertically. The pods could also house research projects. The designers hope that the temporary nature of the structure would lead to many being placed around Boston, installed on suspended construction sites and areas particularly hit by the recession.
All sizes | Construction of Hangar One at NAS Sunnyvale circa 1931 - 1934. Archigram. ARCHIGRAM dominated the architectural avant garde in the 1960s and early 1970s with its playful, pop-inspired visions of a technocratic future after its formation in 1961 by a group of young London architects – Warren Chalk, Peter Cook, Dennis Crompton, David Greene, Ron Herron and Michael Webb.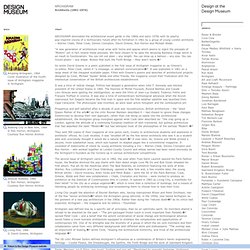 "A new generation of architecture must arise with forms and spaces which seems to reject the precepts of 'Modern' yet in fact retains those precepts. We have chosen to by pass the decaying Bauhaus image which is an insult to functionalism. You can roll out steel – any length. You can blow up a balloon – any size. You can mould plastic – any shape. Eco-Punk Lego Crawler Town by Dave DeGobbi. Email Brick-loving kids will be bowled over by designer Dave DeGobbi's new Lego concept, Crawler Town.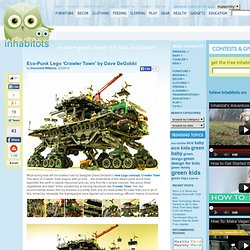 The story of Crawler Town begins with an end… the inhabitants of this steam-punk world have exploited the earth's natural resources and can only find life's simple luxuries "like pizza, fresh vegetables and beer" while vacationing at moving structures like Crawler Town. Waterworld (1995. Edit Storyline The polar ice caps have melted, and the earth is covered by water.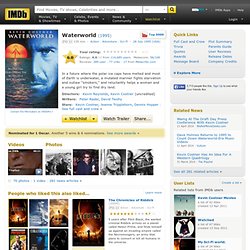 The remaining people travel the seas, in search of survival. Several different societies exist. The Mariner falls from his customary and solitary existence into having to care for a woman and a young girl while being pursued by the evil forces of the Deacon. Contact_Machine_Hokaido.jpg (900×537) LONDON OFFSHORE LIVING. Je vous ai déjà parlé dans un précédent post des inondations qui menacent Londres.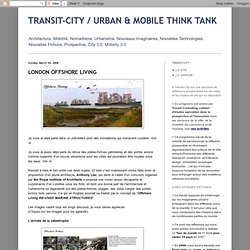 Voir là Je vous ai aussi déjà parlé du retour des plates-formes pétrolières et des portes avions comme supports d'un nouvel urbanisme pour les villes qui pourraient être noyées sous les eaux. Voir là Restait à faire le lien entre ces deux sujets. Photos: Expo '70 ::: Pink Tentacle. Expo '70 [Asahi newsreel] The 1970 World's Fair -- a.k.a.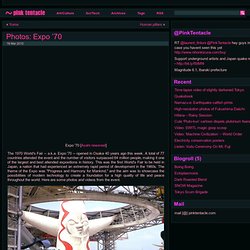 Expo '70 -- opened in Osaka 40 years ago this week. Deserted oasis. Los angeles CALIFORNIA suckerPUNCH: describe your project. philip n.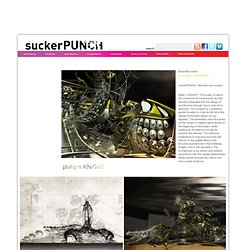 KNIGHT: The project is about the movement of components as they become integrated into the design of architecture through macro and micro gestures. The program is a botanical garden located in a barren dirt lot in the middle of the artist district of Los Angeles. The kinematics and structures on the verge of collapse were drivers in the beginning of the project, while building an Architecture of pieces became the interest. Skeleton of redemption. Beijing CHINA suckerPUNCH: describe your project: chi SONG: SoR is a surrealist projection onto Detroit, the most enlightened of all modern cities.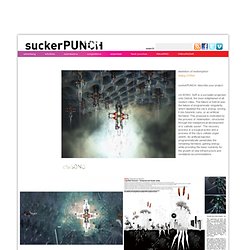 The failure of Detroit was the failure of programmatic singularity, which depleted the city's energy, turning it into futuristic ruins, or an artificial farmland. Incubate+outreach . a system for growth. Incubate+outreach . a system for growth brooklyn NY suckerPUNCH: describe your project. mark t NICOL: In the shadow of the Manhattan Bridge in Brooklyn's DUMBO, a neighborhood with a rich industrial past & now a center for the arts, this business incubator draws on the neighborhood's past, present and future.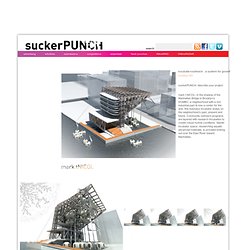 Community outreach programs are layered with research incubation to create robust hybrid conditions. Responsives Architectures. Title: The Senster Category: #kineticmachine #cyberneticsculpture Author: Edward Ihnatowicz Year:1960 Url: Description: Edward Ihnatowicz was a Cybernetic Sculptor active in the late 1960's and early 1970's. Launch tower typologies. For anyone who might doubt that rocket launch towers represent the purest continuation of the Constructivist aesthetic, I give you these pictures of the recent launch of the Soyuz TMA-01M.
This launch was also attended by saucy spy minx Anna Chapman, for that added dash of James Bond-esque colour, and the frisson of returning Cold War tensions. More pictures here. A deeper enquiry into the typologies of Soviet rocket launch towers is underway. Windswept by design: A greenhouse oasis in the desert. The harsh sun, waterless dunes and spectacular, stark forms created by mountains of sand swirling in the wind are seen as inspirations of incredible beauty by architects Francisco J. del Corral del Campos and Carmen M. Barrós Velásquez, both of Granada, Spain. The two celebrate this landscape and respond to its demands in their new skyscraper design for a greenhouse tower in the Oman desert. The architects literally cast their idea for the "Oasis" tower into the wind to help define its shape. By examining the effect of the site's southeast wind on a tower, they designed the building to respond to the wind's movement, its sweeping flow, by softly curving its form as it arches into the sky.
Floating Observatories is an Innovative New Tower for Taiwan with Zeppelin-like Elevators. The Floating Observatories proposal by Dorin Stefan's DSBA, Mihai Carciun, and upgrade.studio wins the Taiwan Tower Conceptual International Competition "Starting from the 'geographical' visual of Taiwan ‐ which is an island resembling a leaf ‐ we have developed the concept of the technological tree: we have designed 8 spatial leaves (with eight being a propitious number in the local culture) in the form of zeppelin‐like elevators which glide up and down the 'tree trunk" and which serve the purpose of observation decks / belvedere.
I have called these elevators floating observatories because each has a nacelle which can take 50 to 80 people; they are self‐sustained by helium balloons and are built from lightweight materials (borrowed from the spacecraft industry) and are wrapped in a last‐generation type of membrane (PTFE) and they glide vertically on a track positioned vertically in a strong electro‐magnetic field" ‐ Dorin STEFAN, Principal, DSBA. Eco-city Inside a One Kilometer Crater in Siberia. Eco-city 2020 is a proposal for the rehabilitation of the Mirniy industrial zone in Eastern Siberia, Russia designed by the innovative architectural studio AB Elis Ltd.
The project would be located inside a giant man-made crater of more than one kilometer in diameter and 550 meters deep that used to be one of the world's largest quarries. The idea is to create a new garden city that will be shielded from the harsh Siberian environmental conditions characterized by long and severe winters and short hot summers.
The new city would attract tourists and residents to Eastern Siberia and would be able to accommodate more than 100,000 people. The new city is planned to be divided in 3 main levels with a vertical farm, forests, residences, and recreational areas. On of the most interesting aspects of the proposal is the glass dome that will protect the city and would be covered by photovoltaic cells that will harvest enough solar energy for the new development. Futuristic City as a Green Belt around the Equator. Proyecto urbano de Erskine para zonas árticas _ arquitectura en la memoria. Vertical Safari / Influx_Studio. Instant City (IC) - Archigram Archival Project. Bracket— Cloud Skippers: Studio Lindfors (Ostap Rudakevych and Gretchen Stump)
Cloud skippers. Paleo-Future - Paleo-Future Blog - Sea City 2000 (1979) Paleo-Future - Paleo-Future Blog - Undersea Cities (1954) Paleo-Future - Paleo-Future Blog - Sealab 1994 (1973) Paleo-Future - Paleo-Future Blog - Ocean Life by Klaus Bürgle (1960s) Paleo-Future - Paleo-Future Blog - Man's Future Beneath the Sea (1968)
---