Portrait Photographers
Be Original or Die. Deutsche Börse Group - Thomas Ruff. The Arnold Newman Archive - Welcome To The Arnold Newman Archive. The Robert Mapplethorpe Foundation. Sally Mann. Annie Leibovitz | Search. Backstage Confidential: Lisa Robinson on Rock-and-Roll Life Behind The Scenes What Does the Future Hold for Nicolas Ghesquière and Louis Vuitton?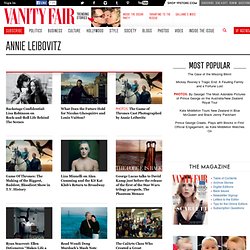 Photos: The Game of Thrones Cast Photographed by Annie Leibovitz Game Of Thrones: The Making of the Biggest, Baddest, Bloodiest Show in T.V. History. Nan Goldin. As a teenager in Boston in the 1960s, then in New York starting in the 1970s, Nan Goldin has taken intensely personal, spontaneous, sexual, and transgressive photographs of her family, friends, and lovers.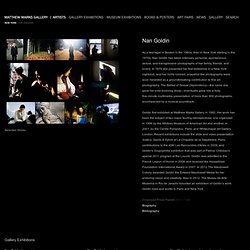 In 1979 she presented her first slideshow in a New York nightclub, and her richly colored, snapshot like photographs were soon heralded as a groundbreaking contribution to fine art photography. The Ballad of Sexual Dependency—the name she gave her ever-evolving show—eventually grew into a forty-five-minute multimedia presentation of more than 900 photographs, accompanied by a musical soundtrack. Goldin first exhibited at Matthew Marks Gallery in 1992.
Rineke Dijkstra. (b. 1959, Sittard, the Netherlands.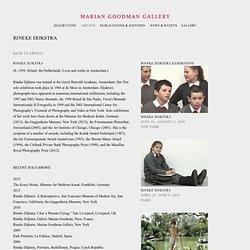 Lives and works in Amsterdam.) Rineke Dijkstra was trained at the Gerrit Rietveld Academy, Amsterdam. Her first solo exhibition took place in 1984 at de Moor in Amsterdam. Dimbola. Jane Brown photography. DIANE ARBUS - THE PHOTOGRAPHIC WORK.
---