Psicologia Positiva
Welcome to Authentic Happiness Authentic Happiness is the homepage of Dr. Martin Seligman, Director of the Positive Psychology Center at the University of Pennsylvania and founder of positive psychology, a branch of psychology which focuses on the empirical study of such things as positive emotions, strengths-based character, and healthy institutions. This website has more than 2 million users from around the world, and you are welcome to use all of the resources available here for free. The best place to start is by learning more about the latest theory and initiatives in positive psychology, by taking one of our well-being questionnaires, or by checking out recent presentations and selected media.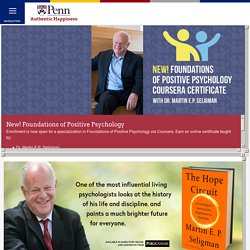 FAQ
VIA Character: Welcome to the VIA Institute on Character > HOME
Professionals working with others to optimize their performance know that understanding character strengths is fundamental to developing new pathways of engagement, fulfillment and satisfaction. People who use their strengths every day are six times more likely to be engaged on the job. Teams that focus on their strengths are 12.5% more productive. Using strengths in new ways increases happiness. Coach the people you lead to maximize their potential.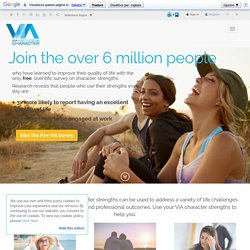 psychologie_positive
DANS LES REVUES SCIENTIFIQUES RECENTES Voir également la rubrique ARCHIVES (tout en bas de la colonne de gauche) Pour quelles raisons les adolescents se sentent-ils aimés par leurs parents ? La testostérone ne mérite pas sa mauvaise réputation Les principales caractéristiques de la compassion (en préparation)