Outils web
Yakwala
J'ai eu le plaisir de préfacer la nouvelle version du Guide pratique publié par Archimag, Outils et efficacité d'un système de veille paru en novembre dernier que vous pouvez commander ici . La veille dans un environnement numérique mouvant Par Christophe Deschamps (www.outilsfroids.net) Consultant & formateur en veille et gestion de l'information Les pratiques de veille dans les organisations se sont profondément modifiées en une décennie. En remontant dans le temps on se souviendra que les plateformes de veille intégrées ont commencé à voir le jour entre 1997 et 2000, avec des outils comme Périclès de Datops, Information Miner d'Arisem ou encore Aperto Libro d'Inforama.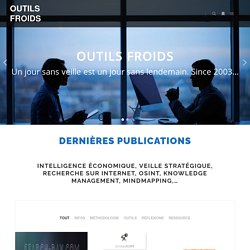 Recently, I have been playing around with the various tools and services available to people who want to store and share their bibliographies and research materials online. Such services are currently blossoming, and for a quick overview of what's out there, I'd suggest starting with this review written by Eugene Barsky at the University of British Columbia. My aim in all of this was to explore the options for creating a hub where people interested in emerging technologies and their implications for society could share and discuss scholarly materials – books, book chapters, academic papers, lecture videos etc. I think that what I had in mind was a bit like PLoS Hubs. As PLoS write in their blog post introducing the PLoS hubs biodiversity project: "The vision behind the creation of PLoS Hubs is to show how open-access literature can be reused and reorganized, filtered, and assessed to enable the exchange of research, opinion, and data between community members."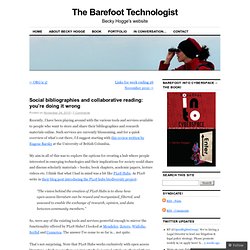 Social bibliographies and collaborative reading: you're doing it wrong | The Barefoot Technologist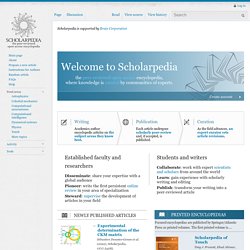 Edward Ott (b. December, 1941) is a Distinguished University Professor, and Yuen Sang and Yuen Kit So Professor in the Department of Electric Engineering and the Department of Physics at the University of Maryland, College Park. He is well-known for his fundamental works in the field of Nonlinear Dynamics and Chaos. He has been awarded the 2014 Julius Edgar Lilienfeld Prize of American Physical society for his most outstanding contributions in physics.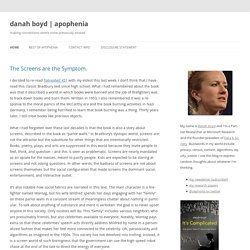 Last week, I wrote a provocative opinion piece for Quartz called "Is the Oculus Rift sexist?" I'm reposting it on my blog for posterity, but also because I want to address some of the critiques that I received. First, the piece itself: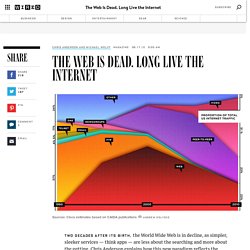 Who's to Blame:Us As much as we love the open, unfettered Web, we're abandoning it for simpler, sleeker services that just work. by Chris Anderson You wake up and check your email on your bedside iPad — that's one app. During breakfast you browse Facebook, Twitter, and The New York Times — three more apps.
présentation de l'information
collecte et organisation de l'information
communautés - réseaux - partage