Twitter
Analytics. The_assets : #Twitter Is Considering a Deal ......... Twitter Is Considering a Deal to Buy SoundCloud. Twitter may try to buy its way out of its growth problem by making another move into music.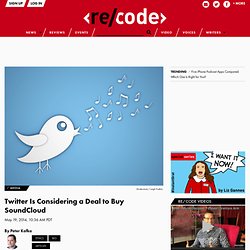 The company is considering a deal to acquire SoundCloud, the music and audio-sharing company, according to people familiar with both companies. UPDATE: Twitter has walked away from the deal, by letting an exclusive negotiation window lapse, according to a person familiar with the discussions. French_SocialTV : Médiamétrie et Twitter... Un outil pour mesurer l'audience des tweets sur la télé. The Design Thinking Behind Twitter's Revamped Profiles | Design. The new Twitter profile design.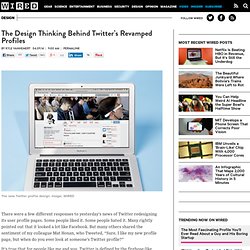 Image: WIRED There were a few different responses to yesterday's news of Twitter redesigning its user profile pages. Some people liked it. Some people hated it. DurBirDinlee : Orantısız duvar yazıları... Twitter Testing Major Profile Redesign That Looks a Lot Like Facebook. Twitter is testing a major profile redesign that's very reminiscent of Facebook and Google+.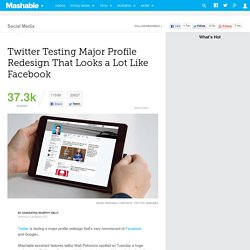 Mashable assistant features editor Matt Petronzio spotted on Tuesday a huge update to his Twitter profile page, with the main picture and bio scaled to the left and significantly more real estate dedicated to the header photo. The revamped tweet stream is also a departure from its signature look. Twitter: What to Expect in 2014. Seven years ago, Twitter was just a small, ragtag collection of hackers fighting over the basic premise of the company and struggling to keep the site from crashing every other day.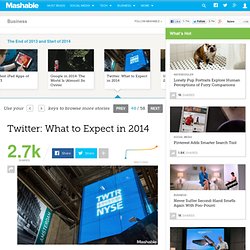 Twitter has come a long way since then. The company is on track to bring in more than half a billion dollars in revenue this year. It has more than 230 million monthly active users worldwide and some 2,300 employees in offices in San Francisco, New York, London, Dublin and Sao Paulo. It navigated a smooth IPO in November (unlike another social network that shall remain nameless) and is now valued at around $35 billion. Twitter has grown up, but the business still needs to mature. Voici la liste des sites qui ont le plus de likes/partages Facebook et mentions Twitter. D'après les bases de données de l'outil NewsWhip.com (via theatlantic) qui recense les articles les plus partagés sur les réseaux sociaux, voici le classement des sites ayant le plus de « j'aime »/partages Facebook et de retweets/mentions Twitter au cours du mois de Novembre 2013.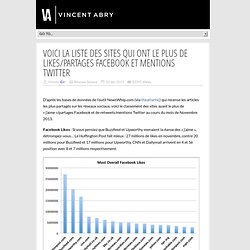 Facebook Likes : Si vous pensiez que Buzzfeed et Upworthy menaient la danse des « j'aime », détrompez-vous… Le Huffington Post fait mieux : 27 millions de likes en novembre, contre 20 millions pour Buzzfeed et 17 millions pour Upworthy. CNN et Dailymail arrivent en 4 et 5è position avec 8 et 7 millions respectivement. L'indicateur Nielsen-Twitter marque un tournant pour l'industrie télévisuelle. Pour mieux séduire les annonceurs publicitaires, réseaux sociaux et groupes audiovisuels cartographient les conversations sociales des internautes.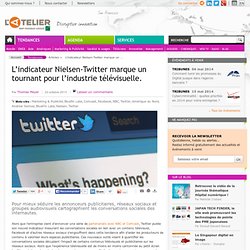 Alors que l'entreprise vient d'annoncer une série de partenariats avec NBC et Comcast, Twitter publie son nouvel indicateur mesurant les conversations sociales en lien avec un contenu télévisuel, Facebook et d'autres réseaux sociaux s'engouffrent dans cette tendance afin d'aider les producteurs de contenu à valoriser leurs espaces publicitaires. Ces nouveaux outils visent à quantifier les conversations sociales décuplant l'impact de certains contenus télévisuels et publicitaires sur les réseaux sociaux. Why getting married to the TV industry may not be the road to success Twitter is hoping for.
Ever since Twitter filed the official documents for its initial public offering, there has been a spotlight on the company's growth plans — and one big component of those plans revolves around being the "second screen" for TV shows, providing the kind of social experience (and ads) that networks are looking for.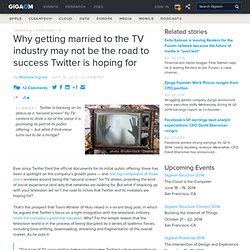 But what if shacking up with your television set isn't the road to riches that Twitter and its investors are hoping for? That's the prospect that Travis Winkler of Hulu raised in a recent blog post, in which he argued that Twitter's focus on a tight integration with the television industry limits the company's potential valuation. Why? For the simple reason that the television world is in the process of being disrupted by a series of systemic forces, including time-shifting, downloading, streaming and fragmentation of the overall market. Severin_cassan : 2 exemples de Twitter Cards... Instagram. 13 Photos That Made Twitter Massive. Why TV will play a big role in Twitter's IPO.
We don't know much about Twitter's planned IPO, thanks to the company's decision to file its papers with the SEC confidentially.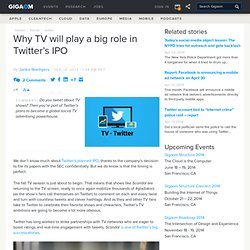 But we do know is that the timing is perfect. The fall TV season is just about to begin. That means that shows like Scandal are returning to the TV screen, ready to once again mobilize thousands of #gladiators (as the show's fans call themselves on Twitter) to comment on each and every twist and turn with countless tweets and clever hashtags. And as they and other TV fans take to Twitter to celebrate their favorite shows and characters, Twitter's TV ambitions are going to become a lot more obvious.
Twitter has long worked to strike partnerships with TV networks who are eager to boost ratings and real-time engagement with tweets. Twitter Releases Spotify App. Remember when Twitter bought We Are Hunted, whose creators then built Twitter's #music app, which was initially super popular in part due to its cool design and the fact that everybody uses Twitter, but then it ran into a bit of a chicken-and-egg problem?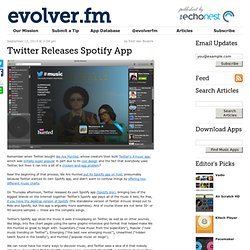 Near the beginning of that process, We Are Hunted put its Spotify app on hold, presumably because Twitter wanted its own Spotify app, and didn't want to confuse things by offering two different music charts. On Thursday afternoon, Twitter released its own Spotify app (Spotify link), bringing two of the biggest brands on the internet together. Twitter's Spotify app plays all of the music it lists, for free, if you have the desktop version of Spotify (the standalone version of Twitter #music linked out to Rdio and Spotify, but this app is arguably more seamless). And of course these are not lame 30- or 90-second samples — these are the complete songs. Your Twitter account has been hacked! Here's what to do about it. Kirsty woke up to find that someone else had taken control of her Twitter account.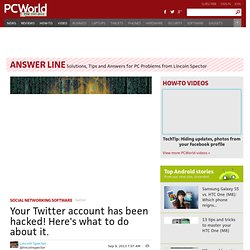 I tell her how to get it back. You have to fix this immediately. When someone else is sending out tweets and DMs under your name, you're in danger of losing your credibility. The first thing you need to do is try to log onto Twitter. De Wat.tv à Twitter, les nouveaux enjeux de la vidéo sur internet pour TF1. C'est pour cette raison que TF1 cherche à tout prix à profiter de la dynamique des nouveaux médias pour redéployer ses recettes publicitaires autour de la monétisation des vidéos issues de ses programmes. Wat, tout pour le Replay En 7 ans, WAT.TV le site de vidéo du groupe TF1 a changé au moins autant de fois de positionnement.
A l'occasion de la publication des comptes 2012, voici comment TF1 compte imposer son site, dans le sillage de Youtube et Dailymotion. Désormais, WAT.TV est un site destiné aux 15-34 ans comme en atteste les informations publiées sur le site de la régie publicitaire du groupe, TF1 Publicité. En quelques mois, le Replay a pris une place de plus en plus importante pour finalement se positionner comme le premier onglet de l'offre vidéo du groupe TF1. Twitter teste une bannière SocialTV. Certains utilisateurs américains de la version mobile de Twitter ont vu apparaître une nouvelle bannière sur leur fil de tweets. Elle est conçue pour afficher les émissions remontantes dans les trending topics, ce qui signifie que le programme est extrêmement commenté sur le réseau. Cette bannière inclut le nombre de personnes qui mentionnent le programme dans leur tweet, combien de temps il sera encore diffusé et sur quelle chaine. Twitter's Future: Commerce, Dinner Reservations and More TV Tie-Ins.
As one ad exec noted, last week's Cannes Lions festival was a great advertising vehicle for both Facebook and Twitter, both of which dominated discussion this year. While both companies made pitches during the event, the consensus seemed to be that what Twitter lacked in scale, it made up for in agility. In particular, the social network's ability to let marketers capitalize on real-time trends and conversation evoked some envy for its 1.1 billion users-strong rival. Twitter isn't resting on its laurels, though. The company is looking to both solidify its lead in real-time marketing and expand the functionality of tweets. Broadly, those two goals appear to present a roadmap for Twitter's growth over the next year or so. What if Twitter launched a #TV app? Here's what it could look like. On the VC panel at the Lost Remote Show, Chris Fralic, partner at First Round Capital, praised Twitter's approach to building a standalone music app that ties to external services like Spotify.
He raised the idea that Twitter could do the same for TV, which certainly sounds plausible, especially as Twitter #Music continues to ride high on the App Store charts. The Twitter #Music app is geared toward serendipitous discovery, so in a similar way, a Twitter #TV app would be a social guide for people who aren't looking for a specific show, but just want to discover something cool to watch. In the world of media use cases, that remains a big, yet focused problem to solve: aimlessly flipping through channels or scanning a program guide with your remote control is extremely inefficient. However, if Twitter tied the entire app to external services like Netflix, Hulu Plus and Amazon Prime, it would raise eyebrows among the networks because it discourages live viewing — their bread and butter. Can Twitter elevate the "second screen" with live video? In what would be an inevitable push for the company building toward a TV-centric future, Twitter is reportedly in talks to add live video to its platform through deals with Viacom and NBC, Bloomberg reported Tuesday.
Such a move would make perfect sense considering Twitter's current trajectory, as the company has worked to build up support for visual media and partnerships with companies in the television industry. Twitter has clearly realized that television and live broadcast events give the company a unique opportunity to harness online conversations happening at a particular moment and then serve up advertising based around those events. So while it's unclear exactly what a Twitter/TV parternship would look like, it's easy to see why Twitter would be interested. Intro. Twitter, quel impact réel sur les audiences TV ? Second Screen Engagement: Twitter VP @joell to Share Latest Trends #SESNY. New media? Why social media is just like television. MIT Professor Creates Algorithm To Predict Trending Topics On Twitter – Before Twitter. Tweet Analytics | home. Apple Is Said to Discuss an Investment in Twitter.
[Etude] Facebook et Twitter au bureau, c'est bon pour l'entreprise ! Twitter va-t-il (enfin) trouver son business model ? Twitter, Facebook, Google+, LinkedIn : ne publiez pas trop souvent ! Facebook and Twitter creating vain generation of self-obsessed people. And the Top Twitter Trends of 2010 Are… Help Center. 2morrowknight: 16 People on Twitter Who Inspire the World. 7s7 People - 50 Cent banni de Twitter (1150160) Réseaux sociaux : le spectre du consensus mou » Article » OWNI, Digital Journalism. Prospect for Business Using LinkedIn and Twitter Together. 10 Ways to track what people are saying about you on Twitter :: 10,000 Words. What your Twitter @name says about you* L'ABC de Twitter: 8 points à connaître pour en maximiser son utilisation - Actualités Techno - Listes. Time-Lapse Twitter Visualization Shows America's Moods. CHART OF THE DAY: Here's How Much A Unique Visitor Is Worth. Comment Savoir quand un Twittos fait Dodo | TwitteRada. Measuring Success of URLs Posted on Twitter - Web Analytics, Beh.
Twitter + Video = Magic! (And Engagement!) Twitter : média d'actualités ou réseau social ? StatusNet | Open Source microblogging service. Study: Twitter Is Not a Very Social Network. Small, useful tools for Twitter. Report: Facebook and Twitter Battle for Social TV Ad Space.
---