Wild Cats
Margay Pictures
Scotland's forgotten cat; fewer than 100 remain... Far back in the history of Scotland, the very first settlers told legends about wildcats so fierce they bested human champions, and worshipped them as forest spirits. Centuries later, clans formed together under the image of the wildcat and fought wars for the independence of the land. Today, as few as 100 remain in the wild, and the extinction of Britain's last large mammal predator could come within just a few years.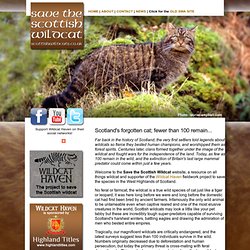 Wild Cats love Pumpkins
Have you ever wanted to take a trip through time to see what animals looked like millions of years ago? When it comes to cats there is little or no need. This beautiful specimen is a Manul, otherwise known as Pallas's Cat. About twelve million years ago it was one of the first two modern cats to evolve and it hasn't changed since. The other species, Martelli's Cat, is extinct so what you are looking at here is a unique window in to the past of modern cats. Although the Manul is only the size of the domestic cat, reaching about 26 inches in length its appearance makes it appear somewhat larger.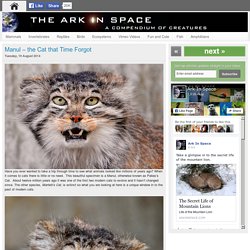 Leopard and Lion in Same Tree
Lynx in greenery
Nature photography - pictures of animals, pictures of birds, pictures of butterflies, macro photography of insects, plant photos, pictures of mushrooms. The most beautiful and unique images of nature. Great photographers observe nature by Canon, Nikon cameras, equipped with the best lenses - see all species in our gallery and listen to the birds' and animals' voices.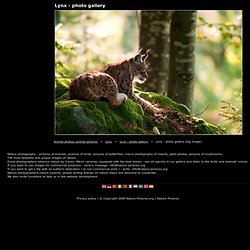 Lion, Leopard and Tiger
Cheetah, Lion, Leopard, Tiger
Big Cat's Coats
(ENDANGERED SPECIES) Hope for the world's most endangered wild cat, the Iberian lynx, has arrived! For the first time, scientists have successfully collected and preserved the feline's embryos which may help save the species. The cat's declining population is in critical condition with less than 200 accounted for a decade ago. Scientists hope that by preserving the embryos, they may be able to use surrogate mothers from closely related species to boost the Iberian lynx population.
Iberian Lynx, Most Endangered Wild Cat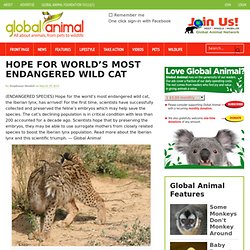 Дата: 14.05.2010Рубрики: Дикая природа | Комментарии (33)Теги: волк, лев, медведь, пантера, тигр Loading ... Забудьте про камеры с дистанционным управлением или спрятанные в камнях и на деревьях объективы.
"A Close Shave"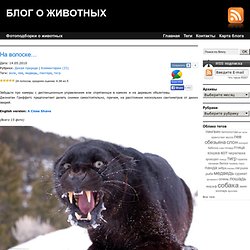 Today, May 17th, is Endangered Species Day. We are celebrating it by bringing attention to the diverse and beautiful felid species around the world that are in danger of becoming extinct. The following species are either currently listed as endangered or vulnerable.
Cats are going extinct: 12 most endangered feline species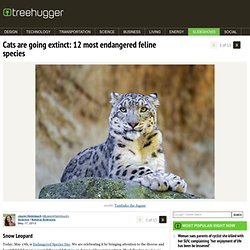 Calvin Klein Cologne Attracts Wild Cats
Designers often advertise that their perfume and cologne products drive sniffers wild. But I think even Calvin Klein himself might be surprised to learn that his cologne, Obsession for Men, attracts jaguars, pumas and other wildlife, according to the Wildlife Conservation Society. (Jaguar caught sniffing Calvin Klein Obsession for Men; Credit for all images: WCS) The WCS has just admitted that its researchers have been using the popular cologne to draw animals in front of remote cameras set up in the wilderness.
Tigons, Ligers & Other Mixes
Don't be fooled by the off the scale cuteness quotient. This is the Sand Cat – or Felis margarita, a little known species of desert cat. In the wild it lives in areas that are too hot and dry for any other cat- the deserts of Africa and Asia, including the Sahara. It is the only desert species of cat known to us. As such, this cat is one tough cookie. It also lives in the Arabian desert and those of Iran and Pakistan, yet despite being so widespread it was not described by a European until 1858.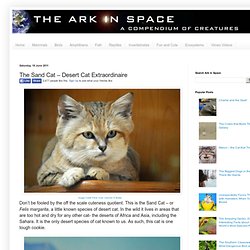 Lynx in the Snow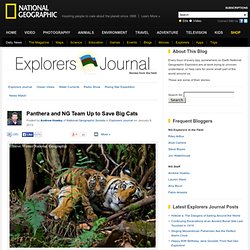 Panthera and NG Team Up to Save Big Cats
(This text is taken mainly from the National Geographic press release announcing the collaboration.) (Washington, D.C.) – National Geographic's Big Cats Initiative (BCI) has formed an important collaboration with Panthera, the world's leading organization devoted exclusively to the conservation of the world's 37 wild cat species. Together, their aim is to further the global fight to save big cats in the wild.