Karl popper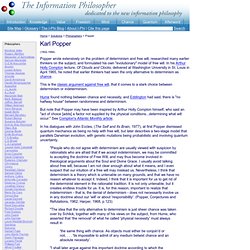 Karl Popper
"People who do not agree with determinism are usually viewed with suspicion by rationalists who are afraid that if we accept indeterminism, we may be committed to accepting the doctrine of Free Will, and may thus become involved in theological arguments about the Soul and Divine Grace. I usually avoid talking about free will, because I am not clear enough about what it means, and I even suspect that our intuition of a free will may mislead us. Nevertheless, I think that determinism is a theory which is untenable on many grounds, and that we have no reason whatever to accept it.
Sir Karl Raimund Popper , CH FRS [ 3 ] FBA (28 July 1902 – 17 September 1994) was an Austro-British [ 4 ] philosopher and professor at the London School of Economics . [ 5 ] He is generally regarded as one of the greatest philosophers of science of the 20th century. [ 6 ] [ 7 ] He also wrote extensively on social and political philosophy. In 1992 he was awarded the Kyoto Prize in Arts and Philosophy for "symbolising the open spirit of the 20th century" [ 8 ] and for his "enormous influence on the formation of the modern intellectual climate". [ 8 ] Popper is known for his attempt to repudiate the classical observationalist/ inductivist form of scientific method in favour of empirical falsification .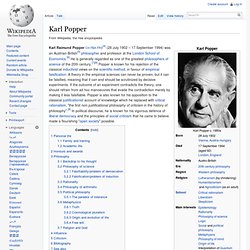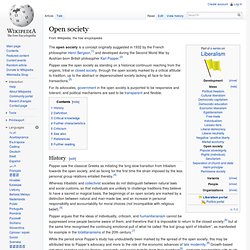 The open society is a concept originally developed in 1932 by the French philosopher Henri Bergson and then, in 1945, by Austrian and British philosopher Karl Popper . In open societies, government is purported to be responsive and tolerant, and political mechanisms are said to be transparent and flexible. Advocates claim that it is opposed to closed society . The state in an open society would keep no secrets from itself in the public sense; it would be a non- authoritarian society in which all are trusted with the knowledge of all. Political freedoms and human rights are claimed as the foundation of an open society. [ by whom?
Open society