Random reads
Hemp Can Remediate Fukushima Radiation Dprogram.net: Deprogram Your Mind – Revolutionary News. March 13th, 2014 Jack Herer, known as the "Emperor of Hemp", said: "I don't know if hemp's gonna save the world, but I'll tell you this…it's the only thing that can".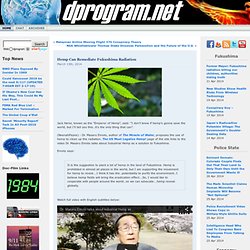 (NeenahPayne) - Dr. Masaru Emoto, author of The Miracle of Water, proposes the use of hemp to clean up the radiation. The US Must Legalize Hemp! Page of the site links to the video Dr. Sequoias: Scaling a Forest Giant. On a gentle slope above a trail junction in Sequoia National Park, about 7,000 feet above sea level in the southern Sierra Nevada, looms a very big tree.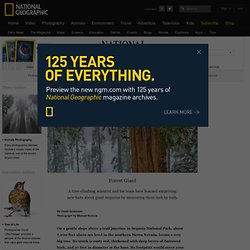 Its trunk is rusty red, thickened with deep layers of furrowed bark, and 27 feet in diameter at the base. Its footprint would cover your dining room. The Tunnel | concrete_aperture. (If you like this post you can follow me on twitter @markjamesdos or check out my gallery here.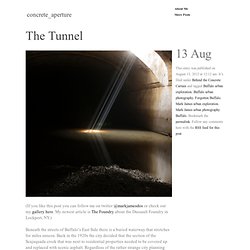 My newest article is The Foundry about the Dussault Foundry in Lockport, NY.) Beneath the streets of Buffalo's East Side there is a buried waterway that stretches for miles unseen. Back in the 1920s the city decided that the section of the Scajaquada creek that was next to residential properties needed to be covered up and replaced with scenic asphalt. Regardless of the rather strange city planning habits of Buffalo it did create a unique urban exploration opportunity.
Abandon All Hope Ye Who Urbex Here. 11 Books That Will Definitely Disturb You | Nick Cutter. Scary novels?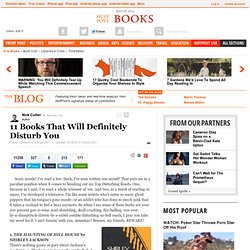 I've read a few. Heck, I've even written one myself! 22 Books You Should Read Now, Based On Your Childhood Favorites. Viral Forest - Trending Stories on the Web. Adventure Filled | Live an adventure-filled life. 6 Trees Every Survivalist Should Know. Editor's Note: This guest post by Creek Stewart first appeared at willowhavenoutdoor.com.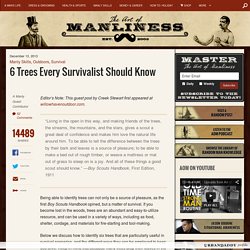 "Living in the open in this way, and making friends of the trees, the streams, the mountains, and the stars, gives a scout a great deal of confidence and makes him love the natural life around him. To be able to tell the difference between the trees by their bark and leaves is a source of pleasure; to be able to make a bed out of rough timber, or weave a mattress or mat out of grass to sleep on is a joy. Facebook. Finding Adirondack First-Growth Forest « Tracker. Have you ever wondered what the Adirondacks looked like before logging?
Would you like to learn how to identify the remaining stands of first-growth forest and how to map them? Then this is an opportunity for you. Michael Kudish , a retired professor from Paul Smith's College, is returning to give a lecture on April 25 on how to identify and map first-growth forest in the Adirondacks. He will explain techniques that are useful in the field. Michael Kudish Natural History Preserve, Inc. - Home. Adirondack Life Blog Archive » Finding the First Forests.
Finding the First Forests by Mary Thill The 1675 Grove in the town of Brighton Michael Kudish says nobody knows how much virgin forest the Adirondack Park contains.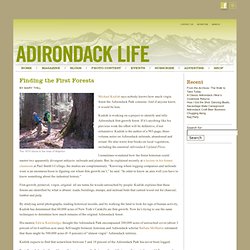 And if anyone knew, it would be him. Adirondack Life Blog Archive » New York's Tallest Tree. New York's Tallest Tree by Mary Thill A 1675 Grove white pine, photograph by Sandra Hildreth Just above eye level, a tag the size of a quarter is tacked into thick, red-gray plates of bark.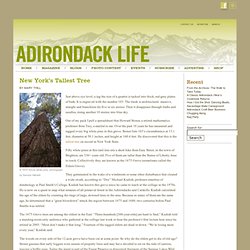 It is engraved with the number 103. NoodleTools : MLA, APA, and Chicago/Turabian Bibliography Composer, Online Notecards. Plug Status, Granted: To the Racist Fans of the Boston Bruins… « TheBeautyStatus. The largest collection of lean-to pictures ever (probably) (image heavy) - Adirondack Forum. Quote: Originally Posted by I think you should secure each site that has been moved all over again.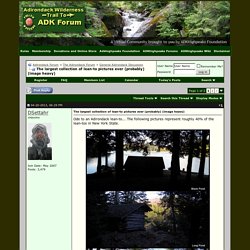 Hydrofracking Exposed. Day 2: Silver Lake It was so hard to get up on Saturday morning.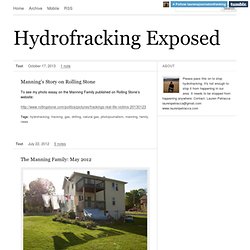 Ellie and I barely got six hours of sleep and didn't know if we were ready to handle another emotional day. However, we knew that water is delivered to four families on Carter Rd between 8 and 10:30 every morning, so we forced ourselves to get up. One thing Ellie and I immediately noticed during our time in Dimock, was the number of trucks on the road. There are constantly huge trucks on the road. Adirondack Almanack: Indentifying Adirondack First Growth Forests. The Adirondacks are home to the largest known contiguous tract of unlogged forest in the Northeast. Located in the Southern part of Five Ponds Wilderness Area (Herkimer and Hamilton Counties), estimates of this patch of ancient forest range from 42,000 to 50,000 acres.
According to researcher Mary Byrd Davis, "The state bought the tract to settle a claim for damages brought by a land owner who charged that construction of a dam had prevented his shipping and therefore selling the timber on his land." The results of that purchase are dramatic, with enormous upland conifer stands dominated by White Pine, "some of which are huge and form a super-canopy," according to another researcher.
Submarine Lumberjacks Harvest Underwater Forests. The underwater forests of the world are waiting to be harvested. When massive hydroelectric dams are created, huge areas of forest are often flooded, submerging habitats and displacing whatever human communities happened to call that place home. But the forests that become part of the underwater landscape can be well preserved for decades, and are still viable stocks of timber. Harvesting underwater lumber from rivers and man-made lakes is not a brand new idea, but Triton Logging Co., the "underwater harvesting specialist", has a bit of an edge.
The Best Birth Control In The World Is For Men | Techcitement* By Jon Clinkenbeard. March 26, 2012, 11:25 AM CDT If I were going to describe the perfect contraceptive, it would go something like this: no babies, no latex, no daily pill to remember, no hormones to interfere with mood or sex drive, no negative health effects whatsoever, and 100 percent effectiveness. Blogger shows the world how to sneak anything past TSA's body scanners. The United States Transportation Security Administration recently invested $1 billion in body scanner technology it claimed would make air travel safer, but the scanners have come under fire since the agency first revealed its intentions. Some people argued that the nude scanners were an invasion of privacy while others were concerned with radiation emitted by the machines.
Now, however, it appears as though past arguments pale in comparison to recent information brought to light by scientist and blogger Jonathan Corbett. Cocktail of Popular Drugs May Cloud Brain. Tim Robinson Many people are unaware that dozens of painkillers, antihistamines and psychiatric medications — from drugstore staples to popular antidepressants — can adversely affect brain function, mostly in the elderly. Regular use of multiple medications that have this effect has been linked to cognitive impairment and memory loss. Called anticholinergics, the drugs block the action of the neurotransmitter acetylcholine, sometimes as a direct action, but often as a side effect. Acetylcholine is a chemical messenger with a range of functions in the body, memory production and cognitive function among them. The difficulty for patients is that the effect of anticholinergic drugs is cumulative.
Fearing Climate Change's Effects on the Adirondacks. 50 Life Secrets and Tips | High Existence - StumbleUpon. Edible Wild Plants | Wild Backpacker. Hiking the Inca Trail to Machu Picchu. 25 Things You May Not Know About 'Donnie Darko. Everything you were afraid to ask about "Donnie Darko" - Movies.
---