Society
Get flash to fully experience Pearltrees
Through history there have been many secret societies and conspiracy theories about those societies. This is a list of 10 of the most famous and popular secret societies or alleged secret societies. 1. Skull and Bones [ Wikipedia ]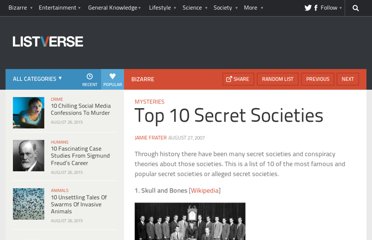 Get anyone to like you - Instantly - Guaranteed If you want people to like you, make them feel good about themselves. This golden rule of friendship works every time - guaranteed! The principle is straightforward.
5. Beale Ciphers are said to be three encrypted messages which pinpoint where a man named Beale buried two wagons-full of treasure at a secret location in Bedford County in the 1820s. It is claimed one of the messages has been solved, which detailed the tons of gold, silver and jewels that were buried, along with a general location. The still unsolved messages supposedly give exact directions, and a list of who the treasure belongs to. 6. Voynich Manuscript is at least 400 years old and is a 232-page illuminated manuscript entirely written in a secret script.
By Joshua Philipp Epoch Times Staff Created: March 30, 2011 Last Updated: March 31, 2011 A young man in a cyber cafe in Wuhan, China sits at work at a computer. The Chinese regime encourages individuals known as 'patriot hackers' to steal information from governments and companies. (Cancun Chu/Getty Images) Chinese hackers compromised the computer networks of both the Canadian and the Australian governments last February. The attacks are part of a long-term effort by the Chinese regime to dominate other nations through compromising or disrupting their computer networks.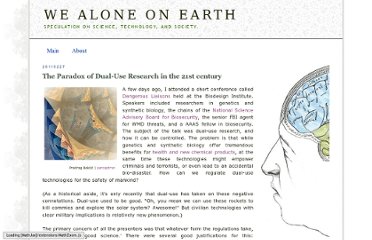 A few days ago, I attended a short conference called Dangerous Liaisons held at the Biodesign Institute. Speakers included researchers in genetics and synthetic biology, the chains of the National Science Advisory Board for Biosecurity , the senior FBI agent for WMD threats, and a AAAS fellow in biosecurity. The subject of the talk was dual-use research, and how it can be controlled.
Apr. 13, 2011 — A step change in research relating to plasma nanoscience is needed for the world to overcome the challenge of sufficient energy creation and storage, says a leading scientist from CSIRO Materials Science and Engineering and the University of Sydney, Australia. Professor Kostya (Ken) Ostrikov of the Plasma Nanoscience Centre Australia, CSIRO Materials Science and Engineering, has highlighted, in IOP Publishing's Journal of Physics D: Applied Physics , the unique potential of plasma nanoscience to control energy and matter at fundamental levels to produce cost-effective, environmentally and human health friendly nanoscale materials for applications in virtually any area of human activity.
C. moniliferum, Crystallizing Strontium Minna R.
Apr. 15, 2011 — A combination of forest byproducts and crustacean shells may be the key to removing radioactive materials from drinking water, researchers from North Carolina State University have found.
First writing may have been three-dimensional Archeologists have long been puzzled by large numbers of small, fired-clay objects found in the Middle East. Denise Schmandt-Besserat, University of Texas at Austin, believes that these small geometrical shapes (cones, spheres, disks, etc.) were actually symbols used in commerce to indicate numbers and types of commodities (sheep, oil, etc.).
Dimensional / Sacred Geometry
Here's an awesome (legit) tutorial : "I just got paid $300 cash for two dozen old lead-acid batteries . Here's how." Learn how to find the best places to salvage old car batteries, check which day they're worth the most, and (of course) get cold hard cash!