Reality
Tired light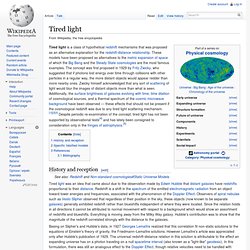 Tired light is a class of hypothetical redshift mechanisms that was proposed as an alternative explanation for the redshift-distance relationship.
Cano Cristales - Crystal River.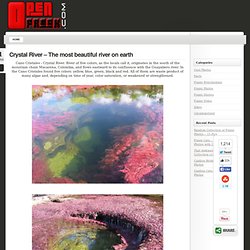 The Quantum Life Model
Quantum Life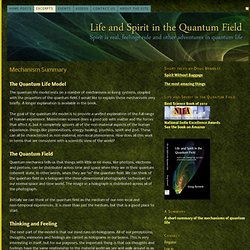 WAVE the theory of everything !
Libertarianism (metaphysics)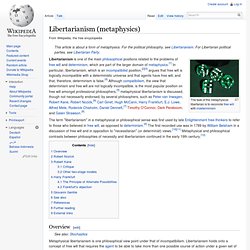 Libertarianism is one of the main philosophical positions related to the problems of free will and determinism, which are part of the larger domain of metaphysics.[1] In particular, libertarianism, which is an incompatibilist position,[2][3] argues that free will is logically incompatible with a deterministic universe and that agents have free will, and that, therefore, determinism is false.[4] Although compatibilism, the view that determinism and free will are not logically incompatible, is the most popular position on free will amongst professional philosophers,[5] metaphysical libertarianism is discussed, though not necessarily endorsed, by several philosophers, such as Peter van Inwagen, Robert Kane, Robert Nozick,[6] Carl Ginet, Hugh McCann, Harry Frankfurt, E.J. Lowe, Alfred Mele, Roderick Chisholm, Daniel Dennett,[7] Timothy O'Connor, Derk Pereboom, and Galen Strawson.[8]
Libertarianism (metaphysics)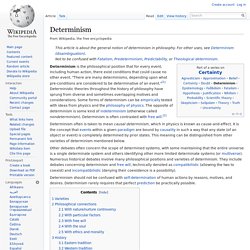 Determinism is the philosophical position that for every event exist conditions that could cause no other event.
Phenomenology
It is difficult to identify non-trivial claims that would be common to all the preceding philosophical movements.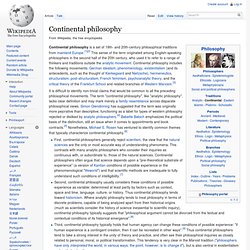 Examples of religions and philosophies which embrace the concept of the Absolute in one form or another include Hermeticism, Hinduism, Jainism, Taoism, Islam, some forms of Jewish philosophy, and existential or metaphysical forms of Christianity.[2] Terms which serve to identify The Absolute [3] among such beliefs include Wu Chi, Brahman, Adibuddha, Allah, Para Brahman, Tetragrammaton, the Karmic Loom, God, the Divine, and numerous other appellations.[4] In East Asia, the concept of the Tao, and in South Asia, the concept of Nirvana is synonymous in description to the attributes of the Absolute as used in the West. Roughly, the Absolute may be distinguished from the following concepts, although there is debate of the synonymity between them: Heraclitus concerned himself with the knowable portion of the Absolute with his Logos.
Ultimate reality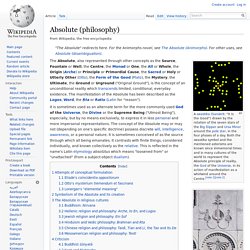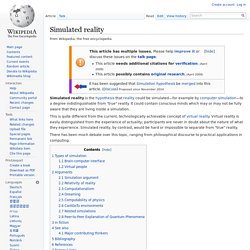 Simulated reality is the hypothesis that reality could be simulated—for example by computer simulation—to a degree indistinguishable from "true" reality, and may in fact be such a simulation. It could contain conscious minds which may or may not be fully aware that they are living inside a simulation.
Hyperreality is a term used in semiotics and postmodern philosophy to describe an inability of consciousness to distinguish reality from a simulation of reality, especially in technologically advanced post-modern societies. Hyperreality is seen as a condition in which what is real and what is fiction are seamlessly blended together so that there is no clear distinction between where one ends and the other begins.[1] It allows the commingling of physical reality with virtual reality (VR) and human intelligence with artificial intelligence (AI).[2] Individuals may find themselves for different reasons, more in tune or involved with the hyperreal world and less with the physical real world. Some famous theorists of hyperreality include Jean Baudrillard, Albert Borgmann, Daniel J.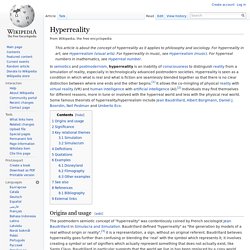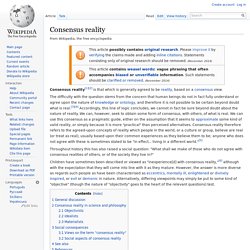 Consensus reality
Consensus reality[1][2] is that which is generally agreed to be reality, based on a consensus view.
Anti-realism
Anti-realism in philosophy[edit]
Reality Reality is a consciousness program (hologram, simulation, illusion, dream) created by digital codes. Numbers, numeric codes, define our existence and experiences.
Reality