Reality
Tired light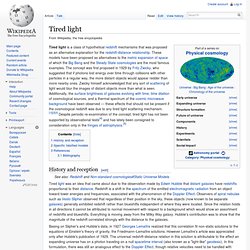 Tired light is a class of hypothetical redshift mechanisms that was proposed as an alternative explanation for the redshift-distance relationship .
Cano Cristales - Crystal River.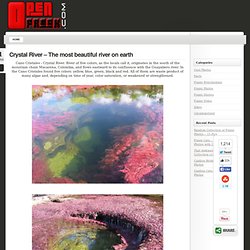 The Quantum Life Model
Quantum Life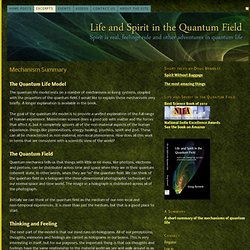 WAVE the theory of everything !
Libertarianism (metaphysics)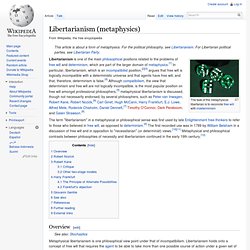 Libertarianism is one of the main philosophical positions related to the problems of free will and determinism , which are part of the larger domain of metaphysics . [ 1 ] In particular, libertarianism, which is an incompatibilist position, [ 2 ] [ 3 ] argues that free will is logically incompatible with a deterministic universe and that agents have free will, and that, therefore, determinism is false. [ 4 ] Although compatibilism , the view that determinism and free will are logically compatible, is the most popular position on free will amongst professional philosophers, [ 5 ] metaphysical libertarianism is discussed, though not necessarily endorsed, by several philosophers, such as Peter van Inwagen , Robert Kane , Robert Nozick , [ 6 ] Carl Ginet , Hugh McCann , Harry Frankfurt , E.J. Lowe , Alfred Mele , Roderick Chisholm , Daniel Dennett , [ 7 ] Timothy O'Connor , Derk Pereboom , and Galen Strawson . [ 8 ]
Libertarianism (metaphysics)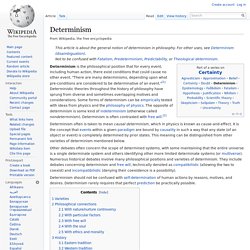 Determinism is a metaphysical philosophical position stating that for everything that happens there are conditions such that, given those conditions, nothing else could happen.
Phenomenology
Continental philosophy is a set of 19th- and 20th-century philosophical traditions from mainland Europe . [ 1 ] [ 2 ] This sense of the term originated among English-speaking philosophers in the second half of the 20th century, who used it to refer to a range of thinkers and traditions outside the analytic movement .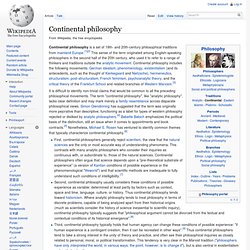 Ultimate reality
Ultimate reality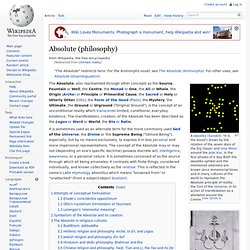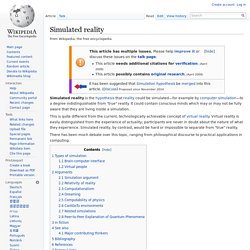 Simulated reality is the hypothesis that reality could be simulated—perhaps by computer simulation —to a degree indistinguishable from "true" reality, and may in fact be such a simulation. It could contain conscious minds which may or may not be fully aware that they are living inside a simulation.
Displaying 1 - 10 of 44
Onion theory of reality at AllExperts
Hyperreality is used in semiotics and postmodern philosophy to describe an inability of consciousness to distinguish reality from a simulation of reality, especially in technologically advanced post-modern societies. Hyperreality is a way of characterizing what our consciousness defines as "real" in a world where a multitude of media can radically shape and filter an original event or experience. Hyperreality is seen as a condition in which what is real and what is fiction are seamlessly blended together so that there is no clear distinction between where one ends and the other begins [ 1 ] .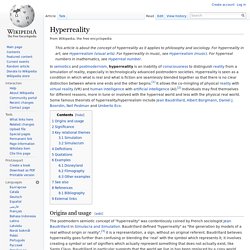 Consensus reality
Consensus reality is that which is generally agreed to be reality , based on a consensus view.
Anti-realism
In analytic philosophy , the term anti-realism is used to describe any position involving either the denial of an objective reality or the denial that verification-transcendent statements are either true or false.
Reality Reality is a consciousness program (hologram, simulation, illusion, dream) created by digital codes. Numbers, numeric codes, define our existence and experiences.
Reality