Hi-Tech
first image 'gravity stool', red photo by peter lipton
jólan van der wiel: gravity stool
curiosity: light - light installation tokyo
first image 'light- light' installation by curiosity photo © nacasa & partners japanese company curiosity are currently displaying their 'light - light' installation at the louis vuitton store in shibuya-ku, tokyo. the installation that was first on display at milan design week 08 is made of illuminated spheres freely floating. 80 white balls are lit from beneath and kept afloat with hot air. the lights are synchronized by computer creating various patterns of movement.
olafur eliasson: your chance encounter
first image colour shadow theatre, 2009 danish-icelandic artist olafur eliasson 's 'your chance encounter', is a large solo exhibition of his work on show at the 21st century museum of contemporary art , kanazawa, japan.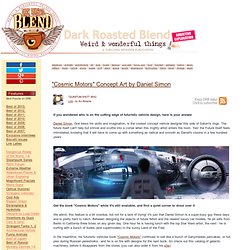 "Cosmic Motors" Concept Art by Daniel Simon
"QUANTUM SHOT" #542 Link - by Avi Abrams If you wondered who is on the cutting edge of futuristic vehicle design, here is your answer Daniel Simon , God bless his skills and imagination, is the coolest concept vehicle designer this side of Saturn's rings.
An Alcubierre Warp Drive stretches spacetime in a wave causing the fabric of space ahead of a spacecraft to contract and the space behind it to expand. The ship can ride the wave to accelerate to high speeds and time travel.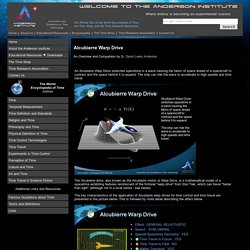 Incredible Astronomical Clocks