Design Graphic
Anton Abo - Beware. Psyrup : Designer et Photographe - Beware. Beware Mag | (Ma + Chr) Beware Mag | Tarin Yuangtrakul. Beware Mag | Zutto : Graphic Designer. Art. More than 400 invited guests attended the opening event of The Art Hunter in Sydney on Tuesday night.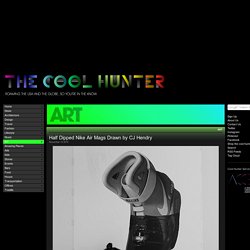 The Art Hunter launch is a collaboration between The Cool Hunter and Jaguar, and the opening night was also the Australian debut of the spectacular Jaguar C-X17 concept car. To present The Art Hunter, we engaged our dream team of collaborators, led by the incomparable Natalie Longeon and Peter Pengly from The Artistry (they designed and executed our Summer Lovers Rotate store as well), to transform a 500 m2 warehouse in Alexandria into a genuinely exciting, temporary three-week art exhibition experience.
Artisme Collective. Supakitch Koralie Documentary. Design with Food. Food Art. Adahy. Robert Josiah Bingaman. Make Something Cool Every Day. Rik Oostenbroek. Benbo George : Designer Graphique | Beware Mag.
---