Cooking stuff
Artisan Bread in Five Minutes a Day
And I'm not even kidding! Easiest. Recipe. Ever! Thanks to my sweet brother, Ramon, who recently came for a visit, I've finally learned to make this delicious recipe for homemade Artisan Bread in 5 Minutes a Day by Jeff Hertzberg and Zoë François.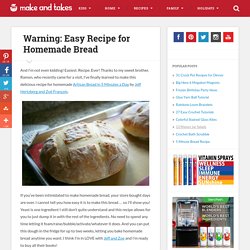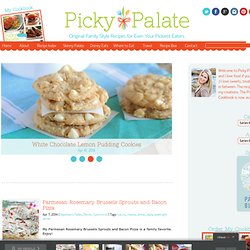 Skinny Greek Yogurt Chicken Salad Jan 8, 2014 | Chicken, Sandwiches and Burgers, Skinny Palate | Tags: chicken, sandwiches, vegetables, yogurt You'll never know this is a Skinny Greek Yogurt Chicken Salad! Tastes just like the real deal lathered in mayonnaise So excited to share some "healthier" recipes with you this month. My husband and I teamed up and developed this creamy dreamy chicken salad packed with all kinds of goodness.
Picky Palate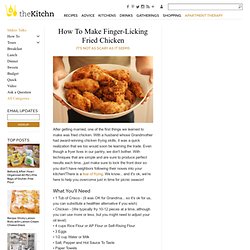 How To Make Finger-Licking Fried Chicken It's Not As Scary As It Seems
After getting married, one of the first things we learned to make was fried chicken. With a husband whose Grandmother had award-winning chicken frying skills, it was a quick realization that we too would soon be learning the trade. Even though a fryer lives in our pantry, we don't bother. With techniques that are simple and are sure to produce perfect results each time...just make sure to lock the front door so you don't have neighbors following their noses into your kitchen!
Bread Pudding ranks up there with rice pudding for me. And when I say "ranks up there", I mean, "YUCK". I have a thing with soggy carbs. They just shouldn't exist. As I was growing up, my father used to pour a bowl of Fiber One cereal and let it soak on the counter for a half an hour before eating it every morning. I would walk through the kitchen and gag.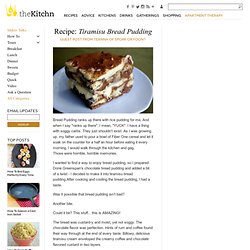 Recipe: Tiramisu Bread Pudding Guest Post from Teanna of Spork or Foon?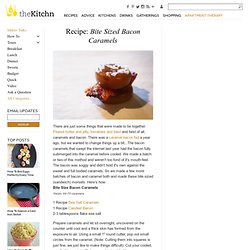 There are just some things that were made to be together. Peanut butter and jelly, tomatoes and basil and best of all, caramels and bacon. There was a caramel bacon fad a year ago, but we wanted to change things up a bit...The bacon caramels that swept the internet last year had the bacon fully submerged into the caramel before cooled. We made a batch or two of this method and weren't too fond of it's mouth-feel. The bacon was soggy and didn't hold it's own against the sweet and full bodied caramels. So we made a few more batches of bacon and caramel both and made these bite sized (sandwich) morsels.
Recipe: Bite Sized Bacon Caramels
Recipe: Grilled Peaches with Bourbon Vanilla Whipped Cream Recipes from The Kitchn
Have all of you apartment dwellers been waiting for a new Grilling Month recipe that can be made indoors, on a grill pan? You have? Well, here you go. We made these peaches on a charcoal grill at a friend's house AND on our own grill pan once we got home.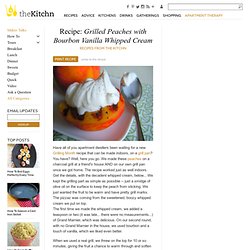 It all started with a craving for bread pudding and an emergency substitution of coconut milk for regular milk ... One idea led to another, and pretty soon we were whipping up a dessert rich with the Indian-inspired flavors of coconut, cardamom, and pistachio. In fact, we loved this coconut version so much that we never returned to making bread pudding with plain old cow's milk! The first time we made this, we added golden raisins but those have since been replaced with candied ginger, which pairs even more wonderfully with the pistachios and cardamom. We also like using jaggery, a full-flavored, unrefined sugar found in Indian markets, but if you don't already have it in your pantry, regular granulated sugar is fine.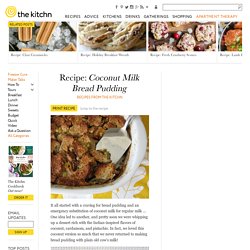 Recipe: Coconut Milk Bread Pudding Recipes from The Kitchn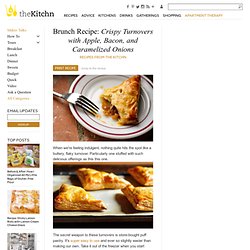 Brunch Recipe: Crispy Turnovers with Apple, Bacon, and Caramelized Onions Recipes from The Kitchn
When we're feeling indulgent, nothing quite hits the spot like a buttery, flaky turnover. Particularly one stuffed with such delicious offerings as this this one. The secret weapon to these turnovers is store-bought puff pastry. It's super easy to use and ever so slightly easier than making our own.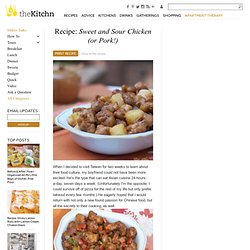 When I decided to visit Taiwan for two weeks to learn about their food culture, my boyfriend could not have been more excited. He's the type that can eat Asian cuisine 24 hours-a-day, seven days a week. (Unfortunately I'm the opposite. I could survive off of pizza for the rest of my life but only prefer takeout every few months.) He eagerly hoped that I would return with not only a new found passion for Chinese food, but all the secrets to their cooking, as well. Luckily for him, I did return with a few new tricks up my sleeve and an arsenal of recipes to try.
Recipe: Sweet and Sour Chicken (or Pork!)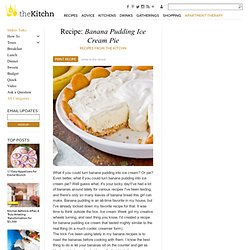 Recipe: Banana Pudding Ice Cream Pie Recipes from The Kitchn
The trick I've been using lately in my banana recipes is to roast the bananas before cooking with them. I know the best thing to do is let your bananas sit on the counter and get as black as black can be, but honestly that kind of grosses me out. So instead, I let the oven do the work—the heat concentrates the flavor into sweet banana goodness. This banana pudding ice cream is amazing as is, but I decided to take it one step further and turn it into pie. I figured a Nilla wafer crust would be the perfect crunchy contrast to the custard.
If I'm not feeling like making something elaborate and just want an easy, warm dessert to top off the evening, this is where I turn: baked apples. Scoop out the core and stuff the insides with a mix of oatmeal, brown sugar, cinnamon, and nutmeg. The baked apples soften into a spoonable treat while the brown sugar melts down into a caramel syrup.
Weeknight Recipe: Oatmeal-Brown Sugar Baked Apples
My boyfriend (wait, make that fiancé!) recently made a special request. He asked to purchase a wok, in the event that it remain exclusively his.
Recipe: Blackened Catfish Fajitas
Recipe: Blueberry Banana Cake with Cream Cheese Icing
What do you do with old bananas? Do you throw them in the freezer, to wait for a batch of banana bread? Lately, instead of banana bread, I've been making this banana cake. It's moist and luscious, and it is a very easy dessert for a crowd; it will feed at least 10! And lately, since blueberries are everywhere, I've been adding ripe, juicy blueberries, too.
Recipe: Double-Garlic Herb Garlic Bread
Some days you just have to go all out. Maybe you have soft cheeses and crackers before dinner, open a bottle of good wine, make spaghetti and meatballs and then decide that garlic bread is also important. When you can't stop thinking about garlic bread, this is the recipe for you.
Potato latkes are such humble little things, yet so incredibly addictive. This version puts the traditional applesauce topping on the inside, where it gets warm and wonderful as the latkes cook. We love adding cubes of cheese to the filling, too. They melt into pockets of cheesy goodness and add extra savory depth to this classic dish. For this recipe, we're essentially making a fresh applesauce and sandwiching this between two layers of potato pancake.
Hanukkah Recipe: Apple and Cheese-Stuffed Latkes
Dessert Recipe: No-Bake Boston Cream Pie Strata Cookbook Recipe
Recipe: Peach & Prosciutto Bruschetta Recipes from The Kitchn
Recipe: Apple Cinnamon Toaster Strudels Recipes from The Kitchn
Breakfast Recipe: Coconut Banana Fritters Recipes from The Kitchn
Vegan Recipe: Sticky Orange Cake with Marmalade Glaze
Recipe: Korean BBQ Marinade Recipes from The Kitchn
Quick One-Bowl Recipe: Apple Gouda Oatmeal Cookies Recipes from The Kitchn
Recipe: Korean Fried Chicken Wings
Super-Bowl Recipe: Bacon-Cheddar Twice-Baked Potatoes
Recipe: Extra-Creamy Cooked Cream Cheese Icing
Recipe: Coconut Mango Oat Muffins Recipes from The Kitchn
Recipe: Steak With Drunken Mushrooms & Roasted Blue Cheese Potatoes
Cheater Recipe: Baked Apple Cider Doughnuts
Recipe: Apple Yogurt Cake with a Cinnamon-Sugar Streak Recipes from The Kitchn
Breakfast Recipe: Sweet Potato Biscuits & Maple Butter
Recipe: Buttery Popcorn Ice Cream Recipes from The Kitchn
Apple pie layer cake recipe | Life and style | guardian.co.uk
Italian Food Forever » Lemon Yogurt Blueberry Cake
Italian Food Forever » Ricotta Oat Cake With Mixed Berries
Italian Food Forever » Strawberry Banana Muffins
Italian Food Forever » Apple, Garlic & Jalapeno Relish
Italian Food Forever » Apple Stuffed Pork Tenderloin
Italian Food Forever » Apple Cream Cheese Muffins
Italian Food Forever » New & Improved Pizza Dough
Italian Food Forever » Wild Mushroom Risotto
Italian Food Forever » Roasted Red Skin Potatoes With Breadcrumbs
Italian Food Forever » Roasted Baby Carrots With Orange & Honey
Italian Food Forever » Crispy Roasted Potato Spirals
Italian Food Forever » Blueberry Walnut Coffee Cake
Italian Food Forever » Strawberry Basil Jam
Cheesecake Stuffed Strawberries. & & Vippins.com Vippins.com
Buttermilk Blueberry Breakfast Cake | alexandra's kitchen — recipes, photos, food
Jamaican Banana Fritters - ThatsSoYummy.com
Summertime Strawberry Mousse - a low calorie recipe! | The New Home Ec
Ice Cream Sundae Cupcakes | Babble
Nilla Ice Cream Pie
Chicken Nuggets
most gawked all-time | foodgawker