Roni
MARQUET
INCG / Timothy van Sas your design and front-end hero
Fun with CSS3 orientation media queries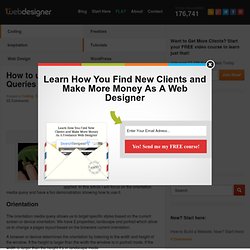 For a long time we have been able to specify styles for different media types using CSS, print and screen being the most recognizable. With CSS3 these media types have been extended to allow additional expressions, aka media queries, which gives us greater control on when specific styles should be applied. In this article I will focus on the orientation media query and have a fun demonstration showing how to use it. Orientation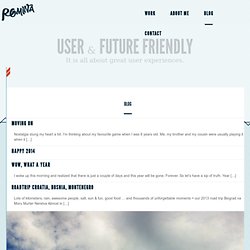 Nostalgia stung my heart a bit. I'm thinking about my favourite game when I was 6 years old. Me, my brother and my cousin were usually playing it when it […]
Blog | Romina / designer
Here is the origin http://wiki.developers.facebook.com/index.php/Facebook_Share/Specifying_Meta_Tags Configuring Meta Tags for Facebook Share Adding Facebook Share to your website is easy. However, you can enhance how the shared item appears on Facebook by configuring how it gets previewed on a user's profile and when a user tries to share it. You do this with a combination of <link> and <meta> tags.
Facebook Share/Specifying Meta Tags FBML Audio Flash Video Action Bar « Graphic Design Blog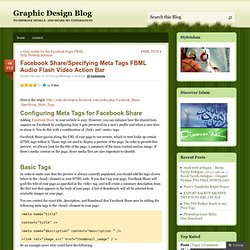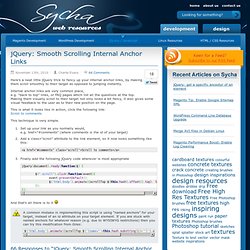 jQuery: Smooth Scrolling Internal Anchor Links | Sycha Web Design & Development
November 13th, 2010Charlie Evans Here's a neat little jQuery trick to fancy up your internal anchor links, by making them scroll smoothly to their target as opposed to jumping instantly. Internal anchor links are very common place, e.g.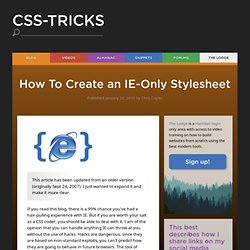 Published by Chris Coyier This article has been updated from an older version (originally Sept 24, 2007). I just wanted to expand it and make it more clear. If you read this blog, there is a 99% chance you've had a hair-pulling experience with IE. But if you are worth your salt as a CSS coder, you should be able to deal with it. I am of the opinion that you can handle anything IE can throw at you without the use of hacks.
Zemljevid Najdi.si - Kranjceva 26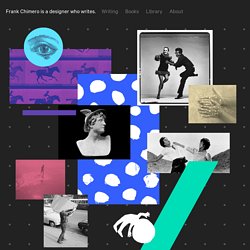 Everything was made. Each invention shows that the world is malleable, from the simplest stone tool to the screen you're using to read this. We make what we want, break things in the process, collect what we like, and connect what we discover to get us closer to where we want to be. Those fingerprints highlight our codependency. We need one another to make things, and it means we get the opportunity to remake it all, too. Things can be better, so there is work to do.
Frank Chimero — A graphic designer who writes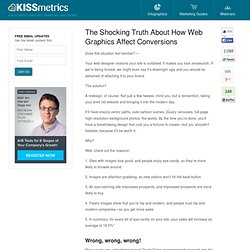 Does this situation feel familiar? — Your web designer reckons your site is outdated. It makes you look amateurish. If we're being honest, we might even say it's downright ugly and you should be ashamed of attaching it to your brand. The solution?
Neat Shtuff - Cool Shtuff that will make great gifts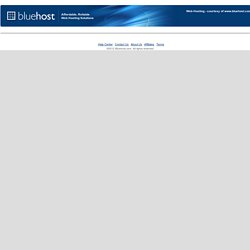 You know I have a soft spot for vending machines right? I think I want to become a vending machine when I grow up, LOL Jokes apart, Aussie brand Fantastic Delites installed a vending machine in a busy pedestrian road, with the sole propose of finding out how far people would go to score a free packet of crinkle cut rice snack….and obviously to advertise its product.
Amazing Art Images : Amazing Photographs : Brilliant Design : Geek Stuff : Photographic Exhibition : Weird News : TheZigZagger.com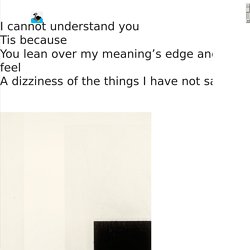 Typography, design and illustration by SasakiShun Title: @aqqdesign Folkert Photographs by Sarah Schönfeld
Anka Bulovec
Open Source Web Design Resources Part 2
klemenpadomen
takihle malih, na soboto, dan protesta pred parlamentom! 3-ji in zadnji del s testom, ki je preostal, po 72h matranja in fermentiranja so hrustljavo eksplodirale, bombice namreč protest in front of parliament, everybody helps as he can 3rd yeast water attempt with remaining dough after 72 hours of torture and fermentation, controlled explosion was a big success, collateral damage minimal, center preserved and moist, shell slightly burned yet remained crunchy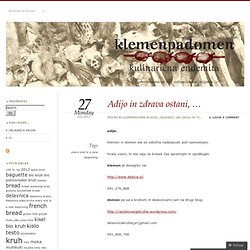 Jalovčev ozebnik - Matic - Picasa Albums Web
gravy
A state of complacency or happiness. Stable goodness. It's all gravy.
10 Ways to Live Above Your Life's Circumstances | All Pro Dad
When the economy is difficult or work is impossible, when our marriage is a strain, or the children are especially challenging—or maybe all four at once—it's easy to feel weighed down by circumstances. "If only things were different," we say, "then my life would be OK." Circumstances don't have to define life. As All Pro Dads we can be solid, content and fulfilled regardless of the difficulties and the challenges that we face. Fact is; the way that we respond in the face of struggle says a lot about our character.
exrtreme - outdoor sports