Roni
MARQUET
INCG / Timothy van Sas your design and front-end hero. Fun with CSS3 orientation media queries. For a long time we have been able to specify styles for different media types using CSS, print and screen being the most recognizable.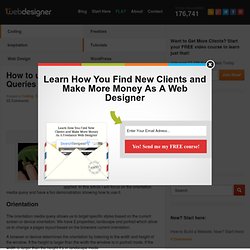 With CSS3 these media types have been extended to allow additional expressions, aka media queries, which gives us greater control on when specific styles should be applied. In this article I will focus on the orientation media query and have a fun demonstration showing how to use it. Orientation. Blog | Romina / designer. Nostalgia stung my heart a bit.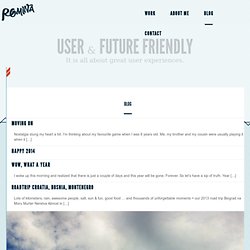 I'm thinking about my favourite game when I was 6 years old. Me, my brother and my cousin were usually playing it when it […] Facebook Share/Specifying Meta Tags FBML Audio Flash Video Action Bar « Graphic Design Blog. Here is the origin Configuring Meta Tags for Facebook Share Adding Facebook Share to your website is easy.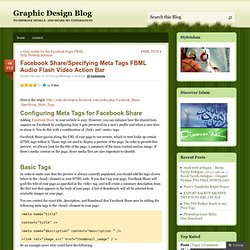 However, you can enhance how the shared item appears on Facebook by configuring how it gets previewed on a user's profile and when a user tries to share it. You do this with a combination of <link> and <meta> tags. Checkthis. jQuery: Smooth Scrolling Internal Anchor Links | Sycha Web Design & Development. November 13th, 2010Charlie Evans Here's a neat little jQuery trick to fancy up your internal anchor links, by making them scroll smoothly to their target as opposed to jumping instantly.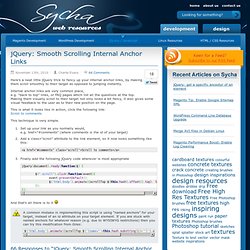 Internal anchor links are very common place, e.g. How To Create an IE-Only Stylesheet. Dollar Shave Club. Zemljevid Najdi.si - Kranjceva 26. Frank Chimero — A graphic designer who writes. The Shocking Truth About How Web Graphics Affect Conversions. Does this situation feel familiar?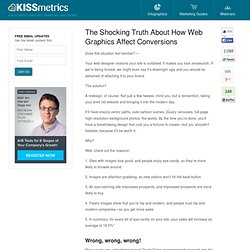 — Your web designer reckons your site is outdated. It makes you look amateurish. If we're being honest, we might even say it's downright ugly and you should be ashamed of attaching it to your brand. The solution? Neat Shtuff - Cool Shtuff that will make great gifts. Amazing Art Images : Amazing Photographs : Brilliant Design : Geek Stuff : Photographic Exhibition : Weird News : TheZigZagger.com. Fubiz™ But does it float. Anka Bulovec. Wulffmorgenthaler.com | Home | Entertainment - Since 2002. A Commentary on Life: Politics, News, Entertainment, Technology, Culture, and Weirdo Beavers. Savage Chickens - Cartoons on Sticky Notes by Doug Savage. Blog publishing assistant: related images & articles - Zemanta. Open Source Web Design Resources Part 2. We shared with you some excellent Open Source Web Design Resources from Orman Clark in November last year.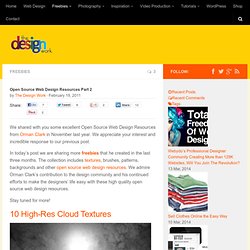 We appreciate your interest and incredible response to our previous post. In today's post we are sharing more freebies that he created in the last three months. The collection includes textures, brushes, patterns, backgrounds and other open source web design resources. Klemenpadomen. Www.paint.net.
Jalovčev ozebnik - Matic - Picasa Albums Web. Multicolr Search Lab - Idée Inc. Flickr Related Tag Browser. Gravy. 10 Ways to Live Above Your Life's Circumstances.
News
Art. WEB. Vidéo. Conduite de projets. Curiosité. Exrtreme - outdoor sports.
---