Design
Design Observer
Observatory By Samantha García Steven Heller kicked off the inaugural "Power of Design" ideas festival in Miami Beach at an altar of Art Deco palm fronds. MC'ed by inimitable writer Kurt Andersen, this year's festival theme was "Complaints." Participants had the mandate to drive "dissatisfaction to action" and "action to innovation" over four days at the Wolfsonian Museum. Observer Media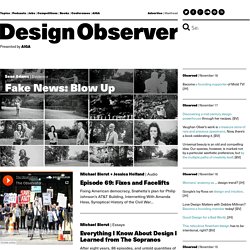 Co.Design - Mon, Feb 14 2011
Architonic | architecture and design
Design.nl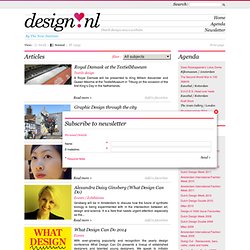 H&M Conscious New World During the launch of H&M's latest Conscious Collection, a debate arose about the true sustainability such a mass-produced brand can achieve. When Fashion meets Architecture G-Star's massive new headquarters near Amsterdam designed by OMA brings together 4 separate offices under one roof. The hangar-inspired space is entirely customised for and by G-Star right down to the office... Aldo Bakker & Georg Jensen (Milan)
spotd.it
Linear, slick and wooden would probably be the three words that best describe the Troag lamp by Luca Nichetto for Foscarini. Behind the lamp a very precise brief: a linear lamp to be used in contract but also in domestic spaces, and the not necessarily related intuition of the designer of using wood. The outcome is a hot pressed plywood piece with a simple yet very recognizable profile obtained with the use of a five axe milling machine and a big attention to details.
Dezeen architecture and design magazine
Tengbom Architects est une des agences d'architecture les plus influentes en Suède, et plus généralement en Scandinavie. Tengbom ne pèse pas moins de 550 salariés répartis sur une douzaine de bureaux en Suède, en Finlande, mais également au Cambodge. Depuis 1906 (déjà), Tengbom s'efforce de combiner le design moderne et l'habitat traditionnel, avec une attention sur l'écologie et l'humanisme. C'est avec ces principes que l'agence s'est penchée sur les appartements d'étudiant, avec à la clé cette élégante boîte de seulement 10 mètres carrés, tout en bois, exposée au Musée d'Art Virserum dans le comté de Småland, en Suède. Cet appartement est donc conçu pour être très abordable, respectueux de l'environnement et intelligent dans sa façon d'utiliser des matériaux. Plus d'information sur le site de l'agence (lien à la fin du billet).
Orgone Design, le blog