Instructional sites
Top 10 Sites for Do It Yourself Projects : Planet Green. Gmail: Email from Google. Quick Tip: Remove a Person From a Photo With Photoshop CS5's Content Aware Feature. With the launch of the new Adobe Suite of programs comes the long awaited Adobe Photoshop CS5.
Packed with new features to speed up your workflow it truly is the most advanced edition of Photoshop to date. One of the new features we will be looking at today is called Content Aware. This feature allows you to quickly fill in a selection with surrounding content making it look like a part of the original image. In this case we will choose to remove a person from a photo, this can be done in less than five minutes. With the additional image enhancements this tutorial will take you less than 10 minutes to complete. Photoshop tips, tutorials and lessons for photographers. How to Sync an iPod Without Deleting the Music. How to Drastically Increase the Life of Your Shaver Razor Blade Cartridges or Disposable Razors.
Today I Found Out how to drastically increase the life of your shaver razor blades, such as Gillette or Schick Brand razors.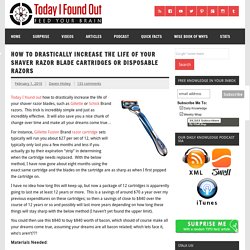 This trick is incredibly simple and just as incredibly effective. It will also save you a nice chunk of change over time and make all your dreams come true… For instance, Gillette Fusion Brand razor cartridge sets typically will run you about $27 per set of 12, which will typically only last you a few months and less if you actually go by their expiration "strip" in determining when the cartridge needs replaced.
With the below method, I have now gone about eight months using the exact same cartridge and the blades on the cartridge are as sharp as when I first popped the cartridge on. I have no idea how long this will keep up, but now a package of 12 cartridges is apparently going to last me at least 12 years or more. How to Develop a Photographic Memory. 100 Amazing How-To Sites to Teach Yourself Anything | Rated Colleges. Posted by Site Administrator in Online Learning May 7th, 2009 Learning new skills and expanding your knowledge doesn't have to cost you an arm and a leg.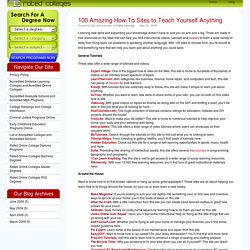 There are loads of free resources on the Web that can help you find instructional videos, tutorials and classes to learn a wide variety of skills from fixing basic car problems to speaking another language. With 100 sites to choose from, you're bound to find something here that will help you learn just about anything you could want.
---