Social media tools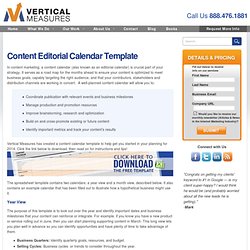 Content Calendar - Editorial Planning for Content Marketing by Vertical Measures
In content marketing, a content calendar (also known as an editorial calendar) is crucial part of your strategy. It serves as a road map for the months ahead to ensure your content is optimized to meet business goals, capably targeting the right audience, and that your contributors, stakeholders and distribution channels are working in concert. A well-planned content calendar will allow you to: Coordinate publication with relevant events and business milestones
facebook kompetitvna analiza
testiranje designa 8orodja in nasveti)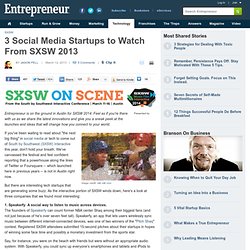 If you've been waiting to read about "the next big thing" in social media or tech to come out of South by Southwest (SXSW) Interactive this year, don't hold your breath. We've canvassed the festival and feel confident reporting that a powerhouse along the lines of Twitter or Foursquare -- which launched here in previous years -- is not in Austin right now. But there are interesting tech startups that are generating some buzz. As the interactive portion of SXSW winds down, here's a look at three companies that we found most interesting:
3 Social Media Startups to Watch From SXSW 2013
brand spremljanje in analiza
Are you looking for tools to simplify your social media activities? Many businesses feel overwhelmed when implementing their social media marketing. Sometimes the solution is to focus on the right social media tools for your business . We asked social media experts for their most valuable tool for small businesses using social media. Here are 13 tools to help you execute your social media strategy effectively .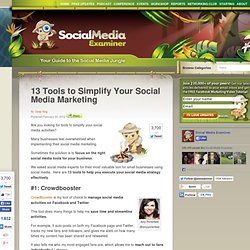 5 Must-Test Internet Marketing Tactics and Metrics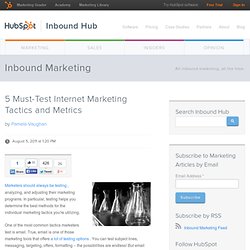 Marketers should always be testing , analyzing, and adjusting their marketing programs. In particular, testing helps you determine the best methods for the individual marketing tactics you're utilizing. One of the most common tactics marketers test is email. True, email is one of those marketing tools that offers a lot of testing options . You can test subject lines, messaging, targeting, offers, formatting -- the possibilities are endless! But email isn't the only thing you can test.
rules of engagement in monitoring and answer
Social Media Monitoring Made Simple - Engage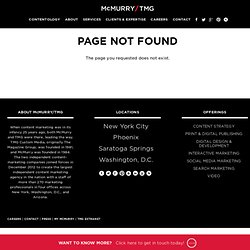 I f you've been monitoring social media for mentions of … social media monitoring , you'll likely have noticed more people discussing how to listen better on behalf of your brand. There are tools. There are services. And there are case studies on how your organization can sift through social media static and glean out useful nuggets. The overload of information can be a little overwhelming and after a while all the advice on sifting through the static starts to sound, ironically, like more noise. We know we should be listening but often times it's difficult to figure out what exactly we should be listening to and how we should be listening to it.
Startup_Toolkit_Info.png (PNG Image, 1200x6400 pixels)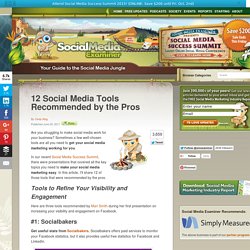 Are you struggling to make social media work for your business? Sometimes a few well-chosen tools are all you need to get your social media marketing working for you . In our recent Social Media Success Summit , there were presentations that covered all the key topics you need to make your social media marketing easy . In this article, I'll share 12 of those tools that were recommended by the pros.
The savviest marketers are constantly staying on top of the latest trends and news in marketing. Are you one of them? Keeping up-to-date with marketing news can help you stay ahead of the curve in your own marketing and keep ahead of competitors in your industry. So where can you go to make sure you're in the know? Subscribe to these blogs and websites via email or add them to your favorite RSS reader to stay on the cutting edge of all things marketing! 1.
11 Must-Subscribe Marketing News Blogs and Websites
About You have arrived at this page because InsideRIA is no longer an active website, as of January 31, 2011. While we're sad to see the change, we think you will find the resources and community here at oreilly.com helpful. An archive of the material previously posted on InsideRIA can be found at DevelopRIA.com . O'Reilly Answers is an excellent resource for getting information about everything technology related.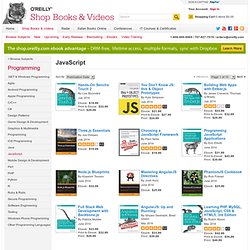 Do you know what people are saying about your brand? Do you want to know how to monitor these conversations? Regardless of the size of your business, chances are good people are talking about you and your brand via social networks and blogs.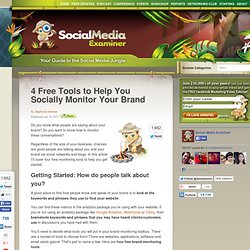 4 Free Tools to Help You Socially Monitor Your Brand
Social Media Monitoring Tools
3 Lessons Learned in Social CRM
Social Media Analytics Platform List | Web Strategist
Web Application Marketplace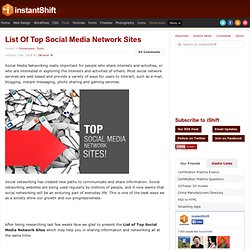 Social Media Networking really important for people who share interests and activities, or who are interested in exploring the interests and activities of others. Most social network services are web based and provide a variety of ways for users to interact, such as e-mail, blogging, instant messaging, photo sharing and gaming services. Social networking has created new paths to communicate and share information. Social networking websites are being used regularly by millions of people, and it now seems that social networking will be an enduring part of everyday life. This is one of the beat ways we as a society show our growth and our progressiveness. After being researching last few weeks Now we glad to present the List of Top Social Media Network Sites which may help you in sharing information and networking all at the same time.
2010 marked an important milestone in the young social media industry. Mainly because businesses began to leverage social media to be closer to their customers, have a better and almost real time understanding of their markets and reduce marketing expenditure while growing brand reputation and market share. Businesses who are not leveraging social business technology to monitor, research, connect and collaborate socially with their clients will have a competitive disadvantage over those companies who do. * 60-80% of purchase decisions are based on recommendations * Time in the social web exceeded time spend on TV * 16 Million search results on "has anybody experience with…" indicates that product and brand exploration is no longer influenced by traditional advertising Social business tools will become strategic in 2011. Social Media Monitoring
20 Strategic Social Business Tools for 2011
6 Newfangled Social Media Tools Worth Discovering | social media tools