Nokoscope
APPRD Shared Knowledge Pleasure Seminars
Nokoscope by nokia : Sense Applied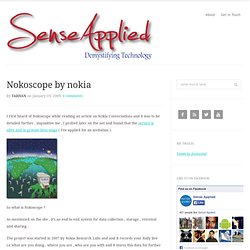 I First heard of Nokoscope while reading an article on Nokia Conversations and it was to be detailed further , inquisitive me , I probed later on the net and found that the service is alive and in private beta stage ( I've applied for an invitation ). So what is Nokoscope ? As mentioned on the site , it's an end to end system for data collection , storage , retreival and sharing .
+ New .COMs $7.99/yr plus 18 cents/yr ICANN fee.
Nokia Simple Context login
The goal of a Recommender System is to model the users' preferences in order to recommend new items that the users is likely to find of interest. However, we know that user preferences are influenced by a contextual conditions, such as the time of the day, mood, or current activity, but this type of information is not exploited by standard models. Context-aware recommender systems (CARS) aim at improving user satisfaction to recommendations by tailoring these to each particular context.
Towards Context-aware Recommendations
Room's Ambience Fingerprinted By Phone
DURHAM, N.C. - Your smart phone may soon be able to know not only that you're at the mall, but whether you're in the jewelry store or the shoe store.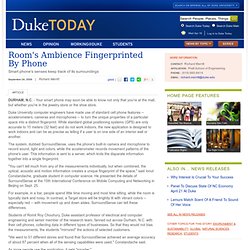 A Context-aware Notification Framework for Developers of Compute