Nokoscope
APPRD Shared Knowledge Pleasure Seminars
Nokoscope by nokia : Sense Applied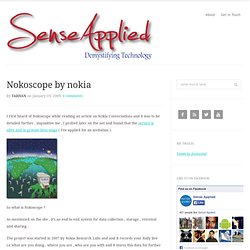 I First heard of Nokoscope while reading an article on Nokia Conversations and it was to be detailed further , inquisitive me , I probed later on the net and found that the service is alive and in private beta stage ( I've applied for an invitation ). So what is Nokoscope ? As mentioned on the site , it's an end to end system for data collection , storage , retreival and sharing .
+ New .COMs $7.99/yr plus 18 cents/yr ICANN fee.
Nokia Simple Context login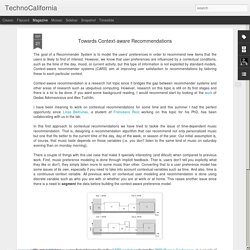 (Sorry for allowing myself to depart from the usual geeky computer science algorithmic talk in this blog. I owed it to myself and my biggest hobby to write a post like this. I hope you bear with me.) Around 3 years ago, I smoked, I was overweight, and only exercised occasionally. Being a fan of radical turns in my life, I decided one day to go on a week-long liquid diet, I stopped smoking, and I took up running, with the only goal in my mind to some time run the half marathon in my home town.
Towards Context-aware Recommendations
Room's Ambience Fingerprinted By Phone
DURHAM, N.C. - Your smart phone may soon be able to know not only that you're at the mall, but whether you're in the jewelry store or the shoe store.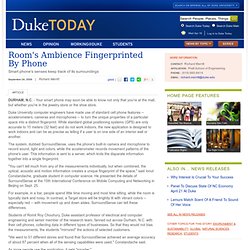 A Context-aware Notification Framework for Developers of Compute