Nokoscope
Quand la géolocalisation bouleverse le web social – dream Orange. APPRD Shared Knowledge Pleasure Seminars. Nokoscope by nokia : Sense Applied. I First heard of Nokoscope while reading an article on Nokia Conversations and it was to be detailed further , inquisitive me , I probed later on the net and found that the service is alive and in private beta stage ( I've applied for an invitation ).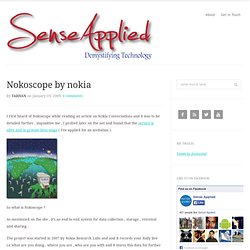 So what is Nokoscope ? As mentioned on the site , it's an end to end system for data collection , storage , retreival and sharing . Nokia Simple Context login. + New .COMs $7.99/yr plus 18 cents/yr ICANN fee.
Discount based on new one-year registration prices as of 1/27/2012 with sale price reflected in your shopping cart at checkout. Discount applies to new registrations and renewals and cannot be used in conjunction with any other offer or promotion. Domains purchased through this offer will renew at regular price after the initial term has expired. Offer ends May 31, 2012 5:00 pm (MST). † Good for one 1-year registration of any available .COM, .US, .BIZ, .INFO, .NET or .ORG ‡ Annual discounts available on NEW purchases only. Towards Context-aware Recommendations. The goal of a Recommender System is to model the users' preferences in order to recommend new items that the users is likely to find of interest.
However, we know that user preferences are influenced by a contextual conditions, such as the time of the day, mood, or current activity, but this type of information is not exploited by standard models. Context-aware recommender systems (CARS) aim at improving user satisfaction to recommendations by tailoring these to each particular context. Room's Ambience Fingerprinted By Phone. DURHAM, N.C. - Your smart phone may soon be able to know not only that you're at the mall, but whether you're in the jewelry store or the shoe store.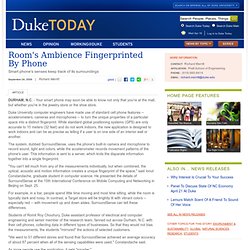 Duke University computer engineers have made use of standard cell phone features -- accelerometers, cameras and microphones -- to turn the unique properties of a particular space into a distinct fingerprint. While standard global positioning systems (GPS) are only accurate to 10 meters (32 feet) and do not work indoors, the new application is designed to work indoors and can be as precise as telling if a user is on one side of an interior wall or another. The system, dubbed SurroundSense, uses the phone's built-in camera and microphone to record sound, light and colors, while the accelerometer records movement patterns of the phone's user. This information is sent to a server, which knits the disparate information together into a single fingerprint.
Home - Secure backup, sync and sharing made easy. DivShare - Professional Media and Document Sharing. File2.ws. Free File Hosting - File Dropper: File Host for Mp3, Videos, Mus. A Context-aware Notification Framework for Developers of Compute.
---