Jeux de rôles
Rêves d'ailleurs. Hall of Fire | Lord of the Rings Fan WebZine. Beyond the Final Frontier - CODA Star Trek RPG Support. Updated: 09 November 2013 I'm seriously considering putting this site to bed.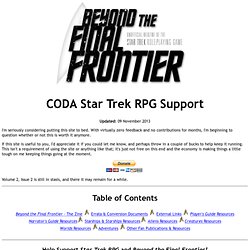 With virtually zero feedback and no contributions for months, I'm beginning to question whether or not this is worth it anymore. If this site is useful to you, I'd appreciate it if you could let me know, and perhaps throw in a couple of bucks to help keep it running. This isn't a requirement of using the site or anything like that; it's just not free on this end and the economy is making things a little tough on me keeping things going at the moment.
Jeux de Roles Amateurs. Aides. The Free RPG Blog. Les jeux amateurs et les autres. Les Joueurs de Chimères. Guide du Rôliste Galactique. La Vouivre - Annuaire du JdR - Pen & Paper News. RPG Gateway. RPGGeek. RPGnet.
THE LAND OF NOD. T Bone's Games Diner.
---