Jeux de rôles
Hall of Fire | Lord of the Rings Fan WebZine
Beyond the Final Frontier - CODA Star Trek RPG Support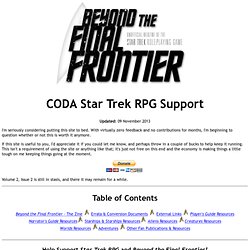 Updated: 09 November 2013 I'm seriously considering putting this site to bed. With virtually zero feedback and no contributions for months, I'm beginning to question whether or not this is worth it anymore. If this site is useful to you, I'd appreciate it if you could let me know, and perhaps throw in a couple of bucks to help keep it running. This isn't a requirement of using the site or anything like that; it's just not free on this end and the economy is making things a little tough on me keeping things going at the moment.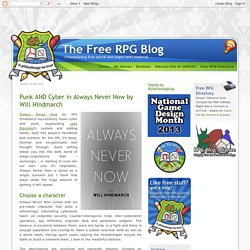 The Free RPG Blog
The 2013 Harder Than Granite competition set a high bar. Complete an RPG in 24 hours, during November 2013, in pocketmod format and with no-numbers. What's more, being the greedy sort that I am, I wanted character sheets, front pages, indexes (if possible) and everything wrapped in a beautiful wrapper.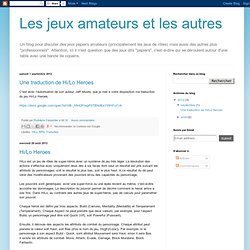 Les jeux amateurs et les autres
HiLo est un jeu de rôles de super-héros avec un système de jeu très léger. La résolution des actions s'effectue avec uniquement deux dés à six faces dont seul un résultat est pris suivant les attributs du personnages: soit le résultat le plus bas, soit le plus haut. A ce résultat du dé peut venir des modificateurs provenant des pouvoirs et/ou des capacités du personnage. Les pouvoirs sont génériques: avoir une super-force ou une épée revient au même, c'est-à-dire accroitre les dommages. La description du pouvoir permet de décrire comment le héros arrive à ses fins. Dans HiLo, au contraire des autres jeux de super-héros, pas de calculs pour paramétrer son pouvoir.
Bienvenue sur le site de l'association de jeux de rôles les Joueurs de Chimères. Il s'inscrit dans une longue tradition de sites créés pour le club depuis l'an 2000. Nous jouons et faisons la promotion de jeux depuis 1994 déjà dans la ville de Pont-Sainte-Maxence dans l'Oise, en Picardie. En réalisant ce site, nous avons voulu non seulement faire découvrir notre association de jeux de rôles mais aussi partager notre passion. Le site des Joueurs de Chimères ambitionne d'être support d'une commu-nication nouvelle et d'une plus grande ouverture sur le monde du jeu de rôles.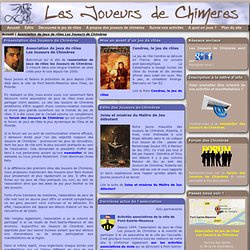 Les Joueurs de Chimères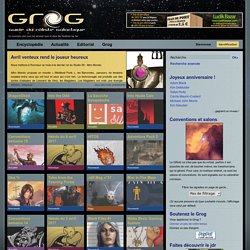 Hexagon Universe : En janvier, pour que l'année aille comme il se doit, à Hexagon Universe joue deux fois. Il fut un temps, que les moins de cinquante ans ne peuvent pas connaître, où la censure régnait encore sur les bandes dessinées françaises. Et pourtant, les éditions Lug publièrent des comic books à la française avec des super-héros de la même trempe que les spiderman, superman et batman. Ces super-héros français s'appelaient Homicron, Zembla, Kit Kappa, Starlock, la brigade temporelle… et ils affrontaient des menaces cosmiques dans un univers tout aussi décousu que leurs homologues américains.
La Vouivre - Annuaire du JdR -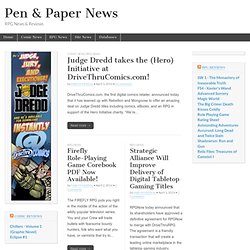 Lovecraftian horror is cosmic horror. It is the terror that comes from the realization that the universe is vast, inhospitable, and uncaring. That humanity's desire to find our place in it is fruitless—that we have no place. We are insignificant… Read more → Housed within the Ikoma Libraries and the Temple to Tengen are the Imperial Histories, the chronicles of the Emerald Empire.
Art is a broad category. From graphic prints to short stories to music to new DVDs ... if it's media and it's fantasy, sci-fi or gaming-related, it'll be here. Including ; ; ...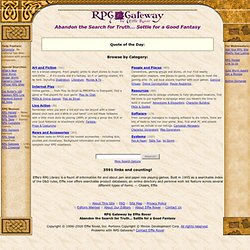 RPGGeek
Not a week goes by that I don't see some new Kickstarter for a gaming product pulling in beaucoup dollars and I think ... why not me? I currently have two projects in the works that could probably work as Kickstarters - the Tome of Monsters (about 90% written, and for which I need art art art - more on that later) and GRIT & VIGOR (about 60% written, and for which I need almost nothing, since it can use great public domain art for the most part). Then I think about the downside of the Kickstarter projects. First and foremost, they don't work well with print-on-demand projects.
THE LAND OF NOD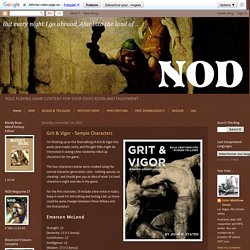 T Bone's Games Diner