Jeux de rôles
Hall of Fire | Lord of the Rings Fan WebZine
Beyond the Final Frontier - CODA Star Trek RPG Support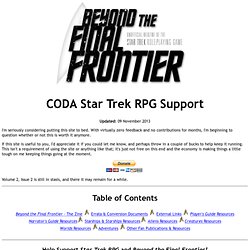 Updated: 09 November 2013 I'm seriously considering putting this site to bed. With virtually zero feedback and no contributions for months, I'm beginning to question whether or not this is worth it anymore. If this site is useful to you, I'd appreciate it if you could let me know, and perhaps throw in a couple of bucks to help keep it running. This isn't a requirement of using the site or anything like that; it's just not free on this end and the economy is making things a little tough on me keeping things going at the moment.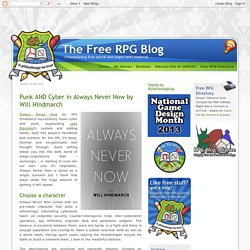 The Free RPG Blog
The 2013 Harder Than Granite competition set a high bar. Complete an RPG in 24 hours, during November 2013, in pocketmod format and with no-numbers. What's more, being the greedy sort that I am, I wanted character sheets, front pages, indexes (if possible) and everything wrapped in a beautiful wrapper.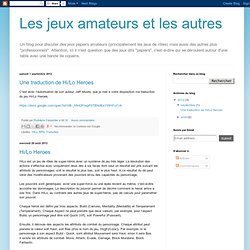 Les jeux amateurs et les autres
HiLo est un jeu de rôles de super-héros avec un système de jeu très léger. La résolution des actions s'effectue avec uniquement deux dés à six faces dont seul un résultat est pris suivant les attributs du personnages: soit le résultat le plus bas, soit le plus haut. A ce résultat du dé peut venir des modificateurs provenant des pouvoirs et/ou des capacités du personnage. Les pouvoirs sont génériques: avoir une super-force ou une épée revient au même, c'est-à-dire accroitre les dommages. La description du pouvoir permet de décrire comment le héros arrive à ses fins. Dans HiLo, au contraire des autres jeux de super-héros, pas de calculs pour paramétrer son pouvoir.
Bienvenue sur le site de l'association de jeux de rôles les Joueurs de Chimères. Il s'inscrit dans une longue tradition de sites créés pour le club depuis l'an 2000. Nous jouons et faisons la promotion de jeux depuis 1994 déjà dans la ville de Pont-Sainte-Maxence dans l'Oise, en Picardie. En réalisant ce site, nous avons voulu non seulement faire découvrir notre association de jeux de rôles mais aussi partager notre passion. Le site des Joueurs de Chimères ambitionne d'être support d'une commu-nication nouvelle et d'une plus grande ouverture sur le monde du jeu de rôles.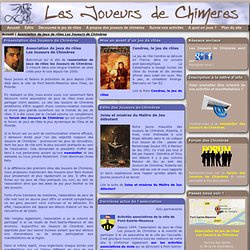 Les Joueurs de Chimères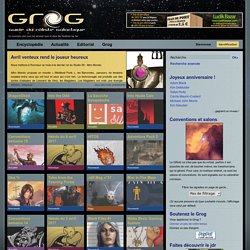 Star Wars : En Avril le contrebandier met dans le mille ! Star Wars a connu quelques incarnations en jeu de rôles depuis les deux édition D6 des années 90, les deux éditions d20 des années 2000, et la galaxie a été parcourue de long en large par des aventuriers de tout poil, des Jedi, des contrebandiers, des mercenaires, parfois même des sénateurs téméraires. L'univers s'est lui aussi étendu tout au long de ces années dans le passé autant que dans le futur de la saga cinématographique. Par contraste, cette nouvelle édition, aux confins de l'Empire, propose un retour aux sources, avec une période historique centrée sur l'apogée du règne de Palpatine.
La Vouivre - Annuaire du JdR -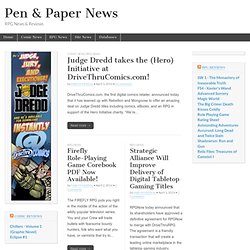 Lovecraftian horror is cosmic horror. It is the terror that comes from the realization that the universe is vast, inhospitable, and uncaring. That humanity's desire to find our place in it is fruitless—that we have no place. We are insignificant… Read more → Housed within the Ikoma Libraries and the Temple to Tengen are the Imperial Histories, the chronicles of the Emerald Empire.
Art is a broad category. From graphic prints to short stories to music to new DVDs ... if it's media and it's fantasy, sci-fi or gaming-related, it'll be here. Including ; ; ...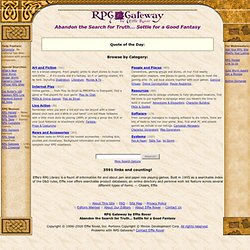 RPGGeek
Almost ready to publish NOD 23 - just finishing up the monster stats in the Ende article, and putting some finishing touches on the conclusion of the Dungeon of the Apes adventure that started in NOD 22. Today, I figured I might get some extra use out of some of that Ende writing and blog about some of the peoples who dwell in Ende ... Ende has long been a crossroads of the different planes of existance due to its being, for reasons unknown to all, a frequent battleground between the forces of Law and Chaos. As even a midling scholar of Nod could tell you, when an outsider is manifested into the Material Plane, it becomes a living, breathing creature with free will, even if it often takes a while for them to realize they are no longer bound to the wishes of their master.
THE LAND OF NOD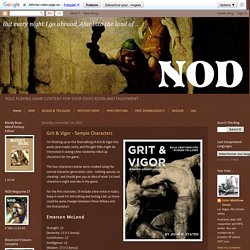 GURPS has long toyed with ways to reduce the cost of high levels in its Strength attribute, creating odd schemes under 3e and, in 4e, cutting the cost of ST across the board and simply requiring less ST to achieve satisfactory power (thanks to the new Basic Lift calculation). Yet there's still a wish out there for cheaper levels of über-ST, even within 4e rules (as seen in its special ST cost discount for large critters). That's where Rules Nugget (GURPS): A Better Cost for ST and HP comes in, offering an optional cost progression (the brainchild of D.
T Bone's Games Diner